Here's a complete review of the M-Audio AIR 192|4 audio interface.
Below, we'll give our take on its recording quality, preamps, features, and more.
Overview
The M-Audio 192|4 is an affordable, user-friendly 2-in/2-out audio interface with ultra-low-noise preamps. Notable features include an LED level meter and a mixer knob for direct monitoring.
M-Audio AIR 192|4 Overall Grade: B+
Build Quality: B+
Design Quality: A-
Recording Quality: B
Preamps: A
Features: B
Software Bundle: B
Who the M-Audio AIR 192|4 is Best for?
Are you tired of audio interfaces with small and crammed knobs?
The M-Audio 192|4 makes home recording easy with its large and
space out top panel.
It's an excellent option for anyone looking for an affordable, user-friendly interface with high-quality ultra-low-noise preamps.
The M-Audio AIR 192|4 is best for…
Beginners
Self-recording artists
Basic and intermediate home studios
Music producers
Notable Features
Combo XLR/TRS input for microphones and line inputs
Instrument input
Balanced outputs for studio monitors
Mixer knob for blending direct monitoring
USB-C Connection
Software Bundle
Large knobs and simple interface
Layout and Controls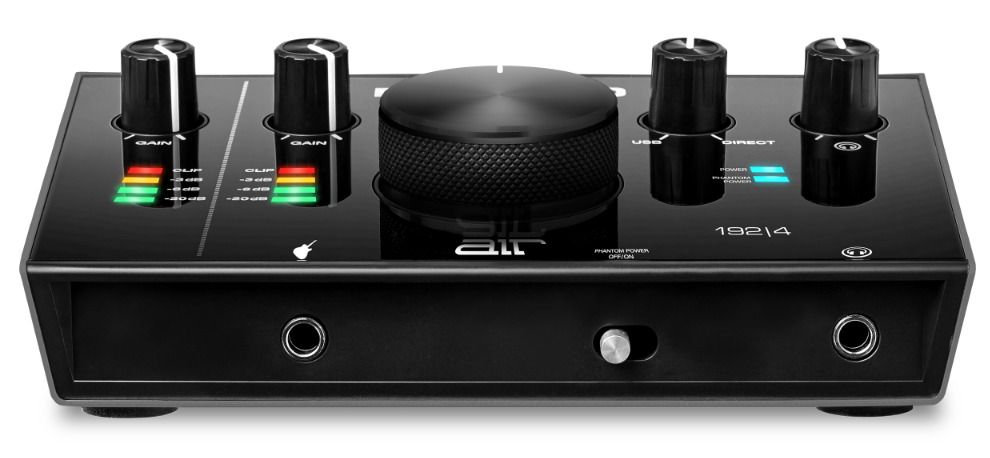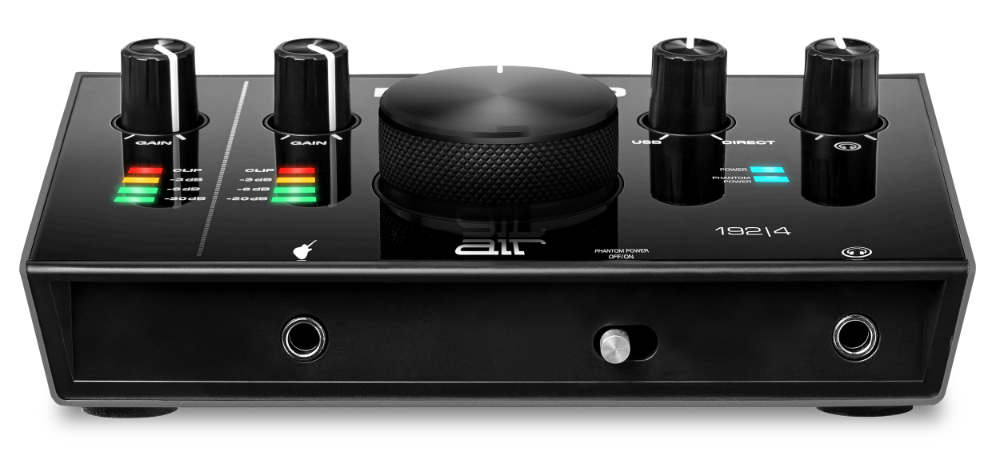 On the front of the AIR 192|4 is an instrument input. There's also a switch to enable phantom power and a ¼ inch headphone output.


Moving to the back, you'll find a USB-C port, two balanced ¼-inch outputs, and a combo XLR mic and TRS line input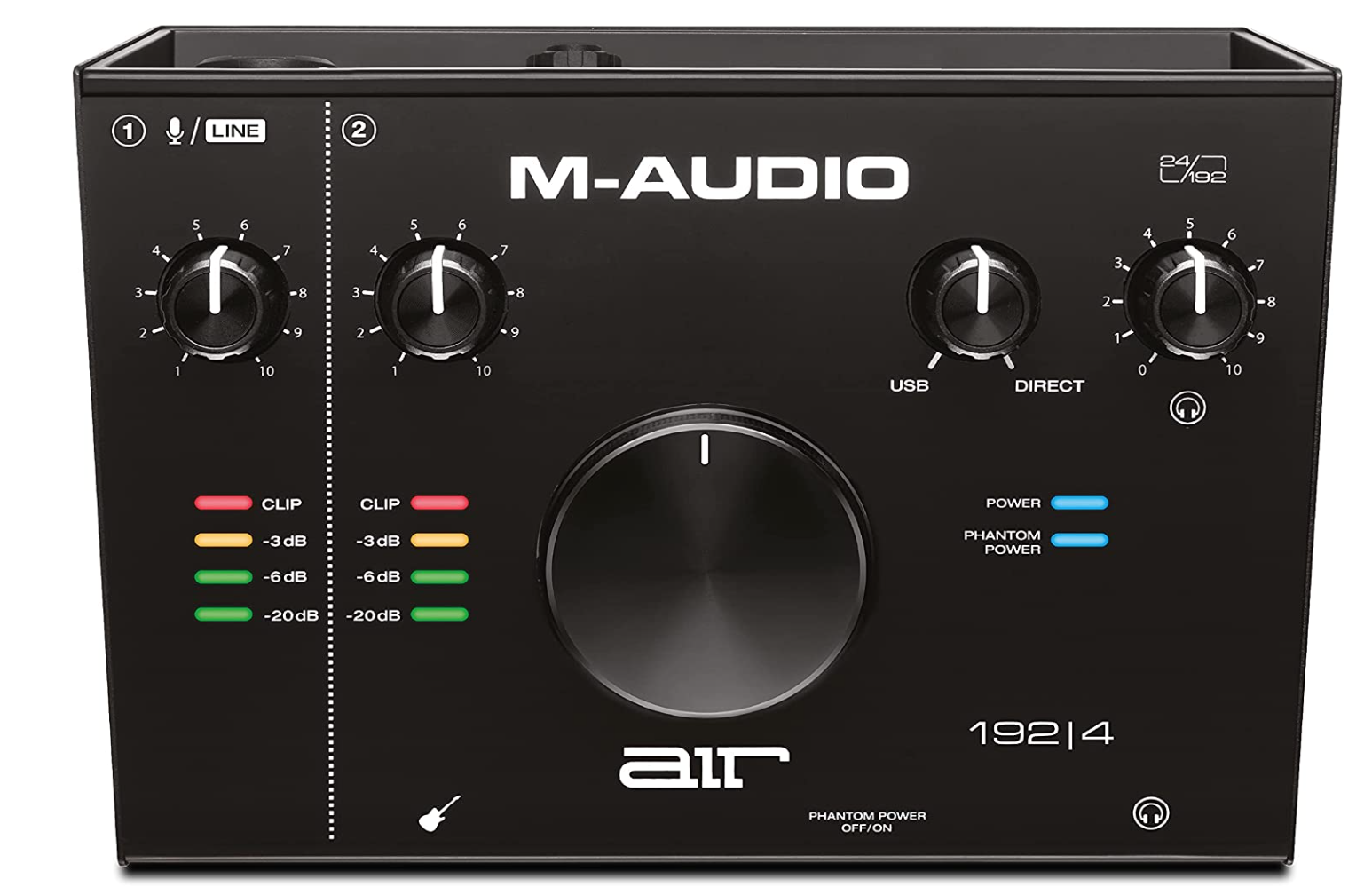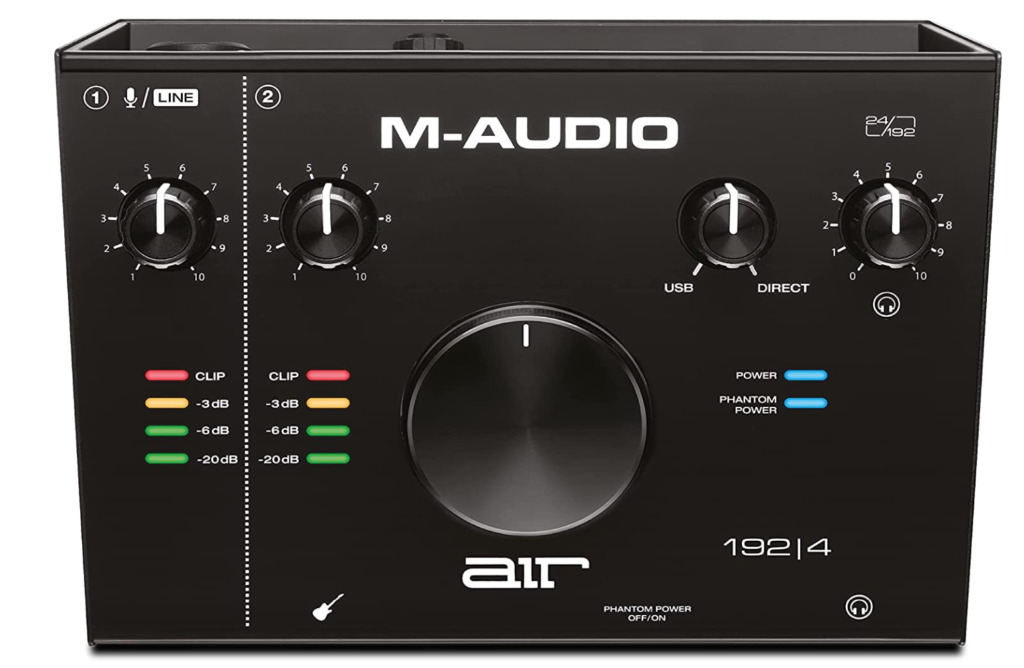 On the top left are two separate gain knobs and LED level meters for each input.
You'll also get a blend knob for direct monitoring and a knob for adjusting the headphone volume on the other side.
Lastly, in the center you'll find a large volume knob for the main output.
Build Quality
Grade: B+
The AIR 192|4 is one of the heftier audio interfaces out there.
Even though the top cover and knobs are made of plastic, the rest of the unit is housed a metal and feels durable.
Its knobs also have a smooth tactile feel to them.
Design Quality
Grade: A-
The AIR 192|4 is much larger than your average audio interface.
Due to its size, it's able to house large spaced-out knobs makin
While this isn't the ideal mobile interface, its intuitive design makes it very easy to navigate.
The 192|4 features LED level meters on the top panel.
The great thing about this meter is that it's labeled with key gain levels.
However, it's pretty limited for setting gain.
Alternatively, the Motu M2 has a helpful LCD level monitoring screen if you're looking for something better.
Recording Quality
Grade: B
The 192|4 features premium audio converters letting you record at up to 192kHz at 24-bits.
It has a relatively flat frequency and low distortion level.
As a result, you can count on it to accurately record and playback different frequencies in your audio without adding noise.
Also, the 192|4 offers plenty of headroom with a dynamic range of around 100 dB.
In short, dynamic range is the range between the strongest and weakest signal an interface can record.
When this number is higher, you won't have to worry as much about clipping when recording vocals and electric guitars.
The 192| 4's dynamic range is noticeably lower than the Focusrite Scarlett 2i2 and Motu M2.
However, we don't notice much of a difference in audio quality.
Preamps
Grade: A
The AIR 192|4 has an ultra-low equivalent input noise (EIN) around -130 dB.
As a result, you'll hear virtually no preamp noise – even with low-sensitivity dynamic mics.
In comparison, the 192|4 offers a better noise performance than the Motu M2, Behringer UMC202, and Solid-State Logic SSL 2.
Overall, we can say the AIR 192| 4's preamps are as clear and transparent as advertised.
[Learn which audio interfaces have the best preamps]
Features
Grade: B
The AIR 192|4 is fairly limited in terms of features. But this is to be expected with how affordable this interface is.
One feature we always look for in an interface is a mixer control knob for direct monitoring.
It lets you blend the direct signal from your inputs and your computer playback.
For example, you can set the mixer knob to the middle to record with auto-tune while reducing latency.
You can turn this knob to the left to record without effects and near-zero latency.
We appreciate the extra flexibility the mixer knob provides compared to a simple on/off switch for direct monitoring.
Software Bundle
Grade: B
The AIR 192|4 comes with a modest software bundle.
You'll get access to MPC Beats, Ableton Live Lite, AIR's Creative FX Collection, 2GB of sample content from Touch Loops and Xpand!2, Mini Grand, and Revalver.
Audio Interface Comparison
M-Audio AIR 192|4 vs Focusrite Scarlett 2i2
The Focusrite Scarlett 2i2 has two combo inputs, while the 192|4 only has one.
Having fewer inputs won't make a difference for some. But you'll want as many inputs as possible for advanced uses.
For example, if you want to connect an XLR mic and an external mic preamp through your line input, its more ideal to have two combo inputs.
With the 192| 4, you can't use the mic and line inputs at once.
The 2i2 also has better recording quality and an Air Mode feature that adds brightness to your audio.
However, the AIR 192|4 is an excellent alternative if you're on a budget.
M-Audio AIR 192|4 vs Motu M2
While the Motu M2 is slightly more expensive, it has more features than the AIR 192|4.
The Motu M2 has the best LCD level meter you'll find in an entry-level interface.
It's great for setting levels without using the mixer in your DAW.
Also, with the Motu M2, you'll have the ability to control direct monitoring and phantom power for each input separately.
The M2 is a better all-around interface. But we recommend the AIR 192|4 as a more affordable option.
[Check out our review on the Motu M2 here]
M-Audio AIR 192|4 vs PreSonus AudioBox iOne
The PreSonus AudioBox iOne is a better mobile option than the 192|4.
It's housed in metal with rotary knobs to protect against damage.
Conversely, the 192| 4's design makes it harder to travel with without damage.
However, the 192|4 is better for home recording since the iOne only has a mic and instrument input.
With the iOne, you can't connect multiple mics and instruments at once or line-level devices.
[Check out our review on the PreSonus AudioBox iOne here]
Takeaway: M-Audio 192|4 Review
Pros
Large spaced out knobs
Clean design
Mixer control knob
Transparent low-noise preamps
Cons
Limited features
Not mobile-friendly