If you're looking for an audio interface with ADAT connectivity, you've come to the right place.
In this article, we'll look at some of the best ADAT audio interfaces on the market and help you choose the right one for your needs.
The Best ADAT Audio Interfaces
How to Choose the Right ADAT Audio Interface
When choosing an audio interface, there are a few things to keep in mind.
First, you'll want to ensure that it has enough inputs and outputs for your needs. If you're only using a couple of microphones, you won't need as many ports as someone planning to record a full band.
Another important consideration is the quality of an interface's converters and preamps. Audio interfaces with better converters and preamps contribute to better sound quality.
Finally, it's best to consider whether you want an interface with USB or Thunderbolt connectivity. USB is more common, but Thunderbolt is faster and the standard for higher-end units.
Here's our list of the top 10 ADAT audio interfaces to help you narrow down your search.
If you're unfamiliar with ADAT, later in this article, we'll explain what it is and how to use it to expand your channels.
Top 10 Audio Interfaces with ADAT


Behringer's UMC1820 is a powerful 18 in x 20 out USB-C audio interface providing plenty of options for connecting mics, instruments, and other audio gear. 
It has eight analog inputs – each with its own gain control – two main outputs, and four sets of line-outs. 
ADAT and S/PDIF
You can add four ADAT channels at up to 96kHz or eight channels at up to 48kHz – along with eight additional ADAT outputs. 
The UMC1820 also supports up to two SPDIF inputs and outputs at 44.1 and 48kHz.
Layout and Controls
It comes with a MIDI In and Output for digital keyboards or MIDI controllers and two headphone outputs with corresponding level control.
Along with separate gain controls, each input has a switch to toggle its ¼-inch input between line and instrument level, a pad button, and an LED clipping and signal indicator.
The UMC1820 is USB-C bus-powered but also comes with a 12V DC port. Using a power supply is great when your system (phone, tablet, etc.) doesn't have enough power to supply your interface. 
Our Recommendation
This interface is one of the more affordable units you'll find with this many channels and expandability.
It's excellent for recording bands, drum sets, or larger recording sessions overall.


The PreSonus Studio 1810c is an excellent option if you're looking for an affordable, high-quality audio interface that supports up to eighteen inputs.
It offers eight analog inputs and six outputs.
You add two ADAT channels at 176/192kHz, four at 88/96kHz, and eight at 44.1/48kHz.
ADAT and S/PDIF Connection
The 1810c also has a SPDIF connection that supports two additional ins and outs at 48kHz. 
Most importantly, this unit offers excellent sound quality, thanks to its 24-bit/192kHz converters and crystal-clear X-MAX-L preamps with an impressive -15 to 65dB gain range.
This wide range will help you capture clean recordings from instruments with various output levels.
PreSonus Studio 1810c vs. Behringer UMC1820
One thing you'll notice on the Studio 1810c that you won't find on the UMC1820 is a LED level panel.
Suppose you want a quick way to set gain levels for your mic channels and monitor clipping without referencing your DAW. In this case, PreSonus' Studio audio interfaces have some of the most useful LED meters you'll find.


PreSonus' Studio 1824c has the same design and sound quality as the 1810c but can support twenty outputs instead of eight.
It also offers eight analog mic inputs, while the 1810c provides four. 
The only difference in digital connectivity is that the 1824c features an ADAT output which is why it can support twenty outputs. 
Overall, the PreSonus Studio 1824c is an excellent option for those who need a lot of output options in an affordable package.


The Focusrite Scarlett 18i8 is definitely worth considering if you're looking for an audio interface and tube mic preamp in one.
It's a well-built unit with excellent sound quality and a generous selection of input and output options.
The Scarlett 18i8 offers eight analog inputs – including four mic/line/instrument inputs, four additional line inputs – and four line outputs.
It also has a MIDI In and Out, two headphone outs with corresponding volume controls, and ADAT and SPDIF connection to expand your inputs to eighteen and outputs to 6.
From our experience, the Focusrite Scarlett 18i8 is easy to use and sounds great.
Focusrite Scarlett 18i8 vs. PreSonus Studio 1810c
One feature in the Scarlett 18i8 that you won't find in the PreSonus Studio 1824c or the Behringer UMC1820 is Air Mode.
Air Mode is a built-in mic preamp feature that boosts high frequencies in your audio to make it sound brighter (when enabled).
[Here's a complete comparison between PreSonus and Focusrite audio interfaces]


If you're interested in Focusrite's Scarlett 18i8 but need more outputs, check out its Scarlett 18i20.
You'll get similar audio quality and the benefits of Air mode, but with eight mic inputs instead of four – not to mention ten line outputs. 
You can expand your inputs to eighteen and outputs to twenty using the ADAT and SDPIF Ins and Outs.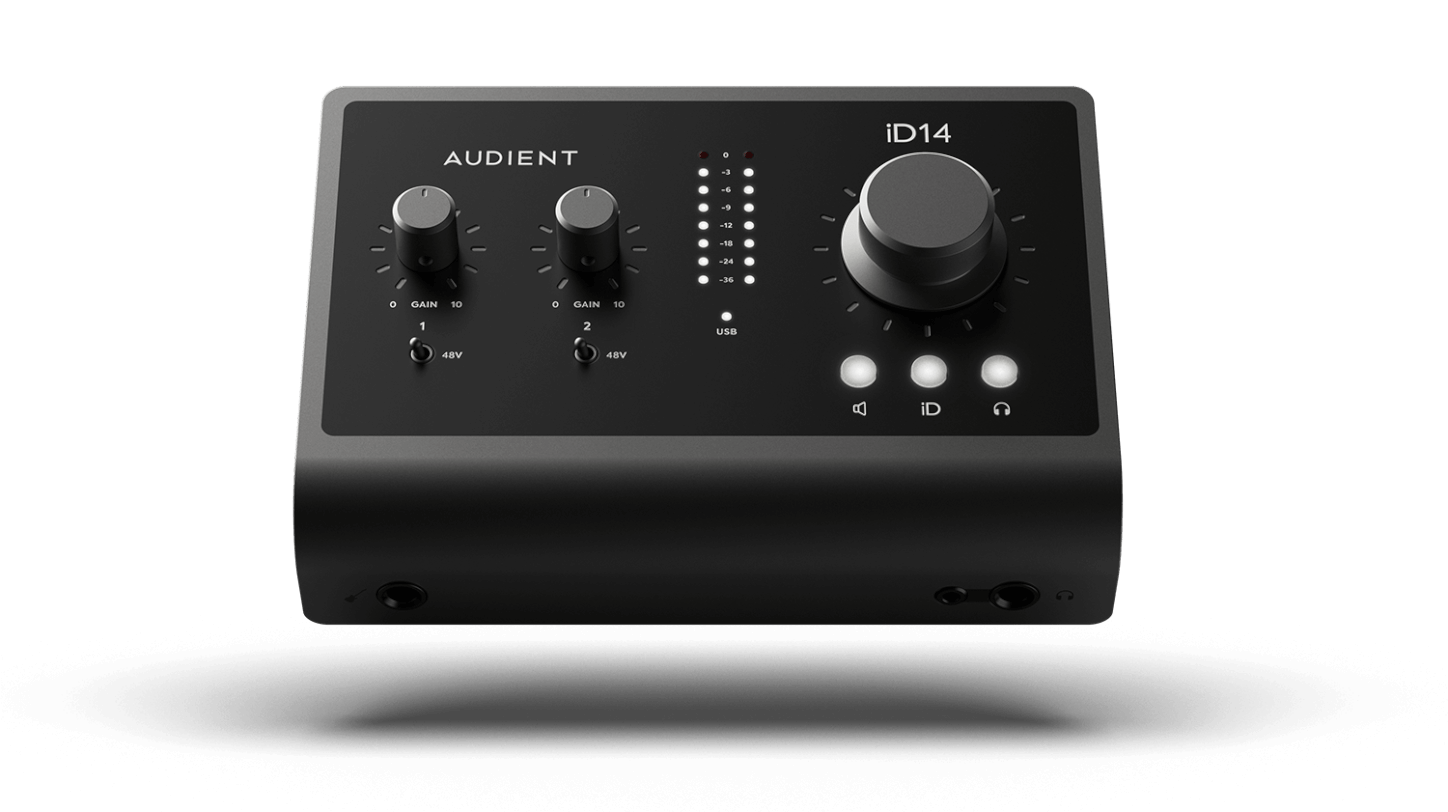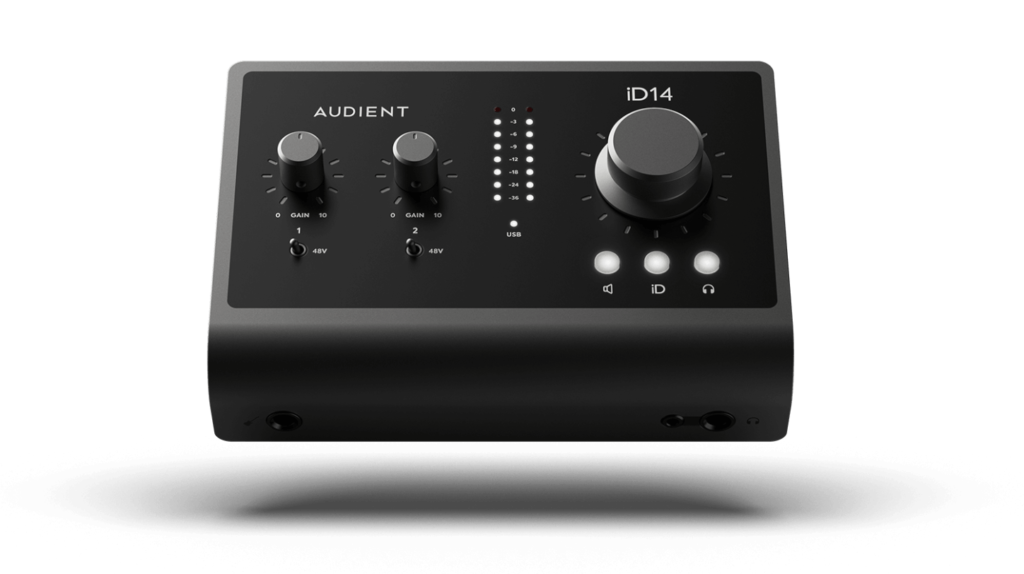 If you're a fan of Audient's iD4 but need more inputs and outputs, consider its iD14 model.
The Audient iD14 is a portable audio interface that offers pristine sound quality and features at an affordable price.
It's perfect for musicians or podcasters who need a reliable way to record high-quality audio from anywhere.
The iD14 has two mic/line inputs – each with a mic preamp offering up to 56dB of gain – a ¼-inch JFET DI instrument input, four balanced outputs, and two headphone outs.
Like the other interfaces on this list, the iD14 comes with an ADAT optical input you can use to add up to eight channels.
What's unique about the iD14 is its volume knob is multifunctional. It gives you control over parameters (settings) in your DAW such as volume, panning, automation, and more.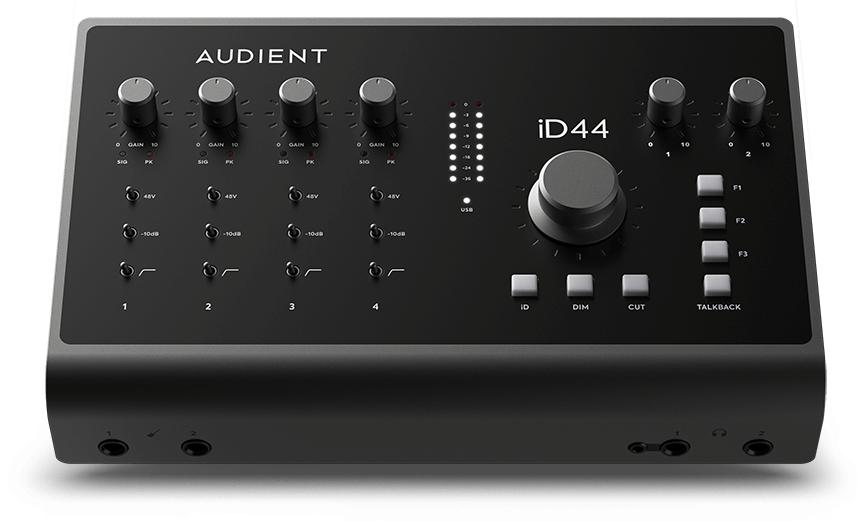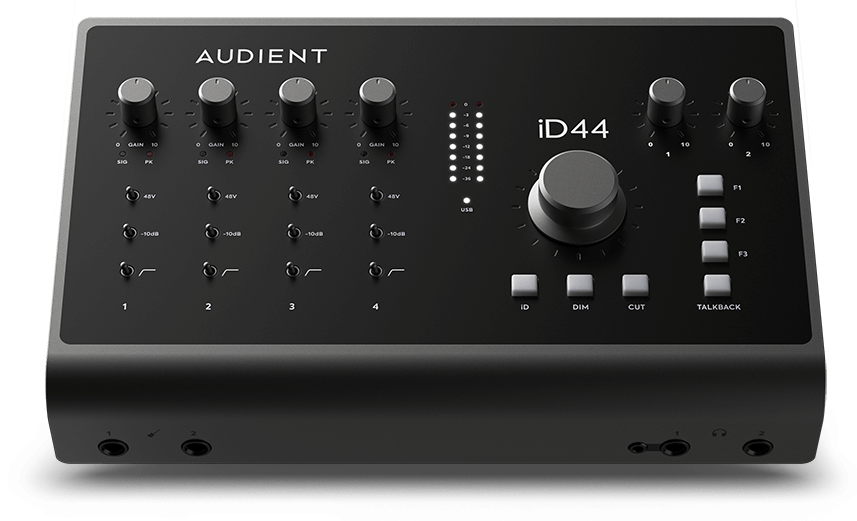 The iD44 is a fantastic option for recording other musicians in your home studio.
It features easily accessible controls that let you instantly add a high-pass filter, reduce your input gain by 10dB, enable phantom power for each mic input separately, etc.
Not to mention three programmable "F" buttons you use to control advanced monitoring features like Polarity Reverse, Speaker Select, Mono Sum, etc.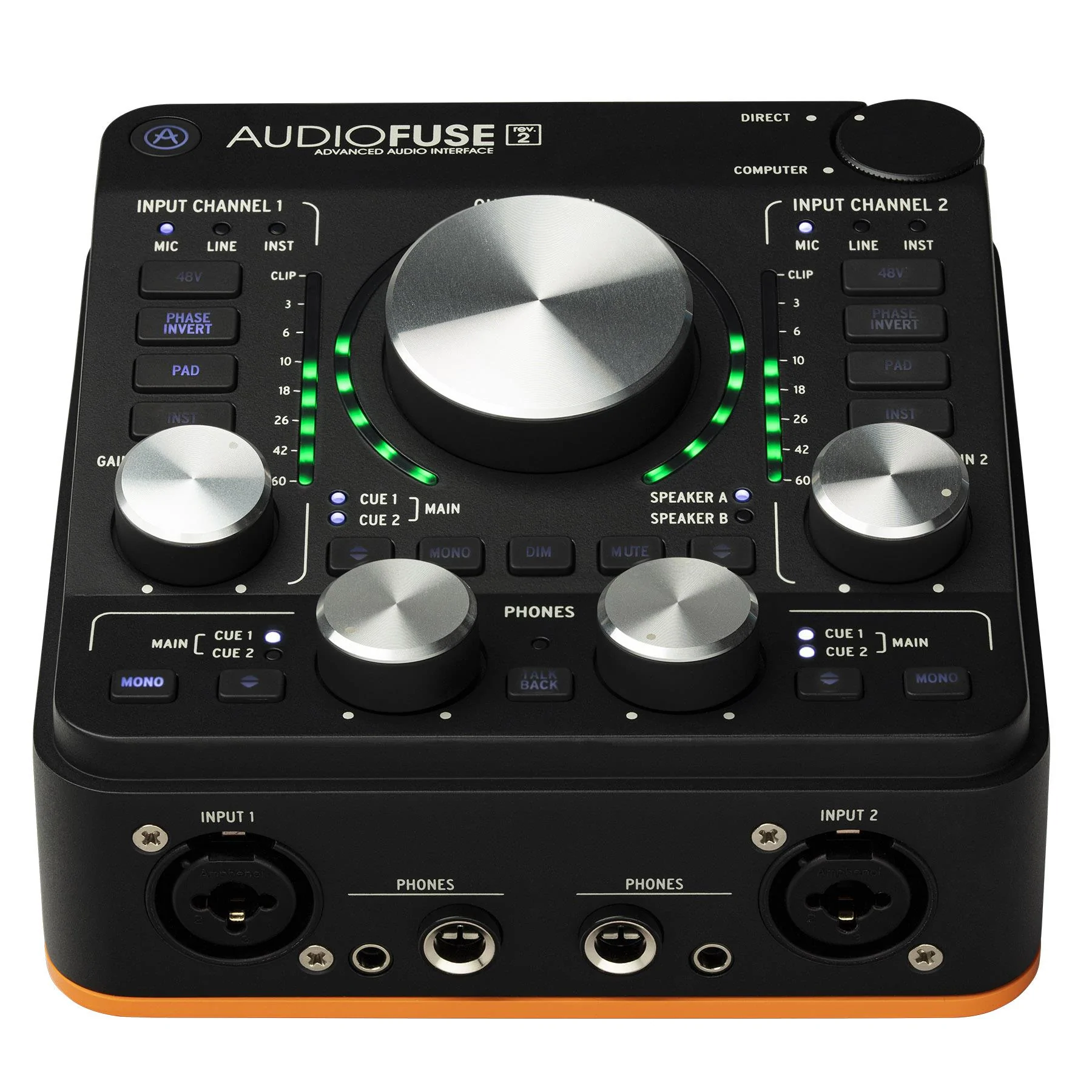 If you're looking for a high-quality, professional-grade USB interface, the Arturia AudioFuse Rev2 is also one to consider.
It offers several features for a professional home recording studio – such as a Talk-back button, LED level meters, advanced speaker controls, pad and reverse polarity buttons, etc.
With its two mic/line/instrument inputs, four-line outputs, and MIDI I/O, you'll have plenty of Ins and Outs to work with for a basic setup.
Plus, if you need additional channels the AudioFuse comes with separate ADAT and SPDIF Ins and Outs to expand your inputs and outputs to fourteen each.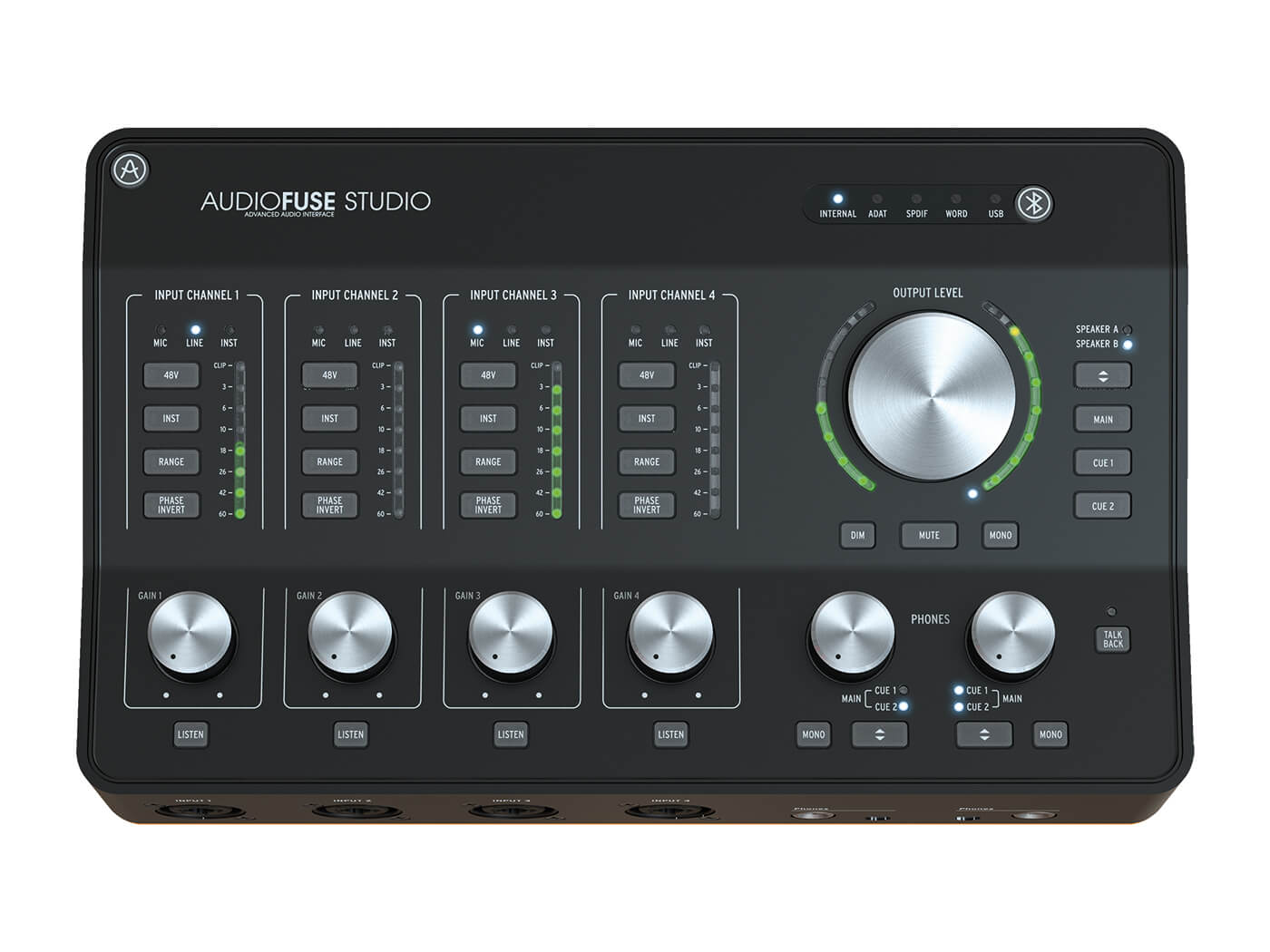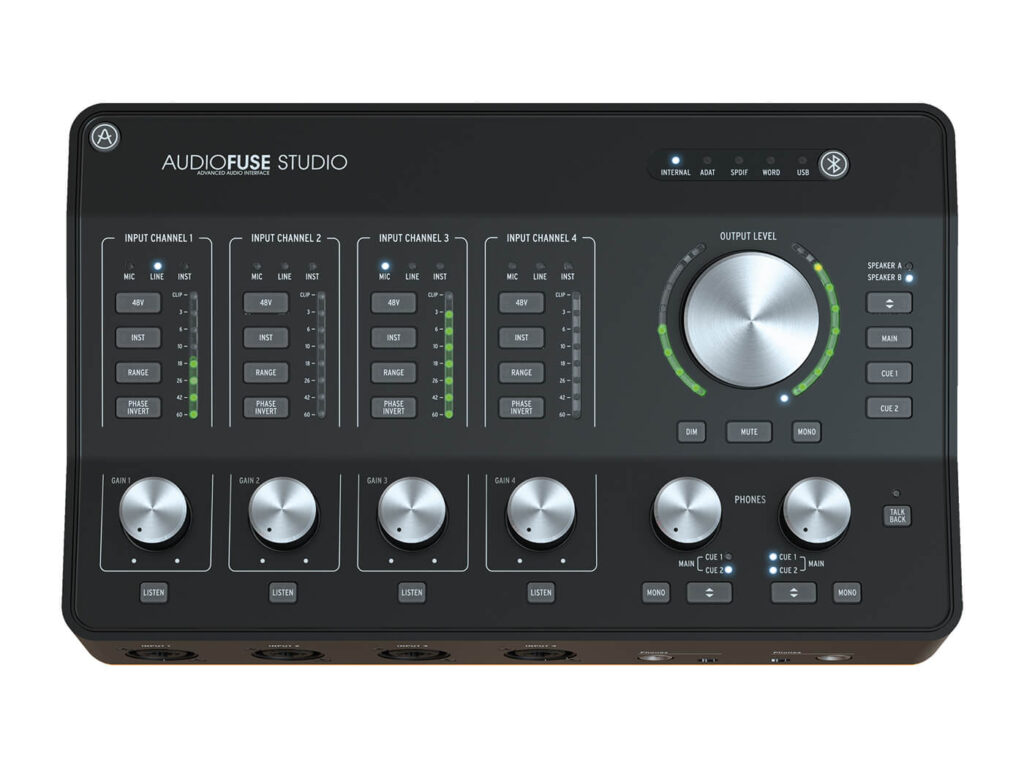 Sticking to the theme of this list, we recommend Arturia's AudioFuse Studio if its AudioFuse Rev 2 doesn't have enough inputs and outputs for you.
Both units offer best-in-class mic preamps with an incredibly high gain range of 73 dB and ultra-low preamp noise (EIN of -131.5dBu).
They also boast inputs and outputs with a very high dynamic range (over 115 dB). 
The main difference between Arturia's AudioFuse Studio and AudioFuse Rev 2 is that the AudioFuse Studio has two additional mic inputs.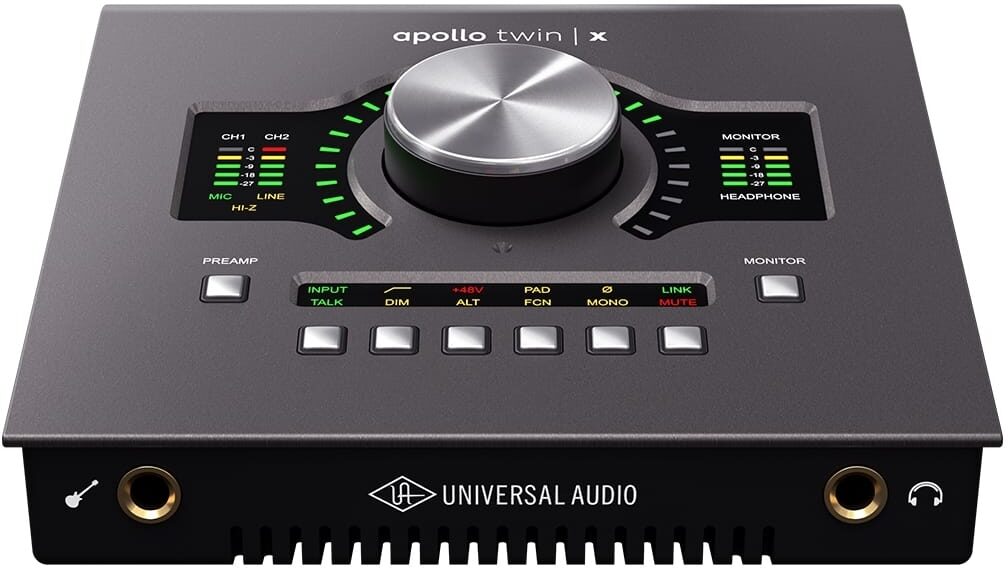 The Universal Audio Apollo Twin is a high-quality audio interface that allows you to record and monitor your music in stunning detail.
It features two world-class mic preamps, 24-bit/192kHz converters, and Universal Audio's legendary Analog Classic plug-ins.
With its superior sound quality and ease of use, the Apollo Twin is perfect for any musician or producer looking to take their recordings to the next level.
Apollo interfaces have built-in digital signal processing (DSP) effects and Unison-enabled preamps, unlike the other interfaces on this list.
DSP effects are built-in Universal Audio plug-ins – EQs, compressors, reverbs, guitar amps, etc.- digital emulations of UA's classic, highly sought-after analog gear, most notably the LA-2A and 1176 Compressors.
Apollo interfaces also have Unison-enabled preamps. In the included software control panel, you can switch your mic preamps between vintage and tube preamp emulations from Neve, API, Helios, UA, etc., at any time.
Audio Latency
The great thing about DSP plug-ins and Unison preamps is you won't dramatically increase latency as opposed to adding effect through your DAW.
ADAT in an Audio Interface
ADAT, or the Alesis Digital Audio Tape, is a type of connection that allows for the transfer of digital audio signals between devices.
It's a cost-effective way to expand the number of digital audio channels in a recording or live sound setup.
ADAT audio interfaces commonly come with an optical input that you can use to like to another ADAT interface or mixer and expand your available inputs. Some models also include an optical output.
ADAT uses fiber optic cables to transmit digital audio signals, which provides superior quality and reliability compared to other methods of digital audio transfer.
How to Use Optical Input on an Audio Interface
If you're looking to expand the capabilities of your audio interface, you may be wondering how to use the optical input.
Optical inputs are a great way to add extra audio channels and can be especially useful for recording drums or other multi-track instruments.
Once you like your devices using an Optical TOSLINK cable, you'll have to synchronize their internal clocks and sample rate within each software control panel.
Failing to do so can cause problems with audio quality, including dropped frames, clicks, and pops.
Here's a quick guide on connecting two ADAT audio interfaces.