In this Akai MPK Mini MK3 vs Novation Launchkey Mini MK3 review, we'll compare each MIDI controller to help you decide which one is right for you.
Both controllers are great options if you're looking for a compact MIDI controller.
However, both have 25 synth-action mini keys, which may be a dealbreaker for skilled pianists.
We'll take a closer look at each model's features, build quality, and give our recommendation.
Let's get straight into it.
Akai MPK Mini Mk3 vs Novation Launchkey Mini Mk3
Pads Comparison
One of the key differences between the Novation Launchkey Mini and the Akai MPK Mini is that the Novation Launchkey Mini MK3 has 16 physical pads while the MPK Mini has 8.
However, the MPK has two sound banks allowing you to expand its total pads to 16.
Pitch and Modulation Features
Also, the Launchkey has pitch and modulation strips, while the MPK has a joystick for these features.
The joystick is a bit small and too sensitive for our liking, so we prefer the channel strips.
DAW Integration
The Launchkey is the better option for Ableton users, hands-down. 
It fully integrates with Ableton Live and auto maps as soon as you connect it to your computer. 
You can trigger clips, play, stop, record, and adjust levels directly from the Launchkey.
It's also integrated with other major DAWs, but you'll get the most out of this unit with Ableton.
Conversely, the MPK has various DAW modes that can be useful, but it has some room for improvement in terms of full integration.
MIDI Out
A subtle difference is that the Launchkey has a MIDI out port, unlike the MPK. You can use this port to link to a hardware synth.
Similarities Between the MPK Mini and Launchkey Mini
Both controllers are very compact and portable, making them ideal for use with laptops. 
They also have 25-mini velocity-sensitive keys, octave up/down buttons, and various other DAW controls.
Each comes with software (Ableton Live Lite for the Launchkey and MPC Essentials for the MPK) and a selection of virtual instruments and samples.
So, in summary, the main differences are that the Launchkey has more pads, better integration with Ableton Live, and a MIDI out port, while the MPK has more sound banks, a joystick for pitch and mod controls, and DAW modes.
Akai MPK Mini MK3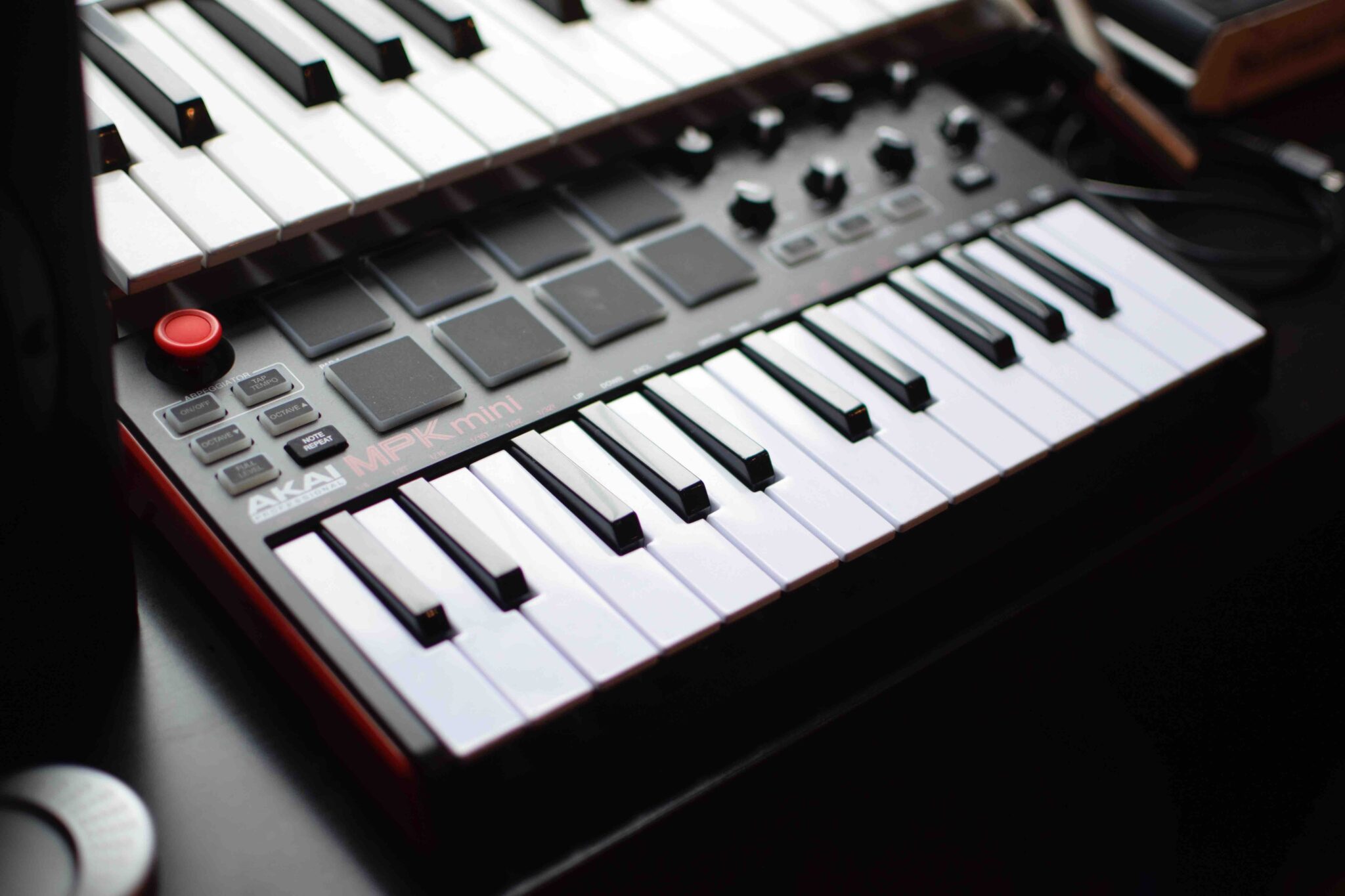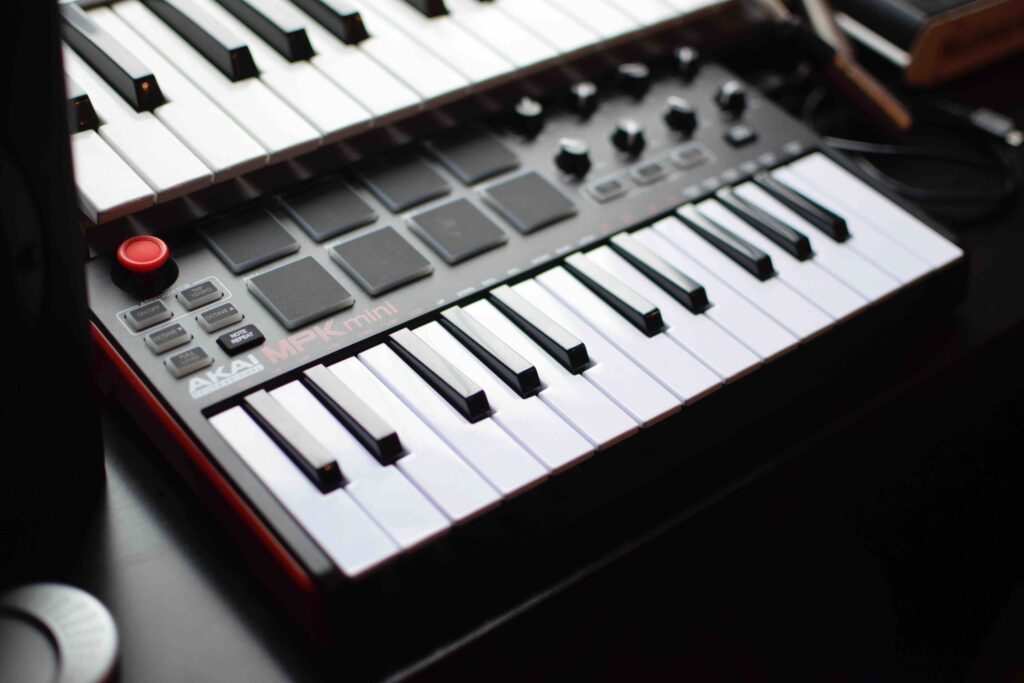 The Akai MPK Mini Mk3 is a compact 25-mini key MIDI keyboard featuring 8 MPC-style pads, assignable knobs, and a built-in arpeggiator.
It's excellent for traveling producers and performers who want a lightweight, portable controller with advanced features.
It can also help you save space in your home studio and provide mouse-less control over parameters in your digital audio workstation (DAW).
MPC-Style Pads and Assignable Knobs
Each pad has two sound banks giving you access to 16 pads when needed.
Also, the MPK Mini's assignable knobs give you control over various parameters in your DAW.
While the MPK Mini has various DAW, it doesn't integrate as seamlessly as the Launchkey does with Ableton.
You'll also find some slightly more expensive units with better integration.
Chances are, you'll have to map some parameters manually depending on your DAW.
Built-in Arpeggiator
The Akai MPK Mini MK3's built-in arpeggiator makes it easy to create complex, catchy rhythms and melodies.
Its arpeggiator lets you switch between different time intervals and modes: 1/4, 1/8T, Up, Down, etc.
For instance, in Up mode, the notes will play in ascending order; in Down mode, they will play in descending order.
There are many arpeggio patterns to choose from, each with its own unique rhythm.
To access the arpeggiator, press the Arp button on the left side of the MPK Mini MK3. The LED next to the button will light up to indicate that the arpeggiator is turned on.
To change the arpeggio pattern, hold down the Arp button.
Above each key, you'll see time intervals for different arpeggio patterns. Use the key with the interval you want.
Akai MPK Mini MK3 Keys vs Novation Launchkey Mini MK3 Keys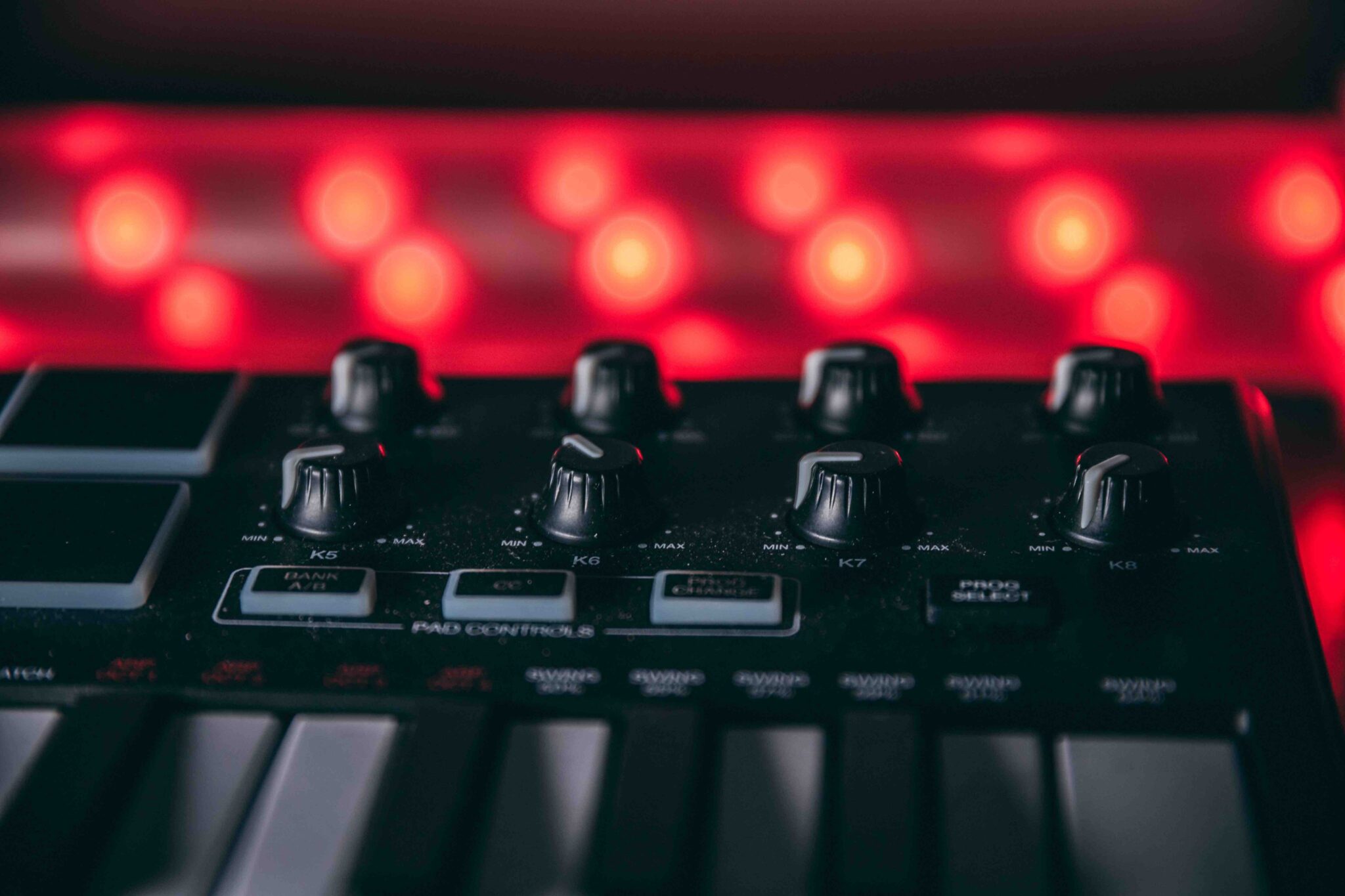 Even though both models have mini synth-action keys, we prefer how the MPK's keys feel compared to the Launchkey. But both units leave a lot to be desired in this category.
If key feel isn't important to you, they're great options based on features alone.
Potential Downsides
The build quality is known not to be as robust as some of its competitors.
We recommend using a carrying case if you travel with this MIDI controller.
It's also not unlikely that you'll end up with a damaged key after overtime, especially if you constantly press down on the keys too hard.
Although the build quality isn't the best, and there are some things we would change, we still recommend it because of all the features you get in a relatively affordable MIDI keyboard.
Novation Launchkey Mini MK3
The Novation Launchkey Mini MK3 is the ultimate keyboard controller for Ableton users.
It offers many features and functions that allow you to easily create, edit, and mix music.
The Launchkey Mini MK3 features 25 velocity-sensitive mini keys, making it easy for beginners to piece together expressive chords and melodies.
There are also 8 pads you use for drumming and triggering samples with 8 knobs for controlling various parameters that auto-map in Ableton Live.
Its velocity-sensitive pads allow you to add nuance and dynamics to your performance.
Ableton Live Integration
The Novation Launchkey Mini MK3 gives you a ton of control over Ableton Live.
The great thing about its Ableton integration is that its knobs and buttons are auto-mapped. Therefore, you can control parameters, record, and playback, select tracks, and even create new sounds without touching your computer.
The Launchkey is also compatible with most major DAWs, but you'll likely have to spend extra time setting it up.
Modes
The Launchkey Mini Mk3 has three different modes: Session, Drum, and Custom.
In Session mode, you can launch clips and scenes in Ableton Live. Drum mode lets you use the pad to tap out drum patterns and Custom mode gives you more control over how your MIDI keyboard behaves.
There's also Fixed Chord mode which helps you piece together melodies. Plus you'll have the ability to control panning and sends.
Arpeggiator
Like the MPK mini, the Launchkey has a built-in arpeggiator that's just as good.
You can easily switch between different time intervals – 1/4, 1/8, etc., – and modes – up, down, latch, random, etc. – to find the rhythm you're looking for.
Included Software
Novation Launchkey Mini MK3 comes with Ableton Live Lite, Spitfire LABS, 4GB of Loopmasters samples, and a bunch of other software and sounds to get you started making music.
Takeaway: Akai MPK Mini MK3 vs Novation Launchkey Mini MK3: Which is better?
When it comes to mini MIDI controllers, the Akai MPK Mini MK3 and the Novation Launchkey Mini MK3 are two of the most popular options on the market.
Both controllers offer a compact design, a wide range of controls, and USB connectivity.
So, which one is the better option?
Overall, the Novation Launchkey Mini MK3 is the better choice, especially for Ableton users, due to its 16 physical pads, chord mode, and nice software bundle.
That said, the Akai MPK Mini MK3 offers a slightly better keybed feel and excellent features such as note repeat, an arpeggiator, an LCD screen, and more.