In this Novation Launchkey MK3 vs M-Audio Oxygen Pro review, we'll take a closer look at these brands to see which one comes out on top.
Novation's Launchkey MK3 and M-Audio's Oxygen Pro MIDI controllers are some of the most popular on the market.
Both product lines offer a great selection of features, but which is the better choice for you?
Read on to find out!
Novation Launchkey MK3 vs M Audio Oxygen Pro Overview
M-Audio's Oxygen Pro is better for keyboardists since it has semi-weighted keys with aftertouch.
On the other hand, Novation's Launchkey MK3 has a bunch of excellent features, but you'll get the most out of it with Ableton, Logic, and Reason.
Novation Launchkey MK3 MIDI Keyboards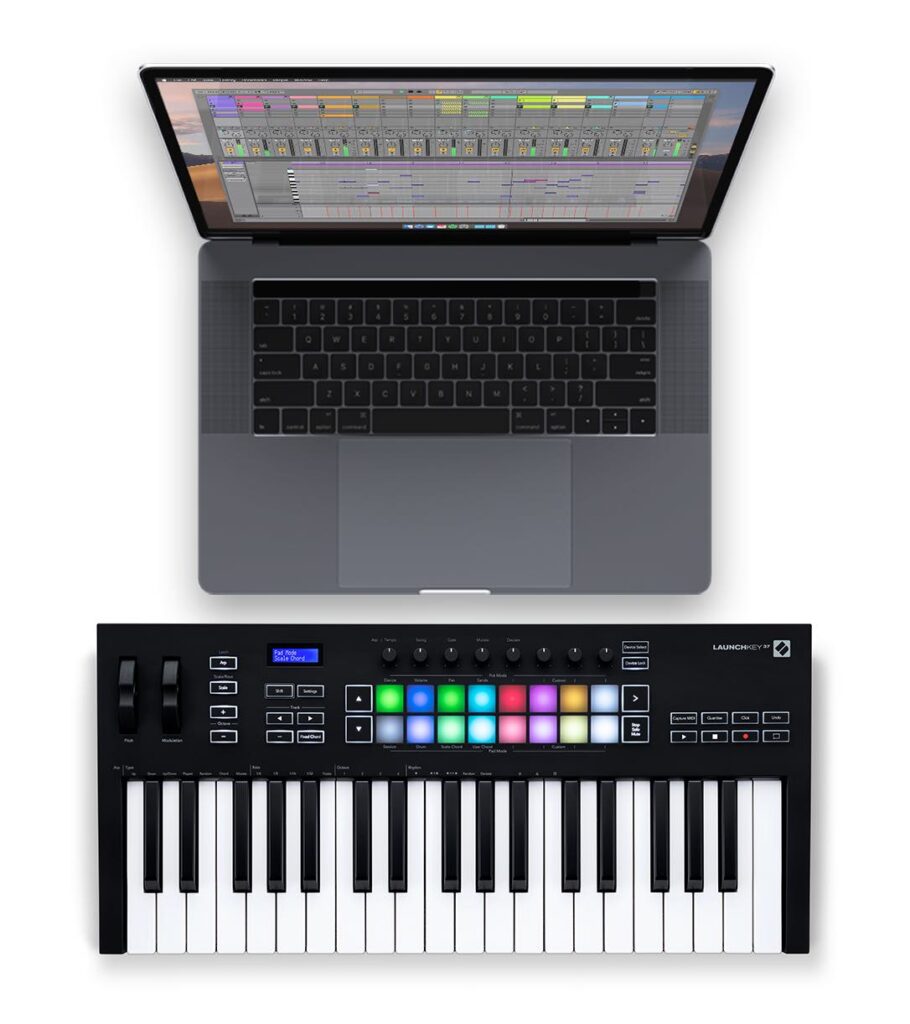 The Novation Launchkey MK3 comes in 25, 37, 49, and 61-key models, each with full-size velocity-sensitive synth-action keys. 
There's also a 25 mini key model and an 88 full-size semi-weighted key version. 
Each model has several built-in controls that let you control your music software without using your mouse. 
They can be a bit difficult to navigate at first but will streamline your workflow once you get used to them.
All six have 16 velocity-sensitive drum-pads and 8 rotary knobs, while the 49, 61, and 88-key controllers have 9 faders with 9 fader buttons.
Each also has transport controls, a built-in arpeggiator, pitch bend and modulation strips/wheels, Custom mode, and more.
Novation Launchkey MK3 MIDI controllers are great options for those who want an affordable yet versatile and feature-rich MIDI controller.
Potential Downsides
The most notable downside is that none of the models have weighted keys, which could be a turnoff for some pianists. 
The 88-key model has semi-weighted keys, but they're not aftertouch enabled like the Oxygen Pro's keys.
Notable Features
Capture MIDI Functionality
The Capture MIDI feature on the Launchkey MK3 is a great way to make sure you never lose an idea.
When you press the Capture MIDI button, the MK3 records your performance in real-time, allowing you to freestyle melodies and recall the notes you played when you hear something you like. 
Scale and Chord Mode
With Scale mode, you can easily play notes within different scales without thinking about the theory behind it. 
Scale mode is an excellent tool for beginners. It makes playing in different scales effortless and can help expand your musical vocabulary.
Also, the Launchkey MK3 has a Scale Chord feature that generates chords you can piece together to make sonically pleasing progressions.
Select "Shift" and press the third pad on the bottom row labeled "Scale Chord." From there, each pad will play a different chord.
Custom Mode
Custom mode is a powerful tool that allows you to customize the behavior of your Launchkey controller. 
With the ability to program control assignments, MIDI routing, pad color, and more, Custom Mode gives you total control over how your keyboard functions.
Whether you're looking to create new sounds or simplify your workflow, Custom Mode is essential to any Novation setup.
Ableton Live and Logic Pro Integration
One of the best aspects of the Launchkey MK3 is its seamless integration with Ableton Live, Logic Pro, and Reason. 
The MK3 also has native functionality with FL Studio, Pro Tools, Cubase, etc., thanks to HUI.
Specifically, you can use the Launchkey to adjust volume, panning, and other parameters in Ableton Live.
You can also use the transport controls to play, stop, and record tracks. 
Plus, its velocity-sensitive pads launch clips and scenes in Ableton and have multiple modes you can use to streamline your workflow – Session mode, Scale Chord mode, etc.
Lastly, the Lauchkey has a built-in arpeggiator, which is great for creating complex rhythms.
M-Audio Oxygen Pro
M-Audio's Oxygen Pro MIDI controllers come in 25, 32, 49, and 61-key versions. 
The 32-key model has mini keys, while the others have full-size semi-weighted velocity-sensitive keys with aftertouch. 
Each model comes with 16 RGB-backlit assignable velocity-sensitive pads and 8 assignable knobs and buttons.
The larger 49 and 61 key models also have 9 faders.
Potential Downside
One downside to consider before purchasing is that many users experience trouble setting up these MIDI keyboards and don't find included guides useful.
Check out this guide for help setting up your M-Audio Oxygen Pro. 
Notable Features
DAW Integration
Its easy integration with just about every DAW sets Oxygen Pro apart from similar MIDI keyboards.
All you have to do is select your DAW through the LED screen, and the Oxygen Pro automatically maps faders, knobs, transport controls, etc.
Some DAWs let you control more features than others. But most allow you to control essential functions through the Oxygen Pro.
Note Repeat
Note repeat is an M-Audio Oxygen Pro feature that allows you to input repeated notes effortlessly. 
To use note repeat, hold down a key and press the note repeat button.
The keyboard will continue to play that note until you release the key or press the note repeat button again.
Note repeat has two modes: Latch and Momentary.
Latch mode is great when you want a note to repeat without holding it.
In contrast, Momentary mode is great for when you want a note to repeat but only for a short period. Once you release the button, the note will stop repeating.
Software Bundle
With Oxygen Pro MIDI keyboards, you'll get access to Ableton Live Lite and MPC Beats. 
They also come with AIR Music Tech's Xpand!2 software – a virtual instrument with over 2,000 sounds, split into 40 categories. It features several built-in effects, and you can use it to create custom sounds.
Other software included is AIR Music Tech's DB-33 Tonewheel Organ emulator, which gives you access to a wide range of classic organ sounds and many other vintage keyboard instruments.
Not to mention its Void sound library – a collection of over 100 atmospheric and cinematic sounds, perfect for adding ambiance to your tracks.
Aftertouch Capabilities
An Oxygen Pro features that's hard to find at this price range is aftertouch – usually found in higher-end MIDI controllers. 
Aftertouch lets you add expression to your performance by applying additional pressure on keys (after striking them).
For example, you can route aftertouch to control pitch, modulation, and other parameters to add depth to your performance in real-time.
Novation Launchkey MK3 vs M-Audio Oxygen Pro: Which is Better?
So, which MIDI keyboard is the better choice?
We recommend M-Audio's Oxygen Pro MIDI keyboards to keyboardists.
Its semi-weighted key will give you a more realistic feel while playing.
You can even utilize aftertouch to add expression to your performance in real-time.
For Ableton Live users, Novation's Launchkey MK3 is the way to go.
MK3 MIDI keyboards auto-map almost every function in Ableton right out the box, giving you complete control over your DAW without using your mouse.
10 Things to Look for When Buying a MIDI Keyboard
When choosing a MIDI keyboard, you should consider the following factors:
Keys
1. Number of keys
The number of keys on a MIDI keyboard can range from 25 to 88.
Some people prefer 25 and 49-key models because they are more compact and easier to transport, while others find that 61 and 88-key controllers are better suited for playing complex compositions.
2. Velocity-sensitive keys
Velocity-sensitive keys are essential if you want your keyboard to respond to the velocity (or speed) at which you strike the keys.
This feature adds an extra layer of expression to your performance.
3. Type of keys
MIDI keyboards come with synth-action, semi-weighted, or hammer-action keys.
Synth-action keys are more sensitive to touch, while hammer action keys are full-weighted and offer a similar feel to playing an actual piano.
4. Aftertouch
Aftertouch is another important factor to consider if you want your keyboard to respond to the pressure you apply to the keys after you've struck them. 
Features
5. Pitch and mod wheels
Most MIDI keyboards come equipped with pitch and mod wheels.
You can use these wheels to make adjustments to the pitch or modulation of a sound.
6. Advanced features:
Some MIDI keyboards have advanced features such as DAW integration, drum pads, arpeggiators, etc.
These features can be convenient and enhance your production, but they're not essential.
Connectivity
7. MIDI connectivity:
MIDI stands for Musical Instrument Digital Interface.
It's a protocol that allows electronic musical instruments and computers to communicate.
If you want to use your keyboard with a computer, you'll want to ensure it has MIDI connectivity.
You can also use MIDI ports to connect MIDI controllers and hardware Synthesizers.
8. USB connectivity:
Most MIDI keyboards these days connect to computers via USB.
Other Considerations
9. Weight and portability:
If you plan on traveling with your MIDI keyboard, you'll want to choose one that is lightweight and portable.
10. Price:
MIDI keyboards can range from around $100 to $1000 (or more) depending on keys and features. 
Takeaway: Novation Launchkey MK3 vs M-Audio Oxygen Pro
Novation Launchkey MK3
Full-size synth-action velocity-sensitive keys
16 assignable pads for triggering samples and loops
9 faders and 8 rotary knobs for controlling virtual instruments and plugins
Seemless integration with Ableton Live, Logic Pro, and Reason
Transport controls for controlling Ableton Live, Logic, and Reason
Chord and scale mode
Pitch bend and modulation wheels for added expression
USB MIDI connectivity for easy setup
M-Audio Oxygen Pro
full-size semi-weighted velocity-sensitive keys with aftertouch
16 assignable pads for triggering samples and loops
9 faders and 8 rotary knobs for controlling virtual instruments and plugins
Chord and scale mode
Transport controls for controlling your DAW
Pitch bend and modulation wheels
USB MIDI connectivity
Seemless integration with most DAWs