Akai's MPK249 and Novation's Launchkey 49 are two of the most popular USB MIDI controllers on the market.
Both controllers offer musicians many features and benefits, but which is better?
In this article, we will compare and contrast the Akai MPK249 vs Novation Launchkey 49 to help you decide which keyboard is right for you.
Overview: Akai MPK249 vs Novation Launchkey 49
The Novation Launchkey 49 is more affordable and offers more features for Ableton users. 
The Akai MPK249 offers semi-weighted keys with aftertouch making it better for pianists. 
Beginners and non-pianist will benefit more from the Launchkey since it has Scale and Chord modes to help create melodies. 
The first thing that stands out is the MPK249 is more than double the price of the Launchkey 49.
But is it worth the price difference?
It may be if you're looking for more pads.
The MPK249 has 16 physical pads that can expand to 64 due to its four sound banks for each.
You'll also get semi-weighted keys with aftertouch which is more ideal for keyboardists than the Launchkey's non-aftertouch synth-action keys.
However, if key feel and more pads aren't important to you, we believe the Launchkey offers more value, especially for Ableton users.
The MPK249 seamlessly integrates with most major DAWs, but in Ableton, the Launchkey maps instantly, letting you launch clips and scenes, control parameters, navigate between tracks, and more.
You can also activate Scale and Chord mode and piece together complex melodies without knowing music theory.
Our Recommendation
Between the two, we recommend the Launchkey, but the MPK249 offers a better feel for keyboardists.
If you're looking for a more affordable controller with semi-weighted keys and aftertouch, check out the M-Audio Oxygen Pro 49.
Akai MPK 249 Review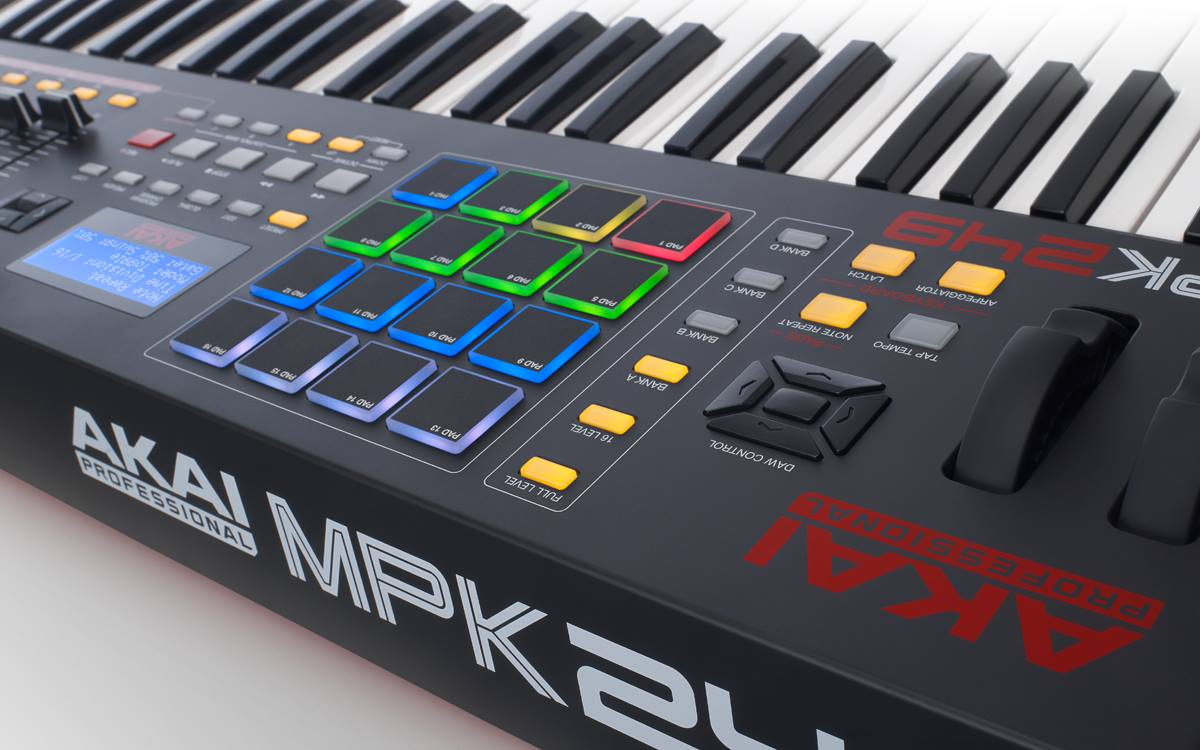 The Akai MPK249 is a premium MIDI keyboard controller with an integrated 4-octave/49-note semi-weighted keybed with aftertouch and 16 responsive MPC drum pads.
It also features 24 assignable Q-Link knobs, faders, and buttons for controlling virtually any software parameter, 4 Banks of sounds to expand your total pads to 64, octave up/down buttons, pitch bend, and modulation wheels, and much more.
Let's take a closer look at what this keyboard has to offer.
Highlights
49 Semi-weighted velocity-sensitive keys with aftertouch
24 assignable knobs, faders, and buttons
16 backlit MPC pads with four banks to expand to 64
DAW integration with transport controls
USB-powered
MIDI In and Out
Sustain and expression pedal inputs
Arpeggiator, note repeat, and MPC swing with different modes
Ableton Live Lite and Pro MPC Essentials included
Design and Controls
The first thing you'll notice about the Akai MPK249 is its sleek, professional design.
The black finish with red accents gives it a modern look that will complement any studio setup.
Its keybed is full-size and velocity-sensitive with semi-weighted aftertouch-enabled keys, making it perfect for both piano and synth sounds.
Also, it has 16 MPC-style drum pads with velocity and pressure sensitivity, allowing you to create dynamic rhythms.
Potential Downsides
Before going over features, there are a few downsides to consider.
One is that the MPK isn't very portable, so it might not be the best option if you're looking for something to take on the go.
Another downside is that it can be a bit expensive.
Depending on your needs, you may find a more affordable controller with just as many features.
Features
Mouseless DAW Control (Transport Controls)
The MPK 249 offers mouseless DAW control, allowing you to control your software exclusively from your MIDI controller.
It features various useful transport controls:
1. Stop: To stop the playback of your sequence, press the Stop button.
2. Play: Pressing the Play button will begin the playback of your sequence.
3. Record: Pressing the Record button will enter record mode.
4. Rewind: Pressing the Rewind button will move you back to the start of your sequence.
5. Fast Forward: Pressing the Fast Forward button will move you forward to the end of your sequence.
6. Loop: The Loop button enables or disables looping for your sequence. When enabled, your sequence will loop continuously from the current position.
Software Bundle
You'll also get a copy of Ableton Live Lite, Pro MPC Essentials, and virtual synths so you can start making music right out of the box.
Overall, the Akai MPK249 MIDI controller features several built-in functions that make it an amazing tool for creators who want to take their music production to the next level.
MPC Swing
One of these functions is the MPC swing feature.
With MPC swing, you can add swing to your notes, giving them a more human feel.
This feature is perfect when you want to add a bit of personality to your music.
Aftertouch
Another great feature of the Akai MPK249 is the aftertouch-enabled keybed.
Aftertouch or pressure sensitivity lets you add expression to your performance by adding pressure to keys after you've played them.
It's perfect for those who want to add emotion and feeling to their music.
[This article lists the seven best Aftertouch MIDI Controllers]
Novation Launchkey 49 Review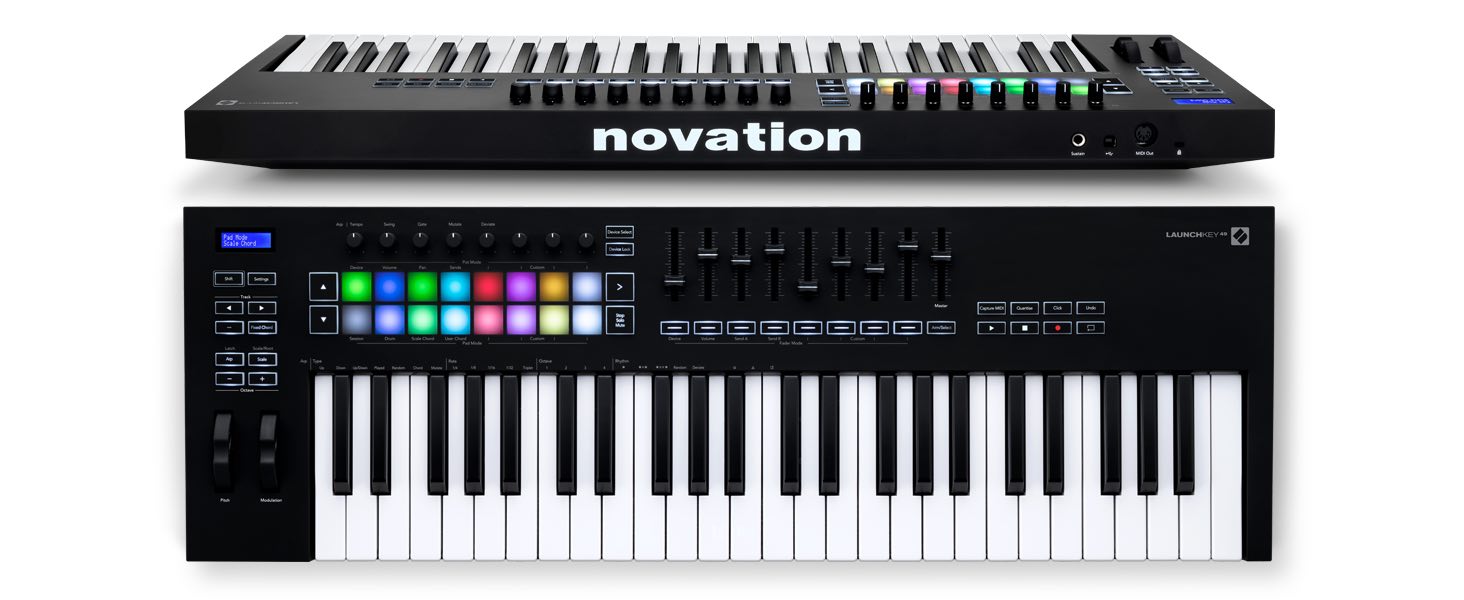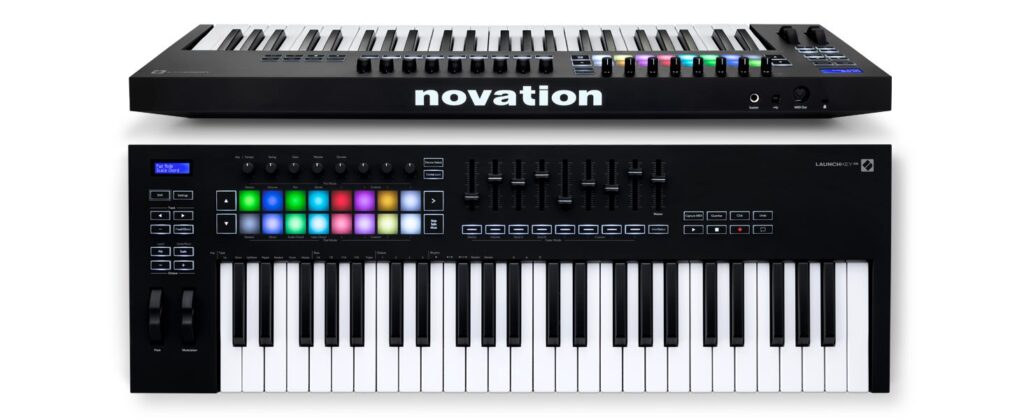 The Novation Launchkey 49 is an excellent option for those who want a simple yet effective controller.
The pads are also quite responsive and offer a nice amount of control.
Overall, the Launchkey 49 offers great value and will streamline your workflow once you get used to it.
Highlights
16 backlit pads for playing drums, launching scenes and clips, etc.
8 assignable knobs for adjusting parameters
9 faders and fader buttons for adjusting levels
Transport controls
Arm/select buttons
Track navigation
Pitch and modulation wheels
Built-in arpeggiator
Custom mode to customize the Launchkey to your liking
Scale and chord modes help you make sonically pleasing melodies
Features
Ableton Live Integration
One of the best features of the Novation Launchkey 49 MIDI Keyboard is its seamless integration with Ableton Live.
All the keyboard controls are completely assignable, making it easy to customize your performance or studio rig.
Additionally, the Launchkey fully integrates with Logic and Reason and has native functionality with other major DAWs, such as Cubase, Pro Tools, and Studio One, thanks to HUI.
You'll get the most out of this MIDI controller in Ableton but still get a good amount of control with other DAWs.
Transport, Track Navigation, Clip Launching, and More
Specifically, in Ableton, you can control transport functions, switch between tracks, launch clips and scenes using the pads, quantize notes, and more.
You can even control Ableton instruments and plug-ins by using the shift and navigations buttons and adjusting the knobs and faders.
Modes
Each pad will play a different chord in a scale in Scale Chord mode, allowing you to create more complex-sounding progressions without having to learn how to play them.
The Launchkey also has a Session mode where you can launch, mute, and stop clips and a User Chord mode where you can save custom chords to each pad. 
Akai MPK249 vs Novation Launchkey 49 Recap
When comparing the Akai MPK249 vs Novation Launchkey 49, there are a few key factors to consider.
First, let's take a look at their price point.
The Akai MPK249 retails for $469, while the Novation Launchkey 49 retails for $230.
So, if the price is a factor in your decision-making, then the Novation Launchkey 49 is the better choice.
The Launchkey also auto maps parameters in Ableton Live, Logic, Reason, and other major DAWs. It also provides clip and scene launching in Ableton and Session and Scale Chord mode.
Both controllers have 49 keys, but the Akai MPK249 has semi-weighted keys with aftertouch capabilities.
The Novation Launchkey 49 does not have this feature and has synth-action keys, which provide an unrealistic feel for pianists.
The Akai MPK249 also has 64 total pads (16 with four sound banks) with velocity-sensitive pads, which allows for a more dynamic and realistic drumming experience.
So, if you're looking for a controller with more pads, then the Akai MPK249 is the better choice.