As music producer, we know how essential a MIDI keyboard controller is in the process of making great music.
But with so many options on the market, it can be tough to know which one is right for you.
That's why we've put together this list of the best 61-key MIDI controllers with semi-weighted keys for music production.
How to Find the Best MIDI Keyboard Controller
Keybed feel and number of keys are important factors to consider when choosing a MIDI controller.
Some producers prefer a weighted and/or semi-weighted keybed for a more traditional acoustic piano feel, while others may prefer a synth-style unweighted keybed for greater speed and expression during performances.
The number of keys on your MIDI controller will likely be determined by the type of music you produce – some producers prefer 25 or 49 full size keys for greater portability, while others may need 88 keys to cover the entire grand piano range.
We find that a 61-key semi-weighted MIDI controller is the sweet spot between an unnatural key feel and a realistic one.
Semi-weighted offers more control than synth-action keys but is sensitive enough for playing percussion and synth sounds.
We'll take a look at some of the features that make a great 61-key MIDI controller, and then give our top five picks.
So whether you're just starting out or you're a seasoned pro, we've got you covered.
Let's get started!
The 6 Best 61-Key MIDI Controllers


Arturia's KeyLab 61 is one of the best 61-key MIDI controllers. It feature amazing onboard features and Arturia's Analog Lab software, which gives you access to over 500 vintage synthesizer sounds.
We recommend this unit if your looking for an advanced MIDI keyboard with a premium sound collection, seamless DAW integration, and aftertouch capabilities.
Highlights
Advanced DAW and plug-in controls
Premium keybed feel and build quality
Aftertouch
Auto mapping
Software included: Arturia's Analog Lab, Ableton Live Lite Piano V 2, Arturia MIDI Control Center
Drawbacks
Build Quality and Feel
The Arturia KeyLab 61 has a premium metal chassis that feels sturdy enough to withstand heavy road use.
The assignable buttons and knobs are also well-made and have a nice tactile feel.
The only downside is that the KeyLab 61 is a bit on the heavy side, but this is to be expected with a 61-key controller.
Its semi-weighted velocity-sensitive full-size keys feel smooth and have a pleasant resistance making them enjoyable to play for experience pianist.
The pads also have a nice feel to them.
Velocity Curve
The KeyLab even lets you adjust the velocity curves to better suit your playing style. You can also set the output to change channels when you press a key, which is great for layering sounds.
Velocity curve is the term used to describe how a MIDI keyboard responds to velocity, or the speed at which a key is pressed.
Velocity curves can be customized on many MIDI keyboards, and allow players to fine-tune their performance.
Different velocity curves can produce different sounds, so it's important to experiment to find the one that works best for you.
Aftertouch
They also have aftertouch, allowing you add another layer of expression to your performance.
If you're unfamiliar with Aftertouch MIDI keyboards, they respond to pressure you apply keys after pressing them.
Pressure sensitivity is different from velocity, which measures how hard you press.
Producers tend to use Aftertouch for applying vibrato, adding effects, etc., while playing VSTs.
Related Post: Everything you Need to Know About Keyboard Aftertouch
Key Features
DAW Mode
Where the Arturia KeyLab really shines is with its DAW control (assessable through the DAW button) for most of the major softwares – such as Cubase, Pro Tools, Ableton Live, and more.
With the DAW control buttons you can play, record, mute, punch in, undo, etc.
These controls vary between DAWs so Arturia includes a magnetic template you can place over the DAW controls based on your software.
You can also use the knobs and faders for mouse-less control over tracks in your software.
Specifically in Ableton Live, the Arturia KeyLab 61 lets you record live loops, browse sounds, and more.
Analog Lab Mode
The Analog Lab Mode lets you to use the KeyLab 61 to control Arturia's Analog Lab plug-in featuring 6,500 synth and keyboard sounds.
In this mode, the keyboard will control the different parameters in Analog Lab making it easy to navigate through sounds, layer them, and create new ones.
You can also use the buttons below the faders to filter presets and find the sounds your looking for.
Connectivity
USB bus powered (USB cable included)
Optional power supply
CV Outs: Pitch Out, Gate Out, Mod 1, Mod 2
MIDI In & Out
Controls/Pedals: 3 Auxiliary Inputs, Expression, Sustain, CV Inputs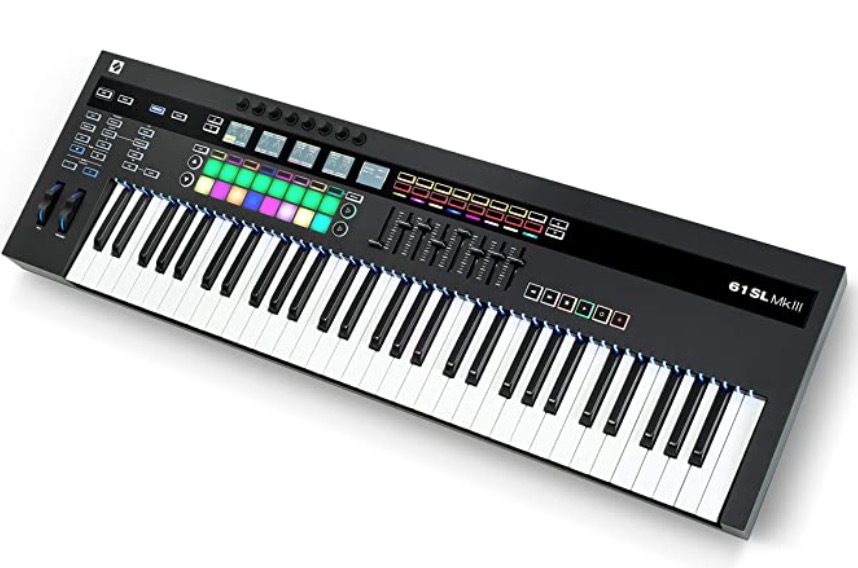 If you're looking for a MIDI controller with a built-in sequencer, the Novation 61SL MkIII is a great option.
Its arguably the best 61 key midi controller due to its internal 8-track pattern sequencer giving you the ability to piece together full tracks from your device.
It has 61 full-sized, semi-weighted keys, giving it a more natural feel when playing chords and melodies.
Plus, the velocity-sensitive keys are great for adding dynamics to your performance.
Other features include an arpeggiator, step sequencer, and USB connectivity.
Build Quality and Design
The Novation 61SL MkIII has a robust, yet light build that can withstand years of use.
All of the knobs, buttons, and faders feel solid, and the keys have a very nice response.
In fact, Novation's 61SL MkIII is one of the best feeling and most responsive keyboard controllers on the market.
Its semi-weighted, aftertouch-enabled keybed with a 10kHz scan rate help create super-dynamic and expressive performance.
The unit is also very well-designed. It's clear that Novation put a lot of thought into the MkIII's layout.
Highlights
8-track, pattern-based sequencer for capturing creative ideas on the fly
Record parameter automation directly onto the sequencer for bringing productions to life
Arp type, sync rate, note and pattern length controls for designing rhythms in real time
Light weight/compact – great for travel
Instant integration with Ableton Live, Logic Pro X, and Reason.
Software Included: Ableton Live Lite, 4 GB of Loopmaster Sounds and Samples
Drawbacks/cons
The sequencer can be a bit tricky to navigate at first

Pricey
Key Features
8-Track Sequencer
The Novation 61SL MkIII's internal 8-track sequencer lets you use the drum pads to record and playback your sequences internally.
To create a sequence, simply hold down a pad, and select a note. This action will sync the pad and note you press. You can do this with each of the pads to create the different parts of your sequence.
When you press play, the MkIII's sequencer will play back your pattern in order. You can also easily remove notes, change tempo, and other useful functions.
Overall, the 8-track sequencer Novation's 61SL is great live performers and producers who want to create more complex drum patterns and sequences. It can add another layer of flexibility to your live sets or productions.
Controls
One of the best aspects about the 61SL MkIII is its comprehensive set of controls.
In addition to the standard pitch and mod wheels, you'll get eight knobs, eight volume faders, and 16 multi-functional backlit drum pads with polyphonic aftertouch.
These controls give you a ton of options when mapping your controls to your software. And if you're using hardware synths, the 61SL MkIII also has a nice set of connectivity options, making integration a breeze.
With its RGB LED feedback, you can see scales, modes, and zones instantly making it easy to stay in control of your music while performing.
Connectivity
USB bus powered
Sustain pedal input


The M-Audio Keystation 61 MK3 is a lightweight and expressive USB MIDI keyboard controller with 61 semi-weighted, velocity-sensitive keys full-sized keys.
Highlights
Lightweight and compact
Advanced button
Smooth pitch and modulation wheel
Compatible with iOS devices
1/4-inch sustain pedal input
5-pin MIDI output
Drawbacks
Limited features – no assignable faders or knobs
Slightly longer than the other five models
No bundled software
Key Features
There's not as much to the Keystation Mk3 as with the other contollers on this list. With those you'll get knobs, faders, and other feature that provide easy control of your DAW.
However, more features come at a price.
If you're looking for an affordable controller – with a nice keybed feel and minimalist design to compliment your studio space – the Keystation is the way to go.
It a nice pitch and mod wheel, a volume slider, octave +/- buttons, transport functions, and a few more features.
Advanced Button
The Keystation 61 MK3's Advanced button gives you access to even more powerful MIDI control.
When the button is engaged, the pitch/modulation wheels and octave buttons transmit on separate MIDI channels so you can control multiple parameters when playing virtual instruments.
The Keystation 61 is an excellent option if you're looking for your first MIDI controller.
Connectivity
USB connection
1/4-inch sustain pedal input
5-pin MIDI output


Whether you're just starting out in music production or looking to upgrade your current setup with something more advanced, you cant go wrong with M-Audio's Oxygen Pro 61.
With its easy integration with virtually every major DAW and wide range of features that'll even impress experienced producers; this full size 61-key MIDI controller will be a great addition to your home studio.
But how does it compare to the KeyLab, 61SL, and Keystation models?
Oxygen Pro Comparison
Like all of the options on this list the Oxygen Pro 61 has a 61-key velocity-sensitive semi-weighted keybed.
However, the 61SL and Keystation 61 don't have aftertouch while the Keylab 61 and Oxygen Pro do.
You'll also get 16 backlit velocity-sensitive pads to trigger samples, loops, effects and even launch clips in Ableton Live.
The Oxygen Pro also comes with 8 knobs and 9 faders similar to 61SL and KeyLab – plus transport functions and pitch bend/modulation wheel as do the other options on this list.
Let's take a closer look at what the Oxygen pro has to offer.
Highlights
Lightweight and packed with features
Aftertouch
Ergonomically designed pitch bend and modulation wheels
Built-in arpeggiator
Bundled software: Akai MPC Beats, Ableton Live Lite, AIR Music Tech VSTs.
Drawbacks
The M-Audio Oxygen Pro 61 is a great keyboard controller for the price, but there are a few drawbacks.
First, the pitch and mod wheels aren't the most responsive, so it can be difficult to make fine adjustments.
Also, the octave buttons are not backlit, so it can be difficult to see them in low light conditions.
Key Features
Arpeggiator and Note Repeat
The Oxygen Pro has useful Note Repeat feature that allows you to input repeated notes effortlessly.
You can use the Arpeggiator feature on the M-Audio Oxygen Pro to create arpeggiated patterns with various note intervals.
The Type, Octave, Gate, and Swing controls let you further customize the sound of the arpeggiated pattern.
Scale and Chord Mode
With the Oxygen Pro's Smart Scale mode, you can play notes in scale without knowing music theory. The mode eliminates incorrect notes from the scale, so you can focus on playing your music.
With Smart Chord mode, you can play sophisticated enharmonic or custom chord voicings without needing to know any music theory. This is a great feature for anyone who wants to play complex chords without getting bogged down in the details.
Software and Integration
The Oxygen Pro comes with a software bundle that includes Ableton Live Lite, AIR Music Tech Xpand!2, and SONiVOX Wobble.
You can easily tweak any of these sounds using the controller's knobs or faders to shape them just the way you want.
Connectivity
USB bus powered
Power supply
1/4-inch sustain pedal input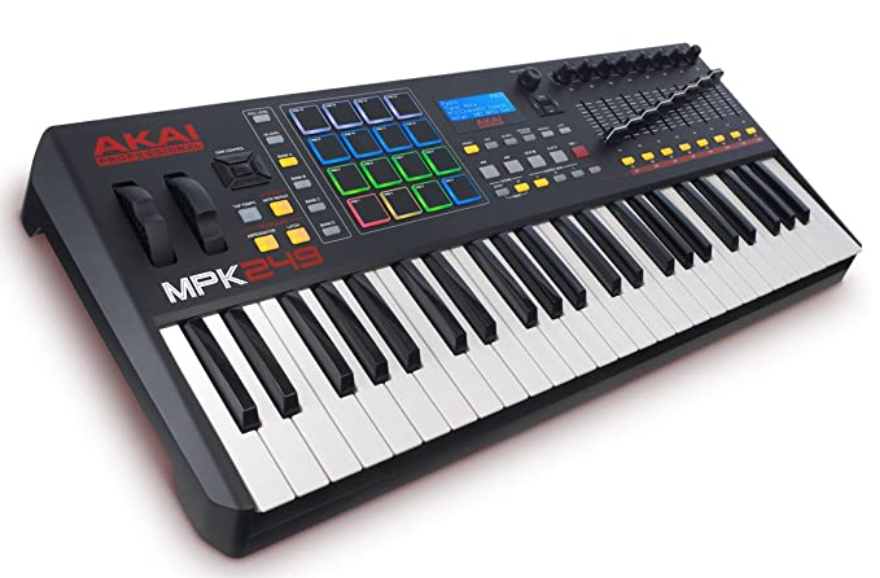 The Akai Professional MPK261 is a 61 semi-weighted MIDI keyboard controller – with aftertouch – that is an excellent option for music producers who want a versatile and expressive instrument.
If you're looking to add even more expression to your performance, the MPK261 also has pitch bend, modulation, and octave controls.
Highlights
The MPK261 gives you absolute control over your software with its authentic MPC workflows.
Its semi-weighted action is an ideal middle ground, working well for piano parts as well as fast synth leads.
Aftertouch
iOS compatible
With its included free software, you can get started crafting sophisticated VST rigs right away: MPC Beats and Ableton Live
Drawbacks
Key Features
Controls
The MPK261 features 16 backlit MPC-style pads with four sound banks, 24 knobs, fader, and buttons, and an easy to use LCD screen.
Integration and Software
It automatically integrates with almost every major DAW software – via its various DAW modes – and comes with transport and parameter controls giving you complete hands-on control.
And if that's not enough, the MPK261 comes with a production software package that includes Ableton Live Lite and Pro MPC Essentials.
So, whether you're a beginner or a seasoned pro, the Akai Professional MPK261 is a great choice for anyone who wants a versatile and expressive MIDI controller.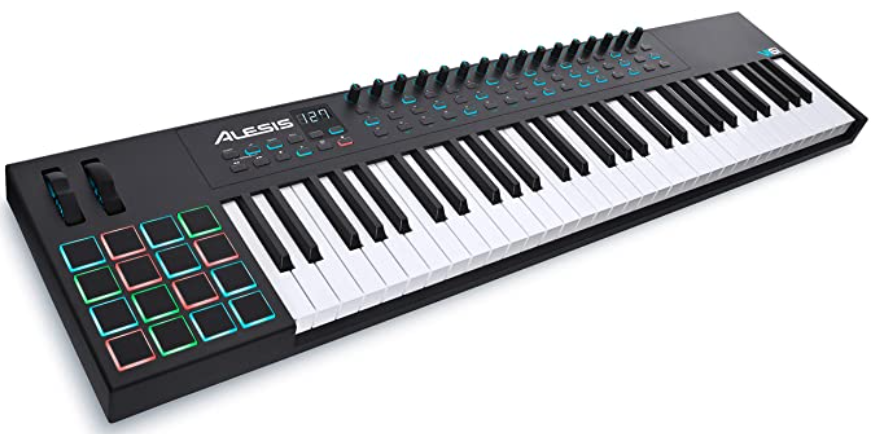 If you're looking for an affordable 61-key semi-weighted MIDI keyboard with aftertouch, transport controls, and a massive selection of pads, buttons, and encoders, the Alesis VI61 is an excellent choice.
Let's take a closer look at what this keyboard has to offer.
Highlights
48 assignable buttons and 8 assignable knobs for controlling your DAW and virtual instruments
Aftertouch
16 assignable pads for triggering samples, loops, and other functions
Bundled software: Ableton Live Lite
Drawbacks
One downside is the Alesis VI61 doesn't have the most aesthetically pleasing design but this is subjective. Also, the drum pads are velocity sensitive but not pressure sensitive like the SL61 pads.
So if you're deciding between the two, the similarly price SL61 may be a better option.
Also the display screen is pretty limited compared to some of the other options on this list.
Key Features
Keybed
One of the best aspects of the Alesis VI61 is its 61 semi-weighted keybed.
Its full-sized keys are velocity-sensitive and offer aftertouch control, making them perfect for a wide range of musical styles.
Aftertouch can be assigned to control different parameters such as modulation, pitch, etc., giving you a wide range of expressive possibilities in your music.
Controls
You can use the VI61's 16 RGB backlit, velocity-sensitive drum pads to tap out rhythms and trigger loops. Plus, the transport section is extremely user-friendly and you get 48 assignable buttons and knobs that make controlling your DAW a breeze.
Overall, this keyboard controller is an excellent choice if you're looking for more knobs and buttons but we prefer the other models on this list based on price and features.
Connectivity
USB connection
Power supply
5-pin MIDI I/O for easy connection to MIDI hardware
1/4-inch sustain pedal input
Features to Consider When Choosing the Best 61-key MIDI Controller
Type of Keys
There are different keys to choose from depending on your playing style and experience.
You can also find models with weighted keys, which can be beneficial if you're a piano player.
There are also synth-action keys which are great for fast-paced electronic music and non-keyboardists.
However, many keyboardist agree that synth-action keys offer an unrealistic feel compared to an actual piano. They use springs and are very sensitive to touch unlike a real piano which has weighted keys.
Semi-weighted is a nice middle ground between the two.
Weight and dimensions
A keyboards weight and dimensions are important factors to consider especially for traveling producers. Because each model 61-key MIDI controller has the same number of keys they're usually around the same length – between 35 and 40-inches .
Most differences arise in dimensions and weight.
Each model has a different weight depending on the number of pads, buttons, faders, material etc.
These controls are useful for live performances. But the tradeoff is they tend to make the device less portable.
Novation's 61SL MkII is an example of a 61-key MIDI controller that provides a host of features but is still relatively light and compact.
Pads and Controls
Generally, the more control options a 61-key MIDI controller provides the more control it'll give you over your DAW.
Higher-end models tend to offer assignable knobs, faders, multifunctional drum pads and pedal options.
Many also have onboard play, stop, record reverse, fast-forward to streamline your workflow.
Not to mention a separate pitch and modulation wheel to add expression to your melodies.
The best 61-key MIDI controllers let you produce entire tracks without touching your mouse.
Extra Features
Auto-mapping is one of most useful features found in a number of keyboard controllers.
With auto-mapping, you wont have to take time routing each knob and fader to parameters in your DAW.
It speeds setting up your keyboard up considerably by automatically matching key controls.
MIDI controllers that come with bundled software are also a nice bonus.
Advantages of 61-key Configuration
25/49 vs. 61-Key MIDI Keyboard Controllers
61-key MIDI controllers offer a number of advantages over 25 and 49-key versions.
They provide a wider range of notes, which can be useful for playing melodies and chord progressions.
They also tend to be more comfortable to play for experienced keyboard players, since they allow for a more natural hand position.
Additionally, 61-key controllers typically have more features than their smaller counterparts.
With extra features and a wider-range of notes, they're more ideal for live performance and professional music production.
61 vs 88-Key MIDI Key Controllers
61-key MIDI controllers also have advantages compared to 88-key versions.
First, they're more lighter and more compact making them easier to transport and ideal for small studio spaces.
Also, 61-key controllers tend to be more affordable than their 88-key counterparts, making them a better option if you're on a budget.
Octaves
25, 49, 61, and 88 key MIDI controllers each have a different number of octaves.
25 key MIDI controllers have two octaves, 49 key models have four octaves, 61 key versions have five octaves, and 88 key MIDI controllers have seven octaves.
Smaller MIDI controllers let you shift up/down two octaves giving you access to a wider range.
Is 61 keys enough for MIDI controller?
61 keys is more than enough for a MIDI controller.
It offers a good compromise between portability and range. They're small enough to easily transport, but still offer a wide range of notes to work with.
This makes them ideal for both studio and live use.
Why 61 Keys is Enough
61-key MIDI controllers offer many advantages over other types of controllers, including:
1. A wider range of notes: With 61 keys, you have access to a much wider range of notes than with a smaller controller.
This can be especially helpful if you're playing complex melodies or chords. More keys provide greater possibilities for making music.
2. More octaves: Most 61-key controllers include at least five octaves, giving you even more range to work with. This can be helpful if you're playing very low or high notes.
3. More keys means more control: With more keys, you have more options for controlling your music.
For example, you can assign different MIDI channels to different sections of the keyboard, or use the additional keys for program changes or other controller functions.
4. Smaller size and weight: 61-key controllers are typically smaller and lighter than their 88-key counterparts, making them easier to transport and set up.
This can be a major advantage if you travel frequently or have limited space in your studio.
5. Lower price: In general, 61-key controllers cost less than 88-key models. This can be a significant advantage if you're on a budget or just starting out with MIDI controllers.
If you're looking for a MIDI controller with a wide range of features and a great price, a 61-key model is a good option to consider.
FAQ
What are Semi-Weighted Keys?
Semi-weighted keys offer a balance between the weighted and unweighted keys. They're designed to provide a more realistic piano playing experience.
Semi-weighted keys often have a spring-like mechanism underneath them that provides resistance when the key is pressed, making it feel more like an acoustic piano.
However, they're not as heavy as fully weighted keys, which can make them easier to play for beginners.
If you play piano the type of keys you choose will make a huge difference.
What is Aftertouch in a MIDI Controller?
Aftertouch is a pressure-sensitive input on a MIDI controller that can be used to add expressive control over sound.
When you enable aftertouch, pressing down harder on the keys will trigger different MIDI CC messages that can be used to control things like volume, vibrato, or other sound parameters.
This allows for more expressive playing and can add a lot of dimension to your sound.
Polyphonic vs Monophonic Aftertouch
There are two types of aftertouch: polyphonic and monophonic.
Polyphonic aftertouch is pressure-sensitive per key, so you can apply different amounts of pressure to each key and get a different response.
Monophonic aftertouch, on the other hand, is pressure-sensitive across all keys, so pressing down harder on the keys will produce the same MIDI CC message.
Which One is Better? Polyphonic or Monophonic Aftertouch
Which type of aftertouch you need will depend on what you want to use it for.
If you want to play more expressive melodies and are an experience keyboardist, then polyphonic aftertouch is an excellent option.
Conversely, if you want to use it for adding vibrato or other effects to your sound, then monophonic aftertouch is all you need – and is more common.
Related Post: 6 Best Aftertouch MIDI Keyboards
What are Transport Controls on a MIDI keyboard?
Transport controls on a MIDI keyboard let you control playback of a MIDI sequence. These controls typically include a play, stop, and record buttons.
By pressing the play button, you can start playback of your MIDI sequence.
Similarly, hitting the stop button will stop playback.
If you want to record a new performance, you can hit the record button to begin recording.
One important thing to note is that transport controls only affect MIDI data.
They won't start or stop audio playback.
For that, you'll need to use your DAW's transport controls.
Likewise, you can't use these controls to record audio. But they can be a helpful way to control playback of your MIDI sequences without having to reach for your mouse or keyboard.
Summary: The 6 Best 61-Key MIDI Keyboards
Arturia KeyLab 61
Arturia's KeyLab 61 makes producing music in any major DAW a breeze.
Equipped with a large central volume/navigation knob, 9 faders, and 8 assignable rotary encoders, this unit offer an amazing amount of flexibility.
The KeyLab 61 is also compatible with all major DAWs, making it suitable controller for every producer.
Novation 61SL MkIII
The Novation 61SL MkIII makes sequencing music easy and efficient for live performance and studio production with its 8-track sequencer, 16 drum pads, and easy integration.
M-Audio Keystation 61 MK3 (Budget Option)
You wont get as many features or bundled software with the Keystation 61, but it offers a nice feel, minimalist design, and a useful advanced button feature.
M-Audio Oxygen Pro 61
The M-Audio Oxygen Pro 61 is one of the most versatile MIDI keyboards. It features an assignable fader, rotary encoder, and transport buttons, as well as a large LCD screen for easy navigation.
The keyboard is also velocity-sensitive with aftertouch for added expression.
Overall, the M-Audio Oxygen Pro 61 is a great choice for those looking for a powerful and easy-to-use MIDI controller.
Akai Professional MPK261
The Akai Professional MPK261 is a great midi keyboard for intermediate to advanced users.
It offers a lot of features and functions that are perfect for those who want to take their music production to the next level.
Like the 61SL and KeyLab 61, its a bit pricey. But it's a great investment for serious musicians.
Alesis VI61
The Alesis VI61 is a great mid-range MIDI controller that offers a good blend of features and price.
It's got 48 assignable buttons and a slew of other controls.
If you're looking for a good all-around MIDI controller that integrates seamlessly with your preferred software., the Alesis VI61 is a great option.