If you're a Mac user, you'll want to make sure you choose an interface that is compatible with your computer. To help you out, we've put together a list of the best audio interfaces for Mac users.
Whether you're a musician, a producer, or a podcaster, an audio interface is an essential piece of gear.
It allows you to connect microphones, instruments, and other sound sources to your computer so you can record and edit audio.
It also lets you listen to audio back through headphones or monitors.
Choosing the right audio interface can be daunting, but it doesn't have to be.
In this article, we'll go over some of the best audio interfaces for Mac users.
We'll also give you a few things to keep in mind when choosing an interface to help you make the best decision.
Let's start with an overview of each.
Overview
Universal Audio Apollo Solo – The Apollo Solo also comes with a suite of UAD-powered plugins. Included in this suite are compressors, EQs, reverbs, and delays. These are some of the best-sounding plugins on the market. You can use them in your DAW without draining your CPU power. 
Steinberg UR22C – Steinberg's UR22C offers great value with high-quality sound reproduction, DSP monitoring, and Cubase AI and LE. It features 32-bit/192kHz converters and Yamaha D-PRE mic preamps, which produce clear and detailed audio.
Audient iD4 – The Audient iD4 is a great-sounding, affordable audio interface. It offers a high-quality mic preamp, a JFET DI input, and ScrollControl navigation.
Top 3 Audio Interfaces for Mac Users
Universal Audio Apollo Solo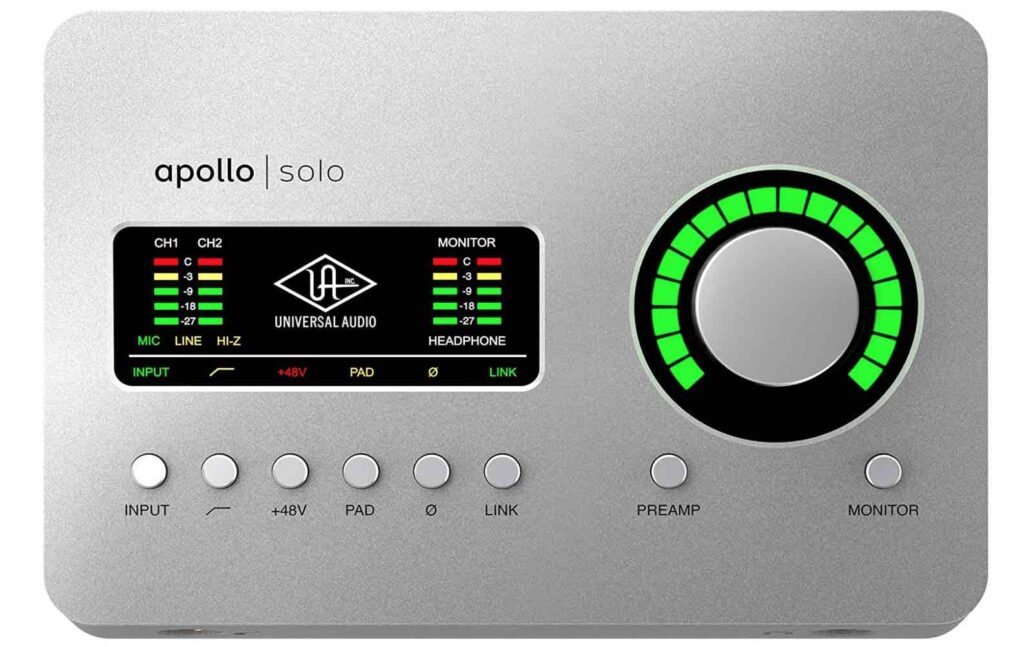 Digital Signal Processing
Universal Audio is one of the first audio interface manufacturers to offer onboard digital signal processing with its Apollo Twin model. 
It later released the Apollo Solo, a simplified, more affordable version of the Twin.
While the Solo is simplified, it has many of the same features that make the Twin one of the best interfaces.
First, it has onboard DSP, which allows you to monitor audio in real time through UAD plugins with near-zero latency.
This feature is a big selling point for those who want to record through vintage EQs, compressors, mic preamps, and guitar amp plugins without extra CPU strain and latency.
Unison-Enabled Preamps
This unit is also equipped with two Unison-enabled mic preamps. 
Unison is Universal Audio's impedance-emulating technology that accurately reproduces the tone of classic tube and solid-state mic preamps. This feature allows you to get authentic tones without using actual vintage gear.
Recording Quality and I/O
Without any processing, the Solo's preamps are low-noise with plenty of headroom. Plus, its converters are top-notch and provide accurate audio reproduction.
The unit itself has a sleek design and is very easy to use.
It's small and can easily fit on a desk or in a backpack for mobile recording.
Regarding I/O, it has two combo XLR/TRS inputs, two TRS outputs, and a Thunderbolt 3 connection.
The only downsides are that it doesn't have ADAT expansion like the Twin model. So you're limited to connecting up to two inputs at a time. It's also a bit pricey if you don't care about advanced features.  
Overall, the Apollo Solo is a great interface for those who want high-quality audio conversion, low-noise preamps, and easy portability without breaking the bank.
It's also ideal for those who want to take advantage of UAD plugins but only need up to two inputs simultaneously.
Related Post: Universal Audio Apollo Twin vs Solo
Steinberg UR22C


The Steinberg UR22C is one of the most affordable DSP audio interfaces.
Its dspMixFX mixer lets you monitor through effects – EQ, compression, reverb, and more – with zero latency. 
You can also take full advantage of Steinberg's Cubase AI music production software right out of the box.
This unit is very portable, thanks to its tough, road-ready build. 
It's also USB Type-C compatible with two mic/line inputs, two outputs, and MIDI I/O.
Recording Quality
This unit offers 32-bit/192kHz audio resolution – a higher bit-depth than most interfaces, which theoretically means more accurate digital/audio conversions.
Its mic preamp is also noteworthy – it's a Yamaha D-PRE, known for its clear and detailed sound.
Overall, the Steinberg UR22C is a great audio interface for those on a budget.
It offers professional sound quality, DSP monitoring, and comes with Cubase AI and LE, giving you the tools you need to start recording music on your Mac or iPad.
Audient iD4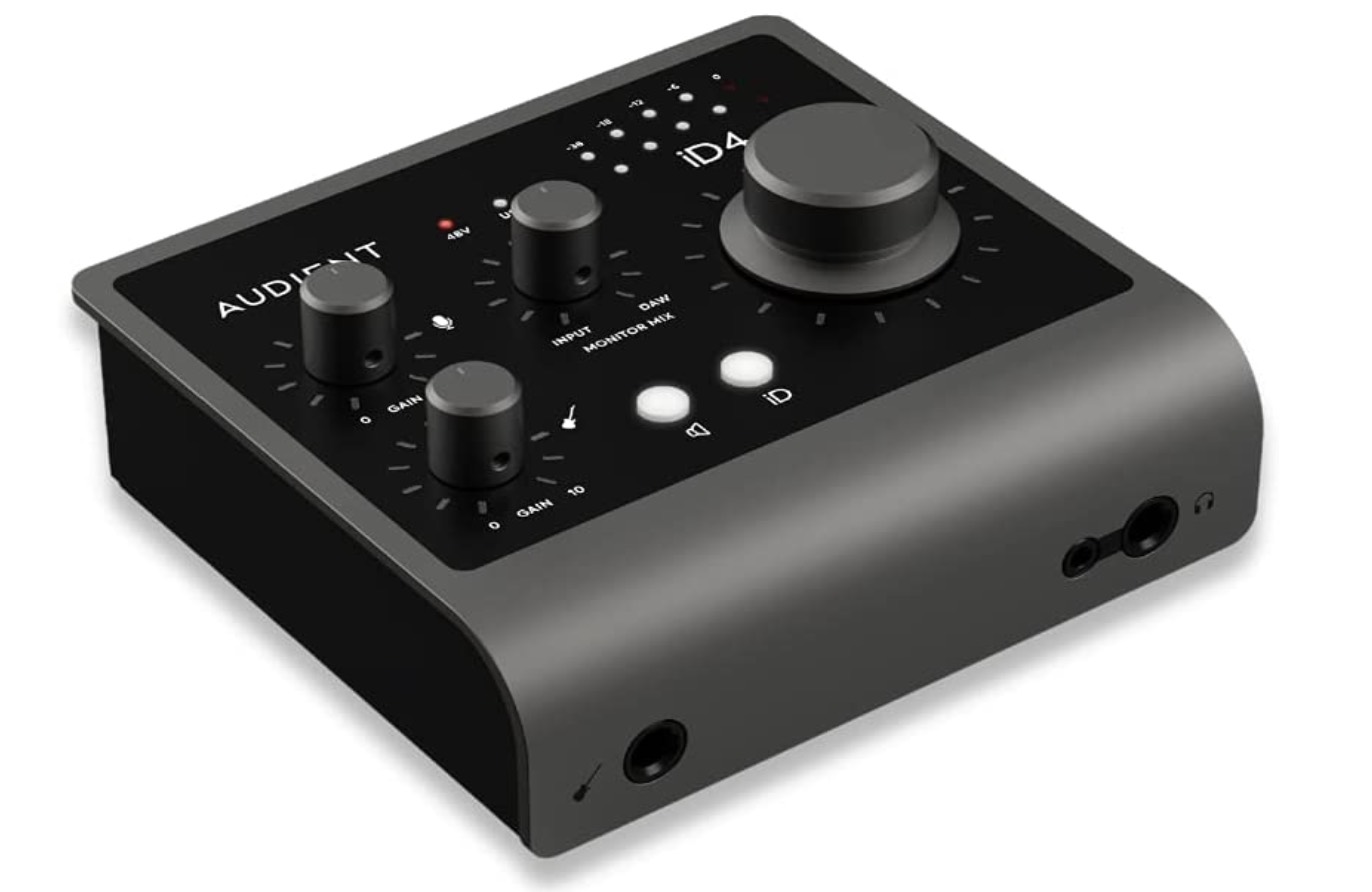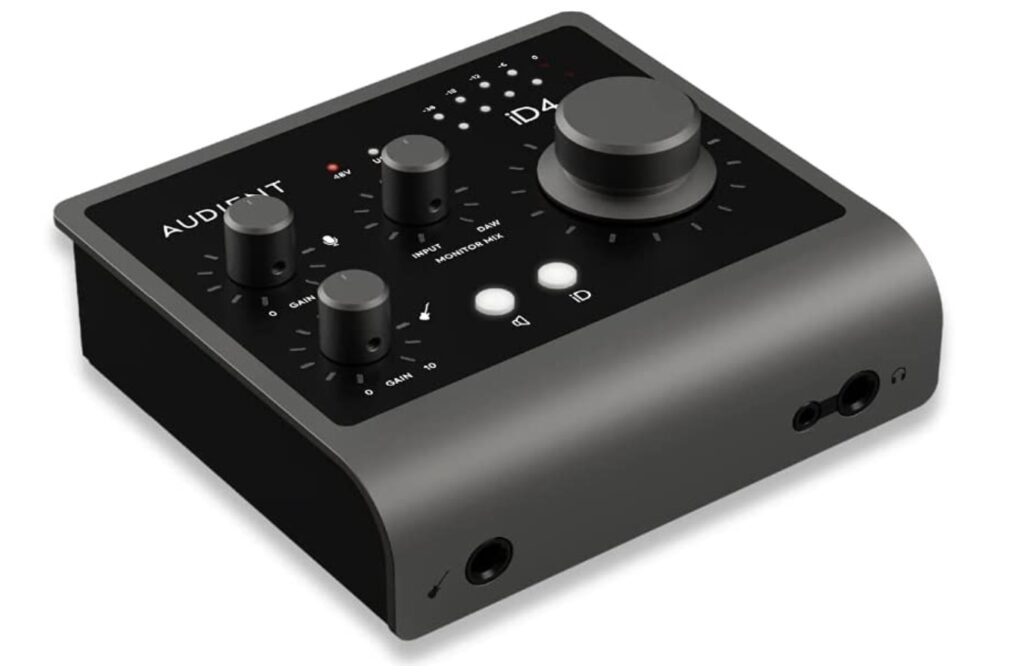 Audient's iD4 is one of the latest iterations in its iD audio interface series.
The iD4 is a two-in/two-out USB audio interface that sports a single mic preamp and a JFET DI 1/4 instrument input.
The device is super lightweight and portable, measuring only 5.2 x 4.72 x 1.57 inches and weighing only 1.63 pounds.
Despite its small footprint, the iD4 can deliver professional-grade sound quality with a 24-bit/96kHz sample rate. 
Its mic preamp sounds transparent, providing plenty of headroom and clarity.
The JFET DI input also sounds great, making it a great option for recording guitars or bass directly into your computer.
Scroll Wheel Navigation
Our favorite iD4 feature is its scroll wheel navigation.
You can use the large central knob to adjust your recording levels, monitor mix, and other DAW parameters. This is a rare feature to find in an entry-level interface and makes recording with iD4 more efficient.
In terms of drawbacks, this unit doesn't come with a software bundle and is limited to one mic input.
However, it's perfect for those looking for an affordable yet high-quality audio interface for their home studio.
It offers a great balance between features and price, giving you enough to get great-sounding recordings without breaking the bank.
Related Post: Audient iD4 Complete Review
How to Find the Best Audio Interface for Mac
When choosing an audio interface, there are a few things you'll want to keep in mind.
Computer Connection
First, what kind of connection do you prefer?
While USB is still the most popular audio interface connection type, Thunderbolt has recently gained popularity, particularly among serious musicians and audio professionals.
Thunderbolt is a high-speed data transfer protocol much faster than USB and allows for very low latency. This speed is ideal for audio applications where every millisecond counts. 
As a Mac user, you can take advantage of this high-speed connection by using a Thunderbolt audio interface like the Apollo Solo.
The next best option is a USB-C connection type – found in the Audient iD4 and Steinberg UR22C – which is slower than Thunderbolt but faster than USB-B.
Related Post: Best Thunderbolt Audio Interfaces
Inputs
How many inputs do you need?
Most interfaces will have at least one microphone input and one instrument input, but you may need more depending on your setup.
If you only plan on recording one mic or instrument at a time, you can get away with a 2-channel interface. But if you want to record multiple sources simultaneously, you'll want an interface with more channels.
Features
Do you need additional features?
Most audio interfaces have basic features like phantom power for condenser mics and direct monitoring for zero-latency recording. 
However, some models offer onboard DSP effects, advanced preamp features, and more.
For instance, the UA Apollo Solo and Steinberg UR22C have onboard digital signal processing, allowing you to add real-time effects without latency. 
The Apollo Solo also offers Unison preamp modeling, which you can use to recreate the tone of classic audio gear.
There are also interfaces with tube preamp features like Air Mode in the Focusrite Scarlett series and Vintage Mode in the Universal Audio Volt series. These features aim to add character to your audio. 
When choosing an audio interface, it's important to consider what features you need and which ones would be nice to have.
Some common audio interface features include:
Phantom power: Used to power condenser microphones. It's usually marked with a +48V switch.
Direct monitoring: This feature allows you to hear your audio while recording without latency.
Onboard DSP effects: Used to add effects in real-time without latency.
Advanced preamp features: These include tube preamp modeling and EQ shaping features.
MIDI I/O: Allows you to connect MIDI devices to your audio interface.
Advanced features like these can help you get the most out of your recordings and make the mixing and mastering process much easier.