At first glance, the price of the M-Audio M-Track Solo can seem too good to be true.
Can you get high-quality recordings from home with such as affordable interface?
We've tested the M-Track Solo to find out.
Here's our full review of its recording quality, preamps, features, software bundle, and more.
Overview
The M-Audio M-Track Solo is an affordable 2-in/2-out audio interface, offering an easy-to-navigate design with transparent low-noise preamps. While this isn't the most sophisticated interface, the price, it's hard to find one better.
M-Track Solo Overall Grade: B+
Build Quality: C+
Design Quality: A
Recording Quality: B
Preamps: A
Features: B-
Software Bundle: B+
Who is the M-Audio M-Track Solo Best for?
The M-Track Solo is an excellent option for basic home studios.
If you're a beginner looking for a quick start in audio production. Or a music producer searching for an affordable audio interface, you can't go wrong with having one of these around.
The M-Audio M-Track Solo is Best for…
Beginners
Basic home studios
Music producers
Self-recording artists
Musicians on a budget
Notable Features
2-in/2-out: A combo mic and line input, an instrument input, and two RCA outputs
3.5mm headphone output
48kHz at 16-bit A/D / D/A converters
Direct monitoring
Low-noise Crystal preamps
Basic LED indicators
Layout and Controls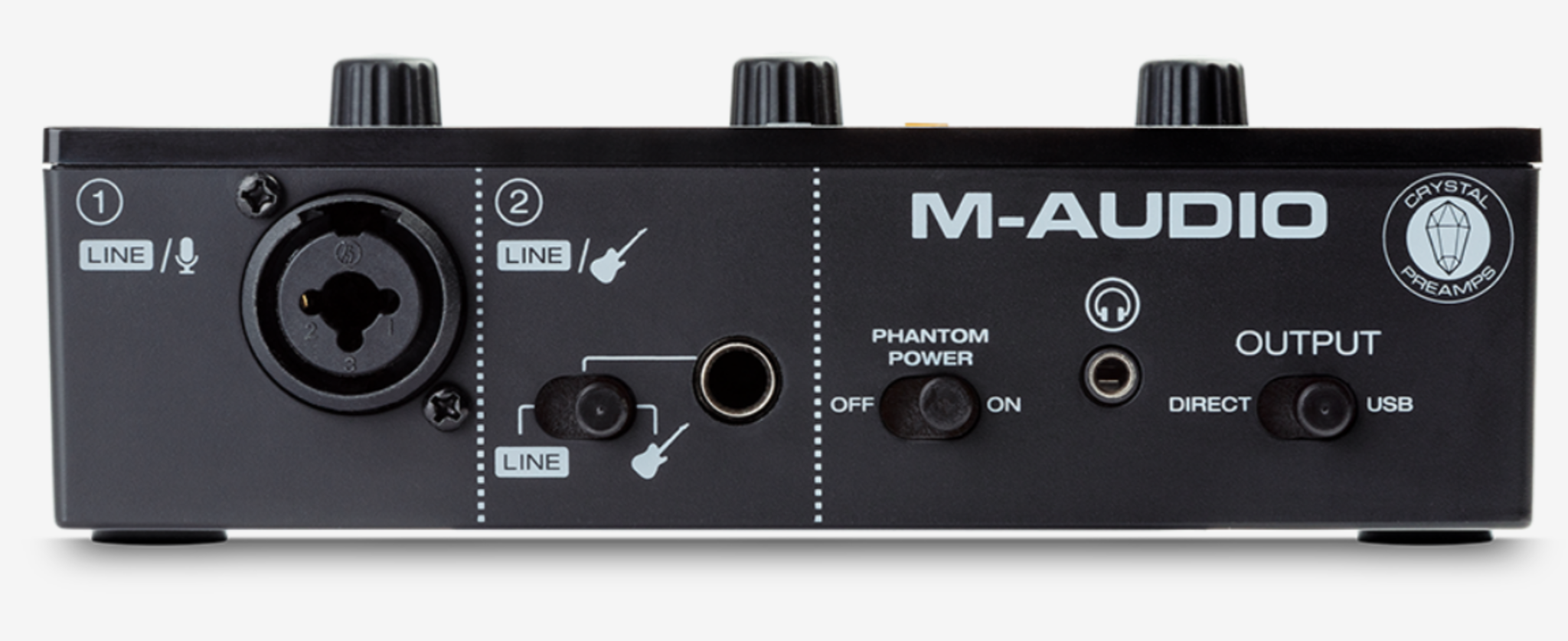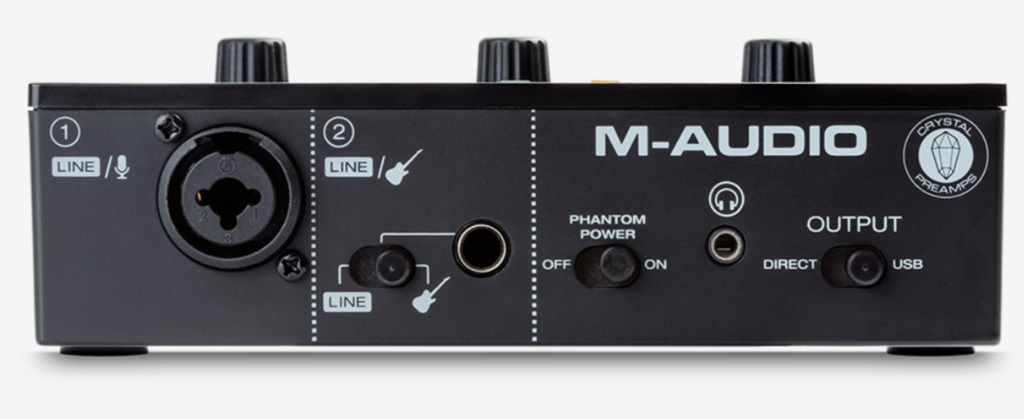 On the front of the Solo, there's a combo XLR/TRS input for mic and line signals.
Also, you'll get a ¼ inch input that you can toggle between a line and instrument level signal.
You'll see a 3.5mm headphone output and two buttons toward the right.
The first button enables phantom power.
And the second lets you switch between hearing zero-latency audio directly from your inputs and audio from your DAW – letting you hear effects while recording.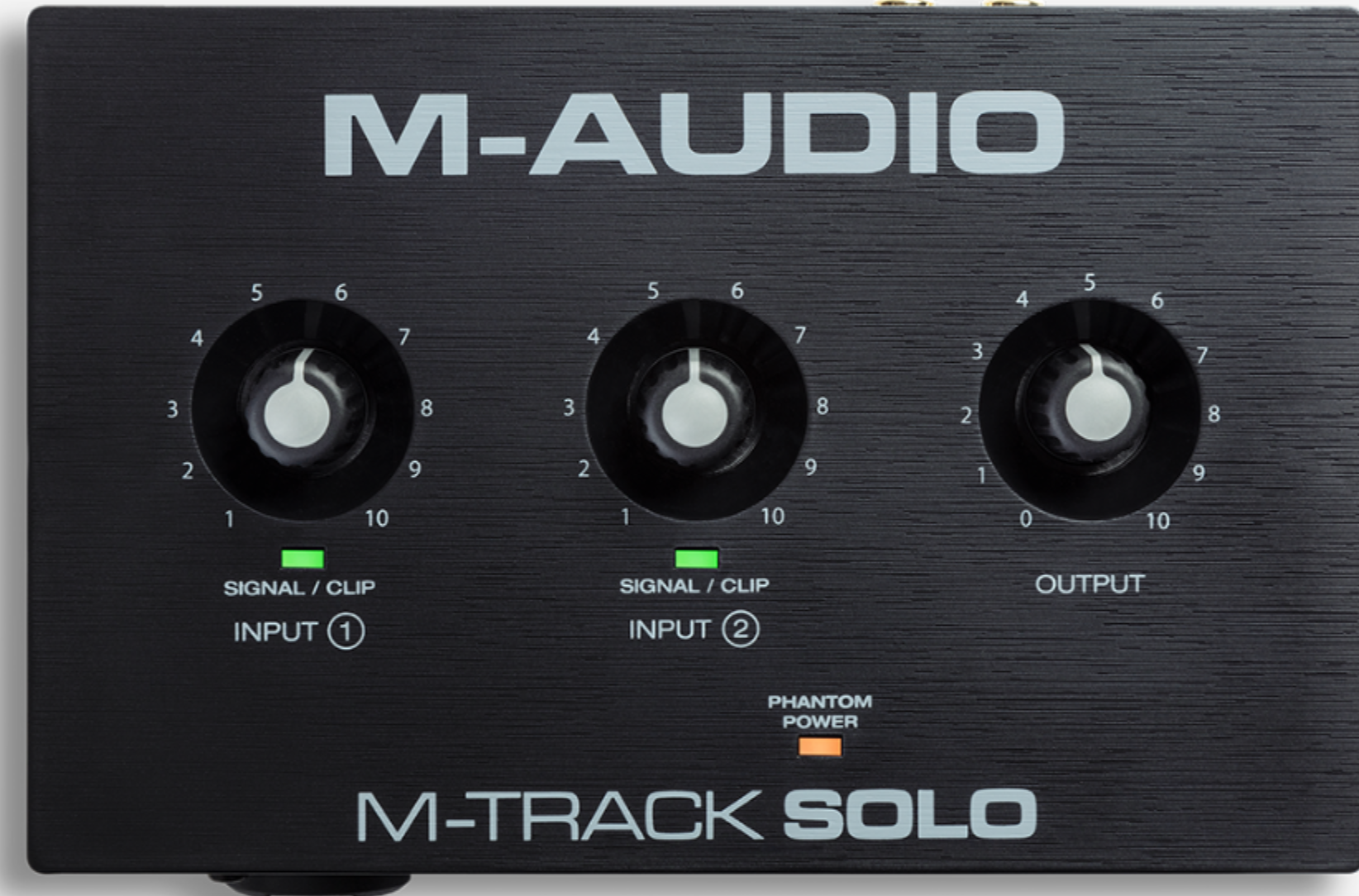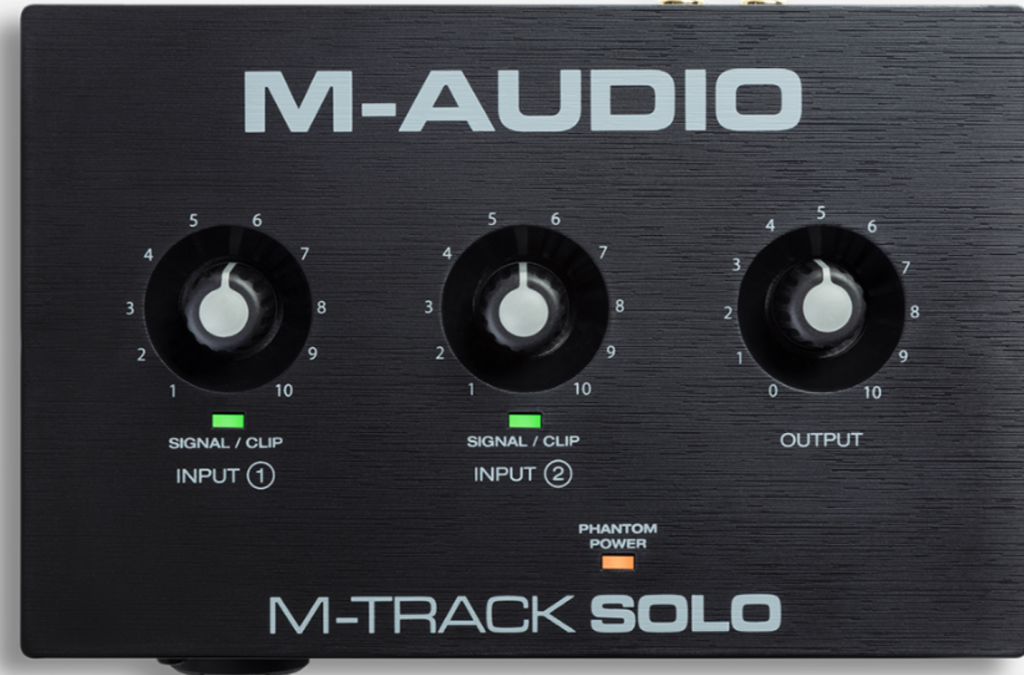 You'll see two gain knobs for each input and a volume knob for the main and headphone output on the top of this interface.
Under each gain knob is an LED clipping indicator.
The last LED signal on the front lights up when phantom power is enabled.

Lastly, we have a USB-B connector and two RCA outputs on the back.
Build Quality
Grade: C+
For the price, it's not surprising that the Solo is completely made of plastic.
While this makes it super light, it feels very fragile compared to interfaces with a metal exterior.
If you're looking for a more durable interface in the same price range, check out the Behringer U-Phoria UM2.
Otherwise, for basic home uses, the Solo works fine.
Design Quality
Grade: A
One of the highlights of the Solo is its simple and intuitive design.
Luckily, M-Audio didn't try to cram everything on the front panel.
The Solo comes with easily accessible knobs that are indented to protect against damage.
Having these knobs on the top makes this interface very easy to navigate.
Recording Quality
Grade: B
Audio Resolution
The M-Track Solo lets you record at up to 48kHz at 16-bits.
These days, the standard audio resolution for an interface is at least 96kHz at 24-bits.
However, most people in audio production tend to record at 44.1 and 48kHz anyway.
A higher audio resolution would be nice. But for basic home uses, the Solo will get the job done.
Dynamic Range
The Solo is lacking a bit in the dynamic range department.
With a dynamic range of around 90 dB, it slightly outperforms the similar Behringer UMC22.
However, it falls short compared to most entry-level interfaces.
Conclusion
Overall, from our experience, the Solo stacks up well against interface under $100.
Musicians with an experienced ear may prefer something more high-end.
But, in our opinion, you won't find better recording quality than the Solo for its price.
Preamps
Grade: A
The Solo features M-Audio's transparent, low-noise Crystal preamps.
They offer a respectable gain range of 0 to 54 dB with an ultra-low equivalent input noise (EIN) of around -130 dB.
Compared to similar price interfaces, the Solo produces less preamp noise than the Behringer UMC22 and UM2.
Overall, the Solo offers one of the best noise performances for an entry-level interface.
The Solo's impressive Crystal preamps make it suitable for recording both condenser and dynamic mics.
[Here are the audio interfaces with the best preamps]
Features
Grade: B-
The Solo isn't for you if you're looking for advanced features.
You'll get standard features like phantom power and direct monitoring with some basic LED indicators.
Overall, we weren't much in terms of features for the price.
Software Bundle
Grade: B+
For its price, the M-Track Solo comes with an impressive software bundle.
You'll get access to MPC beats digital audio workstation (DAW).
It gives you the ability to record songs and podcasts – and produce beats right out of the box.
MPC beats also comes with three virtual instruments: TubeSynth, Electric, and Bassline, 80 FX plug-ins by AIR, and Guitar Amps effects from Revalver.
Audio Interface Comparison
M-Audio M-Track Solo vs M-Audio M-Track Duo
The M-Audio M-Track Duo and Solo offer identical performance.
The main difference is the Duo has two combo inputs, while the Solo has one and a ¼ inch instrument input.
The Duo's additional mic input lets you record multiple mics at once.
You can even connect a mic or instrument and a preamp with the extra combo input.
M-Audio M-Track Solo vs Focusrite Scarlett Solo
The M-Track Solo offers more inputs than the Focusrite Scarlett Solo for half the price.
With the Scarlett Solo, you'll get a mic and instrument input.
Conversely, the M-Track Solo features a combo mic/line input and an instrument input.
Ultimately, the Scarlett Solo offers a slightly better audio performance.
But the M-Track Solo is an affordable alternative for home recording.
M-Audio M-Track Solo vs Behringer U-Phoria UMC22
The apparent difference between these interfaces is the build quality.
The Behringer UMC22 is housed in metal, making it more durable than the M-Track Solo's plastic exterior.
If you're looking for an affordable mobile interface, the Behringer UMC22 is a better option.
M-Audio M-Track Solo vs Behringer U-Phoria UM2
The Behringer UM2 is very similar to the M-Track Solo.
They both have a max sample rate of 48kHz, with a similar design, for basically the same price.
However, the Solo has better mic preamps.
Takeaway: M-Audio M-Track Solo Review
We highly recommend the M-Audio's, M-Track Solo.
While it has some minor flaws, we believe it offers some of the best value among entry-level interfaces.
For around $50, you'll get decent recording quality and solid low-noise preamps.
The Solo also has standard features like phantom power, direct monitoring, a line input, a software bundle, etc.