Here's our full review of the Native Instruments' Komplete Audio Mk2.
Native Instruments has long been one of the leading manufacturers of computer-based audio hardware.
Many people are familiar with their popular Apollo audio interface series.
But how good is the more affordable Komplete Audio 6 Mk2?
We'll give our take on its recording quality, preamps, features, and more.
Overview
The Komplete Audio 6 Mk2 is a well-designed 6-in/6-out audio interface. It features high-quality 192kHz at 24-bits audio converters, transparent low-noise preamps, and advanced direct monitoring features.
Komplete Audio 6 Mk2 Overall Grade: B+
Build Quality: B-
Design Quality: A
Recording Quality: B+
Preamps: B+
Features: A
Software Bundle: B+
Who is the Komplete Audio 6 Mk2 Best for?
The Komplete Audio 6 Mk2 is ideal for musicians who love to collaborate.
Whether you're recording artists or a band in your home studio, the Mk2 6 features six inputs and outputs (I/O) each.
These additional I/O let you effortlessly connect multiple mics, instruments, studio monitors, preamps, and other audio devices.
The Komplete Audio 6 Mk2 is best for…
Intermediate home studios
Small bands
Experienced musicians on a budget
Beginners looking for a more advanced audio interface
Notable Features
6-in: 2 combo XLR/TRS inputs with two additional ¼ inputs, MIDI IN, S/PDIF IN
6-out: 4 ¼ balanced outputs, MIDI Out, S/PDIF OUT
Dual headphone outputs
Direct monitoring mixer control
LED level meter
Phantom power
USB-B connector
Layout and Controls


You'll find two combo XLR/TRS inputs on the front of the Mk2.
Each input has a corresponding can knob and a switch to toggle the ¼-TRS input between a line and instrument-level input.
Next, you'll see a button for switching between direct monitoring in mono and stereo.
The Mk2 also comes with a button to control the direct monitoring blend for channels 1-2 and 3-4 separately.
Under these controls is a button for enabling phantom power, followed by a blend knob for direct monitoring.
Lastly, we have two headphone outputs with corresponding volume knobs.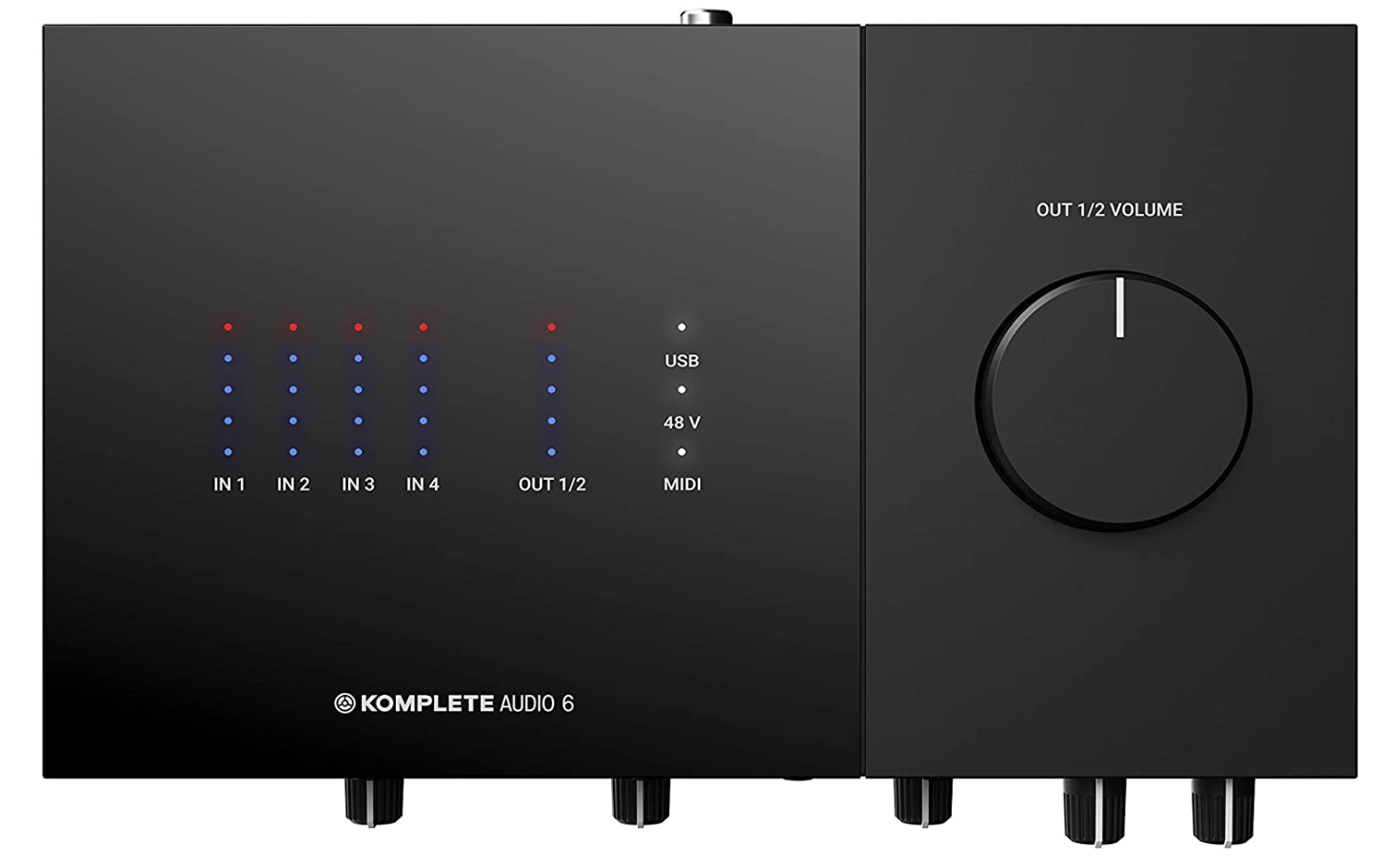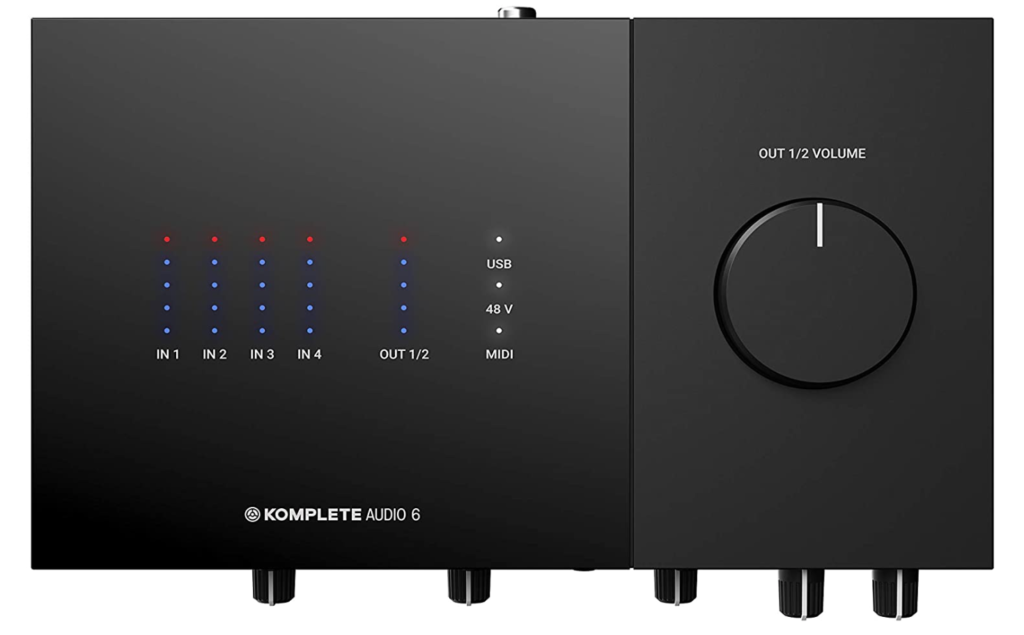 On the top of the Mk2 are limited but valuable LED level meters for each input and the main output.
Next you'll find LED indicators for USB (power), phantom power, and MIDI.
There's also a large volume knob for the main output.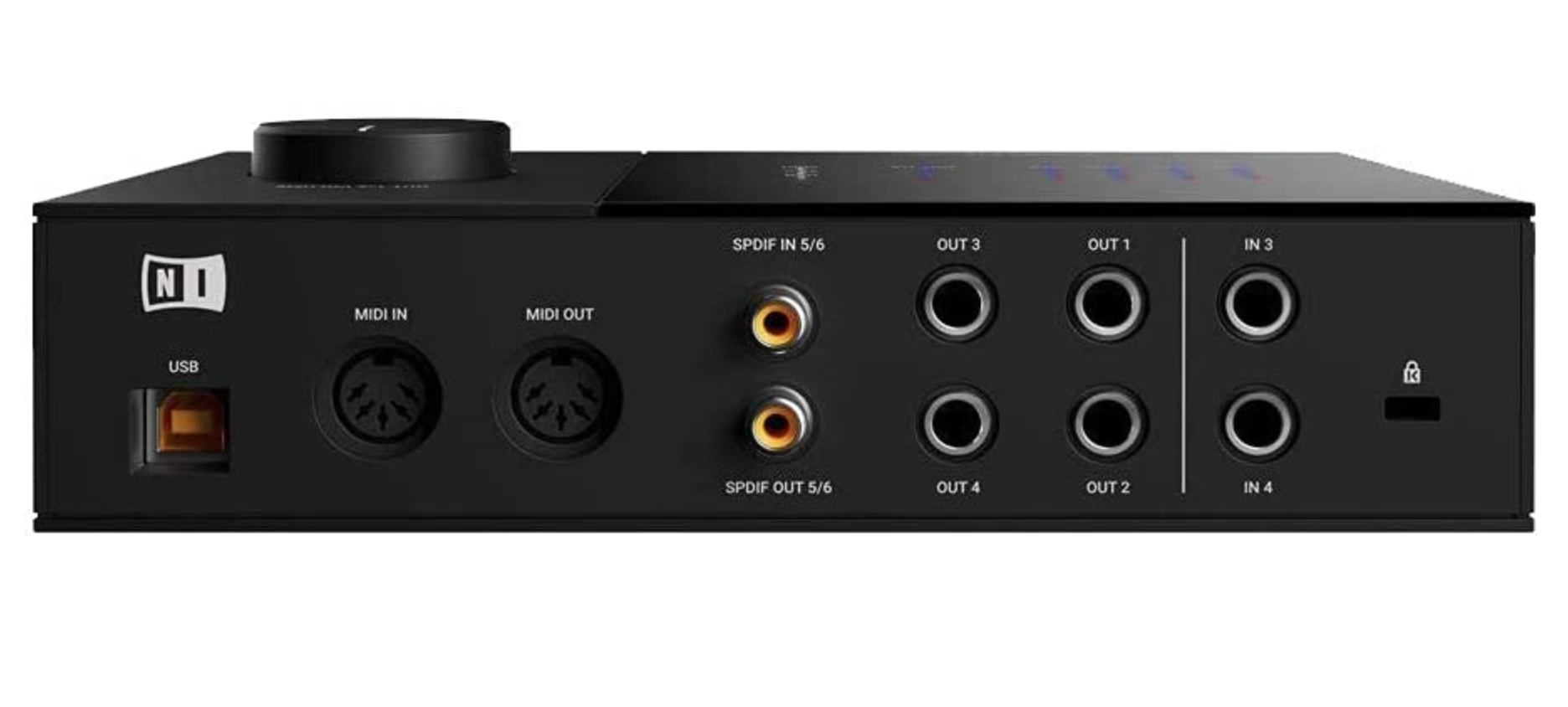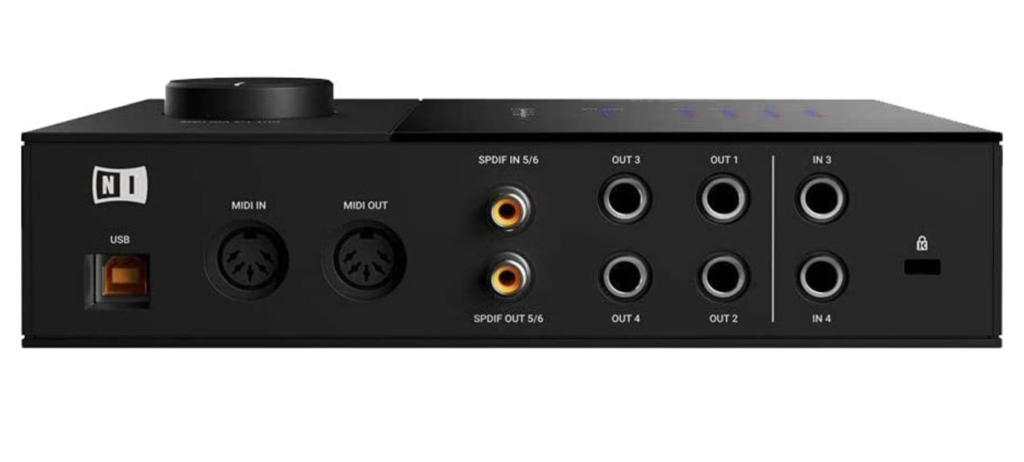 On the back is a USB-B connector, MIDI I/O, SPDIF I/O, with four ¼-inch balanced outputs, and two ¼-inch line-inputs.
Build Quality
Grade: B-
The Mk2 has a complete plastic exterior.
Its plastic build makes it less mobile-friendly than interfaces built with metal.
But we can say its knobs feel sturdy and turn smoothly.
While you'll find more durable interfaces for a similar price, the Mk2 is perfectly suitable for home recording.
Design Quality
Grade: A
Even with so many knobs and buttons, the Mk2 is still super easy to navigate.
As a bonus, each gain knob is directly next to the input it controls.
Plus, it features a large main volume knob on the top panel for quick access.
Recording Quality
Grade: B+
The Mk2 features studio-quality converters with a 192kHz max sample rate and 24-bit bit depths.
Most people in audio production tend to record at 44.1 and 48kHz. But 192kHz is a plus for video and film production.
A higher sample rate and bit depth can also improve the accuracy of your audio. It'll also provide additional headroom and let you use more plug-ins during post-production.
Preamps
Grade: B+
The Komplete Audio 6 features two low-noise transparent mic preamps.
Its preamps produce crystal-clear audio from our experience.
[Click here for the audio interfaces with the best preamps]
Features
Grade: A
Possibly the best feature of the Mk2 is the flexibility over direct monitoring.
Starting with the Mixer knob, you can control how much audio you hear from your inputs and DAW.
With this knob to the left (inputs), you'll hear a near zero-latency direct signal from your inputs.
You can turn this knob toward the right to hear effects from your DAW.
You can also enable direct monitoring in mono or stereo and control the blend for channels 1-2 and 3-4 separately.
Software Bundle
Grade: B+
Included with the Mk2 is access to Ableton Live 10 Lite – providing you with all of Live's essential tools, instruments, and plug-ins.
You'll get additional instruments and effects from Machine Essential and Komplete Start, a Solid Bus Comp compressor, Mod Pack modulation effects, an analog plug-in from Monark, and a delay plug-in from Replika.
Audio Interface Comparison
Komplete Audio 6 Mk2 vs Motu M2
The Mk2 is the better choice if you need additional I/O.
It comes with two SPDIF connections letting you expand your I/O digitally. You'll also get an extra headphone output and two more ¼-inch inputs than the Motu M2.
However, if you're only recording one instrument at a time, extra I/O won't make a difference.
For more basic setups, you can save around $50 with the M2.
[Check out our review of the Motu M2]
Komplete Audio 6 Mk2 vs Focusrite Scarlett 2i2
Like the M2, the Focusrite Scarlett 2i2 is a 2-in/2-out interface.
We enjoy the flexibility that the Air Mode feature gives the 2i2.
Air Mode can make your audio sound brighter and more open when enabled.
In general, if you won't benefit from having additional inputs, we recommend the 2i2.
Otherwise, the Mk2 is the better option for more advanced home studios.
[Check out our review of the Focusrite Scarlett 2i2 here]
Komplete Audio 6 Mk2 vs Audient iD14
For around $50 more, the Audient iD14 is an excellent alternative.
It has a simple interface with large space out knobs and up to ten inputs and four outputs.
Also, you'll get digital inputs, a JFET D.I. input, a dual headphone output, and more.
Takeaway: Native Instruments Komplete Audio 6 Mk2 Review
We recommend the Komplete Audio 6 Mk2 for anyone looking for additional connectivity.
With 6-ins and 6-outs, you'll have much more flexibility for large recording sessions.
The Mk2 is a powerful interface that lets you record multiple mics and instruments at once, connect preamps and other audio devices and mix with multiple studio monitors.
Overall, we've gotten nothing but great results using this interface.