Solid State Logic infuses elements of its classic 7-figure recording equipment into an affordable interface with the SSL 2.
It's one of the best affordable interfaces, partly due to its unique Legacy 4K feature.
We'll explain everything you need to know about this feature and if it actually improves sound quality.
Here's our complete review of the SSL 2.
Overview
The Solid State Logic SSL 2 is a 2-in/2-out audio interface with exceptional sound quality and a rare Legacy 4K feature. It's widely regarded as one of the best affordable interfaces out there.
Overall Grade: A-
Build Quality: B+
Design Quality: A-
Recording Quality: A-
Preamps: A
Features: A-
Software Bundle: B+
Notable Features
2-in/2-out: mic, line, hi-Z inputs | two balanced ¼-inch outputs
4K Mode
Low-noise preamps
Monitor mix knob in mono and stereo
USB-C Connector
Layout and Controls


With the SSL 2, the inputs and outputs are on the back the knobs and controls are on the top panel.
You'll get two combo XLR/TRS inputs, two ¼-inch, a ¼-inch headphone output, and a USB-C connector.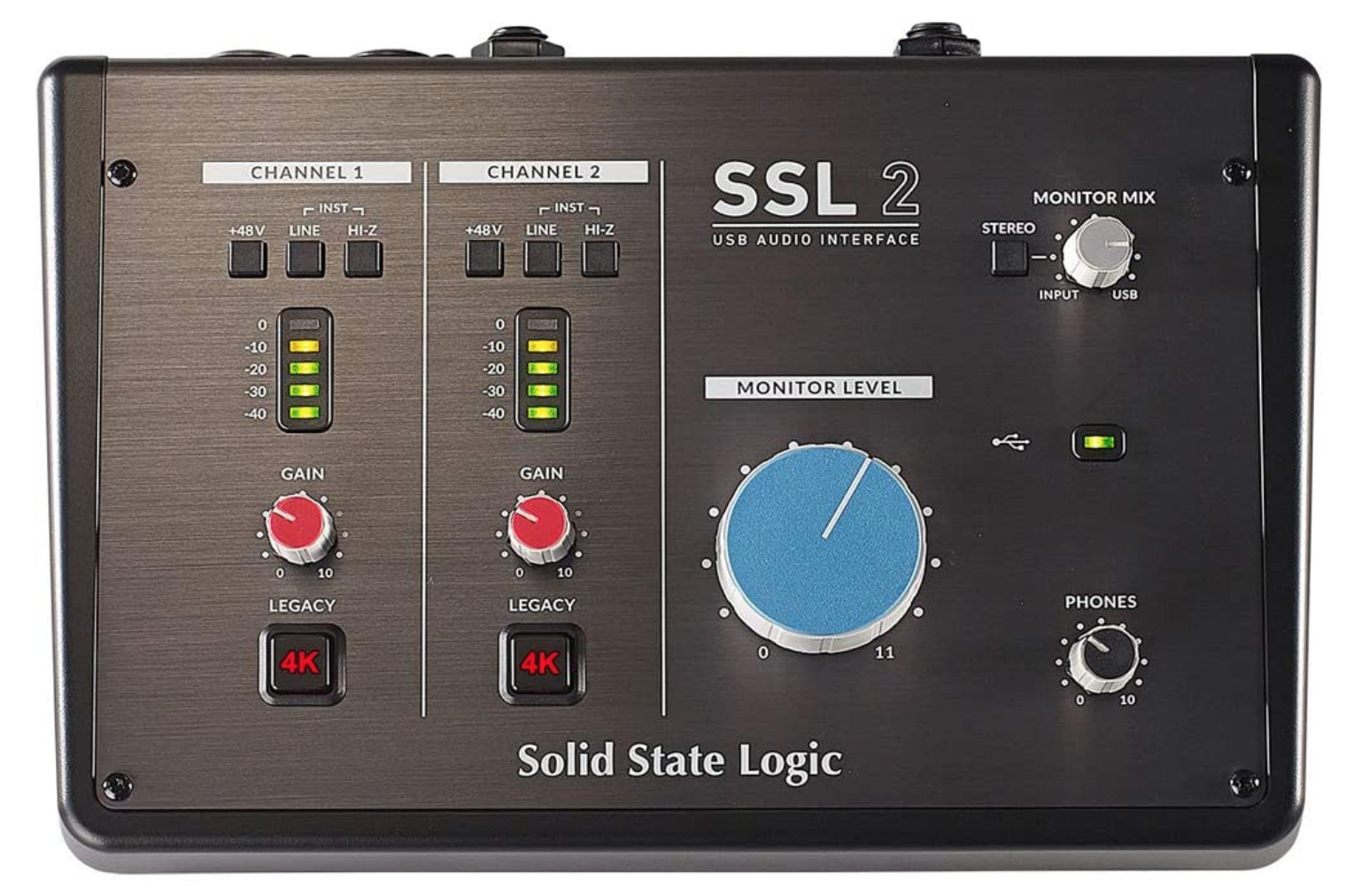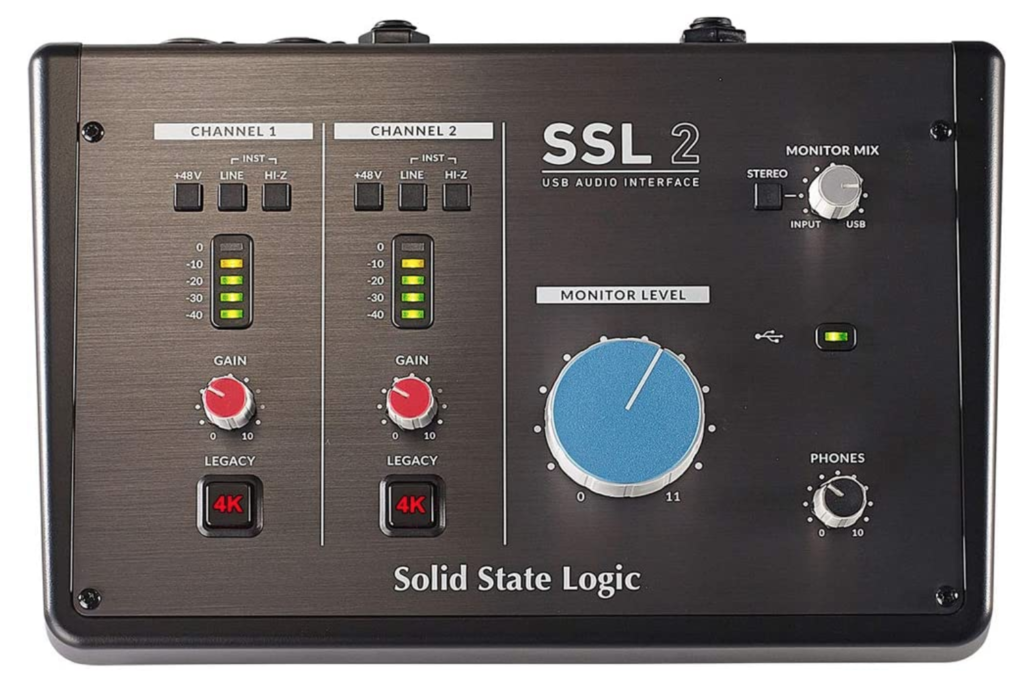 On the top is where you'll find a gain control for each input.
Each channel also has three buttons: a separate phantom power button for each input and two buttons to switch the mic input to a line or Hi-Z instrument input.
Next, you'll find a LED meter and a 4K button for each channel.
There are also separate main output and headphone volume knobs to the right.
Lastly, the SSL 2 comes with a monitor mix knob that you can use while recording in mono and stereo.
Build Quality
Grade: B+
The only complaint about the build quality of the SSL 2 is that the inputs feel a bit loose. Also, it would be nice to see a full metal housing instead of plastic around the sides.
But otherwise, the build feels durable. It has a top metal panel with well attached and smoothly rotating knobs.
Design Quality
Grade: A-
The design and layout of the SSL 2 give you the feel of using an analog mixer. Its top panel layout makes it very easy to identify and adjust setting while recording.
Specifically, we like how the knobs and buttons for each channel are well organized and divided.
We also favor any interface with a large output volume knob.
Recording Quality
Grade: A-
Frequency response and dynamic range are two measurements that play a significant role in recording quality.
To no surprise, the SSL 2 excels in both categories.
Frequency Response
An interface's frequency response tells us how accurately it can reproduce the different frequencies in your audio without unwanted changes.
You'll find that most interfaces these days have a relatively flat frequency response within the 20Hz-20kHz human hearing range.
This statement is especially true for the SSL 2.
You can expect your input audio to be virtually identical to your output.
Dynamic Range
On the other hand, dynamic range is the difference between the quietest and loudest signal an interface can process.
With a higher dynamic range, you'll have more headroom while recording. This extra headroom reduces clipping, so you can capture a clean performance – even when recording hotter signals.
In this case, the SSL 2 has a dynamic range of around 110dB, which is an excellent amount.
Preamps
Grade: A
The SSL 2 comes with an excellent set of preamps.
Their unique circuit design gives them a wider gain range and better noise performance than most entry-level interfaces.
They have a gain range of 62 dB with an equivalent input noise of nearly -131 dBu.
Based on these measurements and our experience, the SSL 2 can provide plenty of clean gain to low-sensitivity dynamic mics. As a result, you won't need a Cloudlifter or Fethead.
Features
Grade: A-
The SSL 2 comes with some awesome features.
You'll get separate phantom power controls for each input.
Having separate controls lets you run a condenser and dynamic mic at once without damaging your equipment. 
You can enable phantom power for your condenser mic and deactivate it for your dynamic mic.
It's rare to see this type of flexibility in an entry-level interface.
Legacy 4K
Also, the Legacy 4K mode, inspired by SSL 4000 series consoles, boosts high frequencies and adds a bit of harmonic distortion to your audio.
This feature is great when your audio sounds dull and you want to make it sound brighter and crisper.
Overall, the 4K feature and the flexibility we get from this interface make it one of our top choices.
Software Bundle
Grade: B+
The SSL 2 comes with Ableton Live 11 Lite giving you all the essential tools you need from a DAW to start creating.
You'll also get a host of plug-ins – Vocalstrip 2, Drumstrip, and AmpliTube 5 SE – and VSTs – AAS Session Bundle, Hybrid Keys, and Komplete Start.
Lastly, Solid State Logic also includes Melodyne Essential, a pitch corrector, and access to Loopcloud samples.
Audio Interface Comparison
Solid State Logic SSL 2 vs. Solid State Logic SSL 2+
The SSL 2 and SSL2+ are virtually the same interface. The difference is the SSL 2+ offers a bit more flexibility.
You'll get an additional headphone output, a pair of RCA outputs, two ¼-inch outputs, and a MIDI I/O.
Solid State Logic SSL 2 vs Motu M2
The SSL 2 and Motu M2 have similar performances and features. The main difference is the Motu M2 has a detailed LCD level screen.
[Check out our review of the Motu M2 here]
Solid State Logic 2 SSL 2 vs. Focusrite Scarlett 2i2
The SSL 2 delivers slightly better audio quality than the Focusrite Scarlett 2i2.
We recommend the SSL 2 if you can afford to spend a little extra.
Solid State Logic SSL 2 vs. Universal Audio Volt 276
The 76 Compressor and Vintage Mode make the UA Volt 276 an excellent option. However, you get slightly better audio quality and more flexibility with the SSL 2.
For example, you can enable phantom power for each input individually with the SSL 2. You'll get this kind of control with the Volt 476 but not the 276.
[Check out our review of the UA Volt 276 here]
Takeaway: Solid State Logic SSL 2 Review
Pros
Large easy to navigate design
Excellent recording quality
High-gain low-noise preamps
Legacy 4K feature
Separate phantom power for each input
Monitor mix knob
Cons