In this post, we'll provide an in-depth review of the popular Audient iD4.
Audient brings a nice unique flavor to the audio interface arena.
You'll notice that many of its interfaces feature a multifunctional scroll wheel. Conveniently, you can use this scroll wheel to adjust key levels and settings in your DAW.
This feature is just one aspect that makes the Audient iD4 stand out from its competitors.
Here's our opinion on its recording quality, preamps, features, and more.
Toward the end, we'll also compare the iD4 to similar interfaces to help you decide if it's the best choice.
Overview
The Audient iD4 is a 2-in/2-out audio interface that delivers some of the best sound quality under $250. It most notably features a multifunctional scroll wheel, a JFET instrument input, and high gain, low-noise mic preamps.
Overall Grade: A-
Build Quality: A
Design Quality: B+
Recording Quality: A
Preamps: A-
Features: B+
Software Bundle: B+
Who is the Audient iD4 Best for?
We believe the Audient iD4 is excellent for newcomers and experienced music makers.
It's super easy to navigate and provides a unique multifunctional scroll wheel that'll give you more control over your sessions.
Notable Features
2-in/2-out: Combo mic and line input | ¼-inch JFET instrument input | Dual headphone outputs | two ¼-inch main outputs
Low-noise Audient Console Mic Preamp
Multifunctional volume knob – virtual scroll wheel
Layout and Controls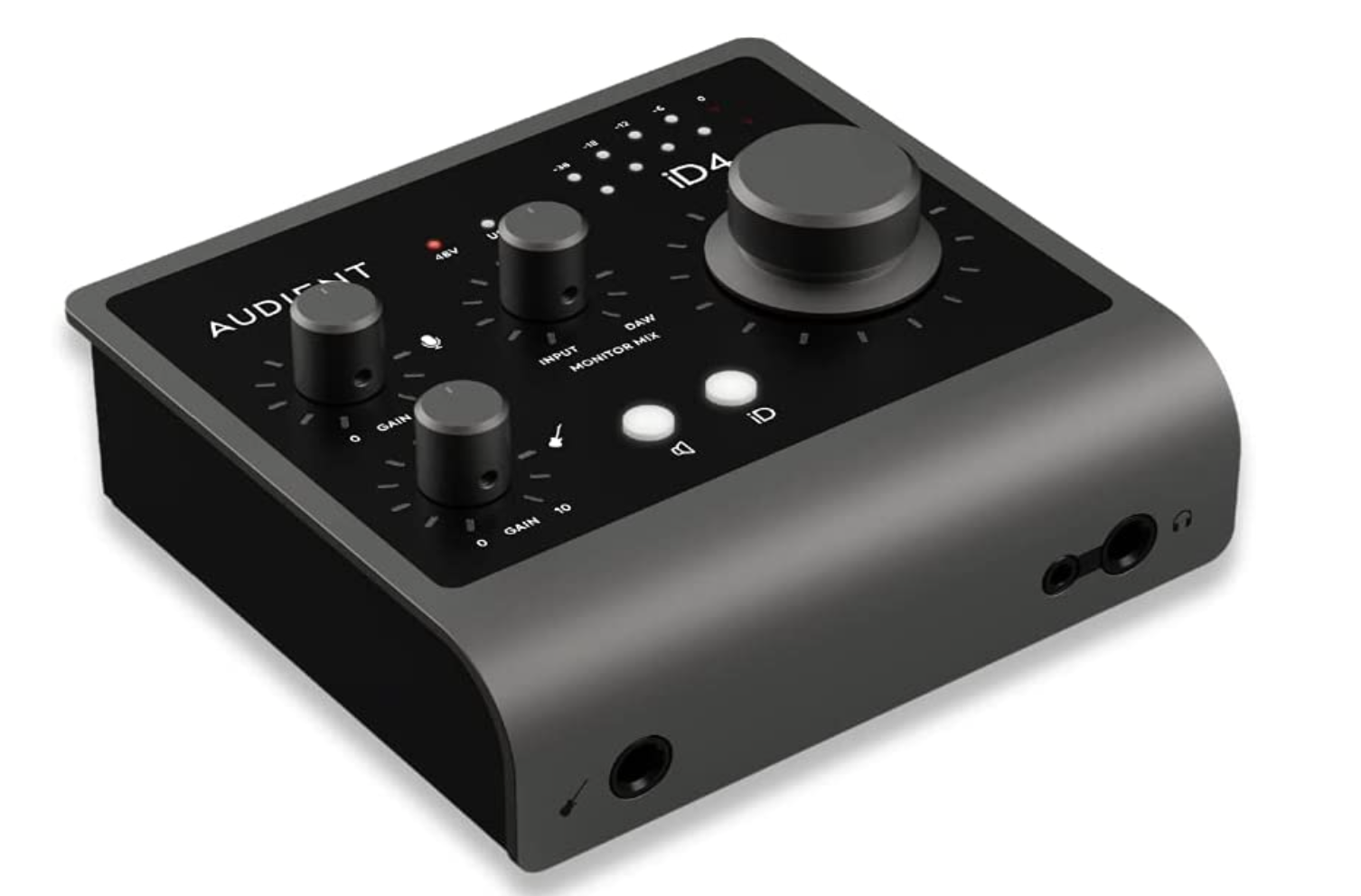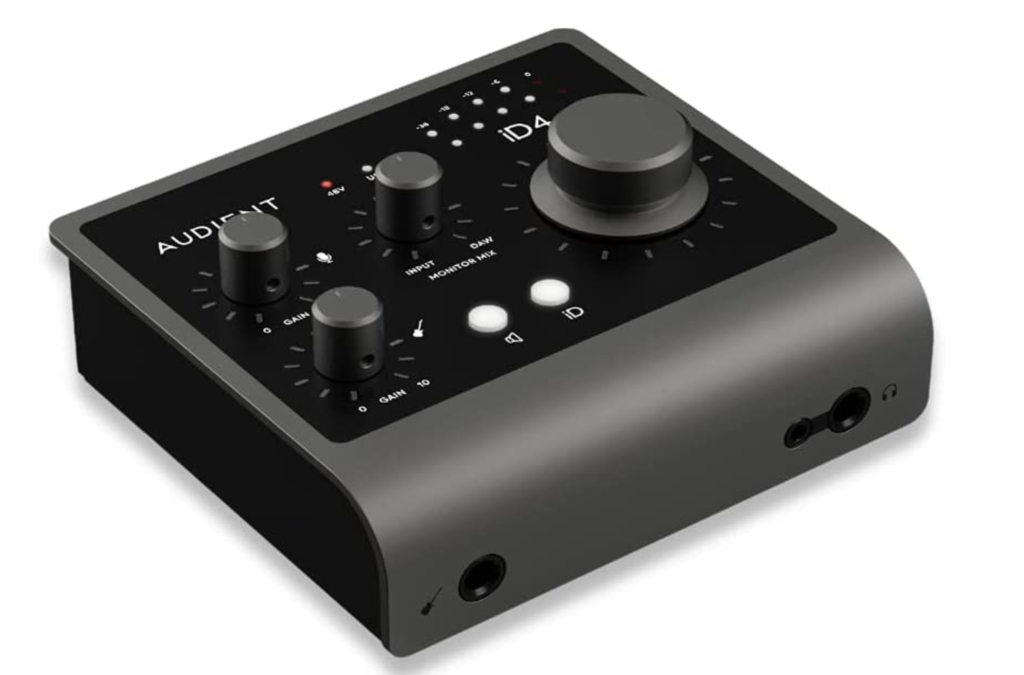 The iD4 comes with a combo mic and line input and a ¼-inch JFET instrument input with corresponding gain knobs on the top.
Additionally, it features a Monitor Mix knob, +48V phantom power button for channel one, LED level meters for each input, and a USB-C connector.
Most notably, you'll also get a multifunctional scroll with two buttons to control its settings and dual headphone outputs.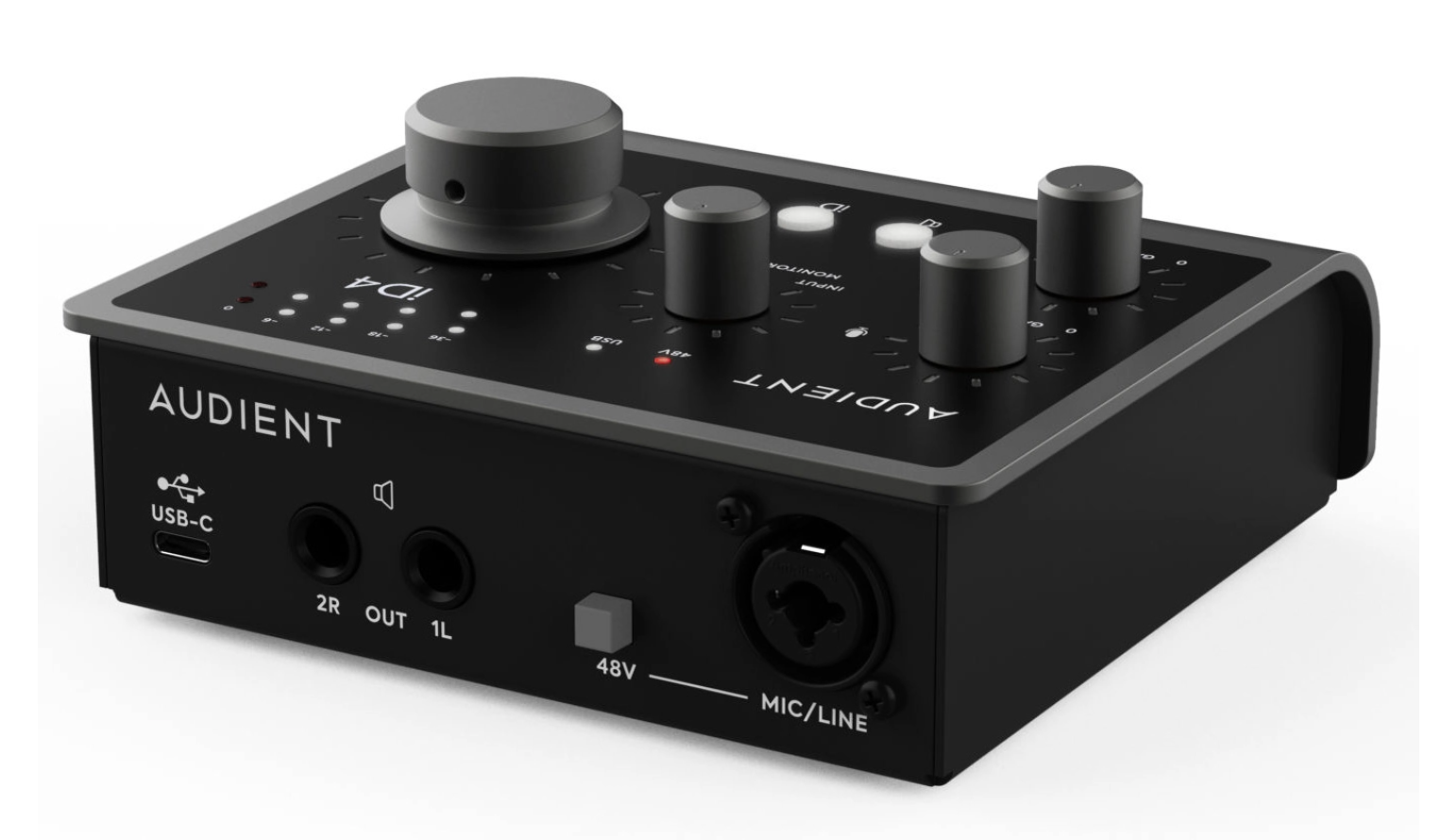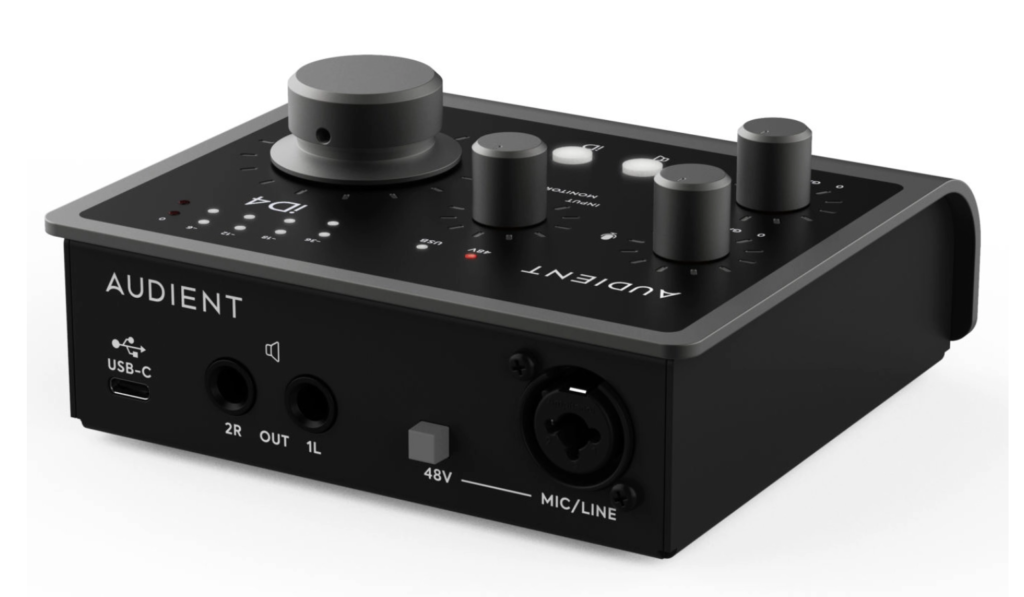 Build Quality
Grade: A
The iD4 has one of the best builds in an interface under $250.
It has a thick metal housing with sturdy and smoothly rotating knobs.
We test the quality of an interface's knobs by wiggling them to see how easily they move out of place. This wiggle test gives us an idea of how this interface will hold up over time.
As you can imagine, looser knobs are more likely to get damaged if you drop your interface or travel with it in your bag.
Luckily, there's virtually no movement with the knobs on the iD4, making it an excellent mobile option.
Design Quality
Grade: B+
The iD4 has one of the cleanest and easy-to-navigate layouts you'll find.
Personally, we prefer interfaces with knobs on the top panel.
In our opinion, a top panel layout makes an interface more accessible.
Since the iD4 has a top panel, it can house large spaced-out knobs, making adjusting levels effortless.
However, one thing we would like to see on this interface is a clipping indicator. You'll get a basic LED meter, but it won't tell you if you're clipping.
Recording Quality
Grade: A
Max Sample Rate: 192kHz | Bit-Depth: 24-bits
Let's break down the iD4's input and output specs to get a better idea of its recording quality.
You'll want to focus on two measurements: frequency response and dynamic range.
Frequency Response
Frequency response measures how accurately an interface can reproduce the different tones in your audio.
Like most interfaces, the iD4 has a relatively flat frequency response within the 20Hz-20kHz human hearing range.
Therefore, you can expect your input audio to be virtually identical to your output – depending on your mic, studio monitors, and other factors.
Dynamic Range
On the other hand, dynamic range is the difference between the weakest and loudest signals an interface can process.
With a higher dynamic range, you'll get more headroom while recording. This extra headroom reduces clipping so that you can capture a clean performance.
The iD4 has a dynamic range of around 113dB(A) – one of the highest for an entry-level interface. This dynamic range puts the iD4 on par with the Audient Evo 4 and Motu M2.
Preamps
Grade A-
The iD4 comes with a transparent low-noise Audient Console Mic Preamp that mimics the circuit design found in Audient's ASP8024-HE – a recording console that sells for over $40,000.
The Console preamp has an ultra-low equivalent input (EIN) noise of around -130dB(A). With an EIN this low, you'll hear virtually no preamp noise even at the highest gain setting.
In comparison, the iD4 has less preamp noise (lower EIN) than the similarly priced Motu M2 and the Focusrite Scarlett 2i2.
You'll also get a gain range of 58dB, which is solid for driving low-sensitivity dynamic mics without needing a Cloudlifter.
Features
Grade: B+
The iD4 comes with a host of features.
Most notably, the multifunction scroll wheel lets you control the volume of your outputs and adjust settings and faders in your DAW.
You'll also get a monitor mix knob.
A direct monitoring mix knob lets you blend the direct signal from your inputs and the signal from your DAW.
Hearing your direct signal lets, you monitor and record with near-zero latency.
Conversely, the signal from your DAW will have some latency, but you'll be able to hear effects.
The great thing about the iD4 is you can blend these two signals for more flexibility.
Another notable feature that's useful for podcasting and content creation is Audio Loopback.
Audio loopback lets you record audio from your inputs and computer on separate channels for more control during post-production.
Software Bundle
Grade: B+
The iD4 comes with access to Cubase LE.
Cubase LE is just a simplified version of Steinberg's Cubase digital audio workstation (DAW). It has similar recording, editing, and mixing tools to help you get started instantly.
Also, you'll get Retrologue 2, a classic analog synth from Steinberg, M-Tron Pro LE, and Waldorf Edition 2 LE, VSTs from Gforce and Waldorf, and Torpedo Wall of Sound and SoundID Reference, a speaker simulator and calibrator from Two notes and Sonarworks.
Audient also includes access to Loopcloud samples and three online courses from Produce Like a Pro.
Audio Interface Comparison
Next, we'll compare the iD4 to similar interfaces to help you decide if it's a good choice.
Audient iD4 vs Audient iD14
The Audient iD14 is potentially a better choice if you need to record two mics or instruments at once.
Additional Inputs
You'll get two combo mic and line inputs, a separate instrument input, and an optical input to expand your inputs up to ten.
Having this many inputs allows you to connect a mic and a preamp or two mics at once, which isn't possible with the iD4.
Additional Outputs
Also, the iD14 has an extra set of ¼-inch balanced outputs.
Interestingly, using an interface with four outputs can actually improve your mixes.
For example, you can connect your main studio monitors to one output.
Then, you can connect a pair of lower-quality monitors to get an idea of what the average person will hear. Hearing your audio through other monitors can help you find elements of your mix you want to change.
This mixing technique is known as referencing your mix through different sources.
It's easy to reference your mix consistently with the iD14 since it has four main and dual headphone outputs.
Recommendation
Overall, we believe the iD14 is the better choice for around $100 more.
However, the recording quality and preamps for both units are about the same. The iD4 is better if you don't need this much flexibility.
Audient iD4 vs. Audient EVO 4
The Audient EVO 4 isn't your average interface in terms of design. Don't expect to see a bunch of knobs with this one.
However, its design creates a unique user experience. It has a multifunction knob in the top center with surrounding buttons that enable different settings.
With this interface, you first have to select a mode, and then you can adjust a specific setting.
The EVO 4's design makes it a bit more challenging to use, but we recommend it if you're looking for a compact minimalist interface.
However, we prefer the iD4 since it's more like the interfaces we're used to and easier to use.
[Here's our complete review of the Audient EVO 4]
Audient iD4 vs. Focusrite Scarlett 2i2
The iD4's recording quality is slightly better than the Focusrite Scarlett 2i2's. However, the 2i2 makes up for the difference with its Air Mode.
When enabled, Air Mode can make your audio sound brighter and more open by slightly boosting high-end frequencies.
This feature is great if your audio tends to sound muddy or you want to make your guitar performance sound crisper.
In general, we believe the iD4 is the better all-around interface if you're not interested in this feature.
[Check out our review on the Focusrite Scarlett 2i2 here]
Audient iD4 vs Motu M2
If we had to choose between the Audient iD4 and the Motu M2, we would go with the Motu M2.
Here's why.
The iD4 delivers a slightly better audio performance, but we don't hear a noticeable difference.
With the Motu M2, you'll get similar audio quality. But you'll also get an additional combo input with separate controls for direct monitoring and phantom power for each input and a detailed LCD level meter.
Overall, we feel the M2 provides more flexibility at the same price.
[Check out our review on the Motu M2 here]
Takeaway: Audient iD4 Review
Pros
Durable build quality
Excellent preamps and recording quality
Multifunctional scroll wheel
Direct monitoring mix knob
Audio Loopback
Cons
Limited LED meter with no clipping indicator