Here's a complete review of the Universal Audio Volt 276.
Universal Audio is widely known for its popular UAD plug-ins and Apollo series interfaces. But UA brings a retro sound and feel to the entry-level interface space with the Volt series.
You may be familiar with the UA Volt 2.
The Volt 276 builds upon the impressive design of the Volt 2 with its inclusion of the unique 76 Compressor Mode.
We'll explain exactly what this mode does and if it actually improves sound quality.
Also, we'll give our in-depth take on the Volt 276's recording quality, preamps, features, and more.
Overview
The Volt 276 is a 2-in/2-out audio interface known for its Vintage and 76 Compressor Modes. These features can give your recordings a more classic and polished sound, but it also delivers audio quality without them.
Overall Grade: A-
Build Quality: A-
Design Quality: B+
Recording Quality: A-
Preamps: A-
Features: A-
Software Bundle: B+
Who is the Universal Audio Volt 276 Best for?
The UA Volt 276 is an excellent option if you want to spice things up in your home studio.
Its 76 Compressor can bring life to dull sound audio, making it sound crisper and more prevalent in your mix.
If you're a newcomer on a budget, the Volt 2 may be a better choice. But we highly recommend the Volt 276 if you want the benefits of the 76 Compressor feature.
Notable Features
2-in/2-out: two combo XLR/TRS mic, line, and instrument inputs | two balanced ¼-inch output
76 Compressor Mode with presets
Layout and Controls

The front panel of the Volt 276 is where you'll find two combo XLR/TRS inputs. Each input has a button to switch its TRS port between a line and instrument-level input.
The front also features a ¼-inch headphone output with a corresponding volume knob.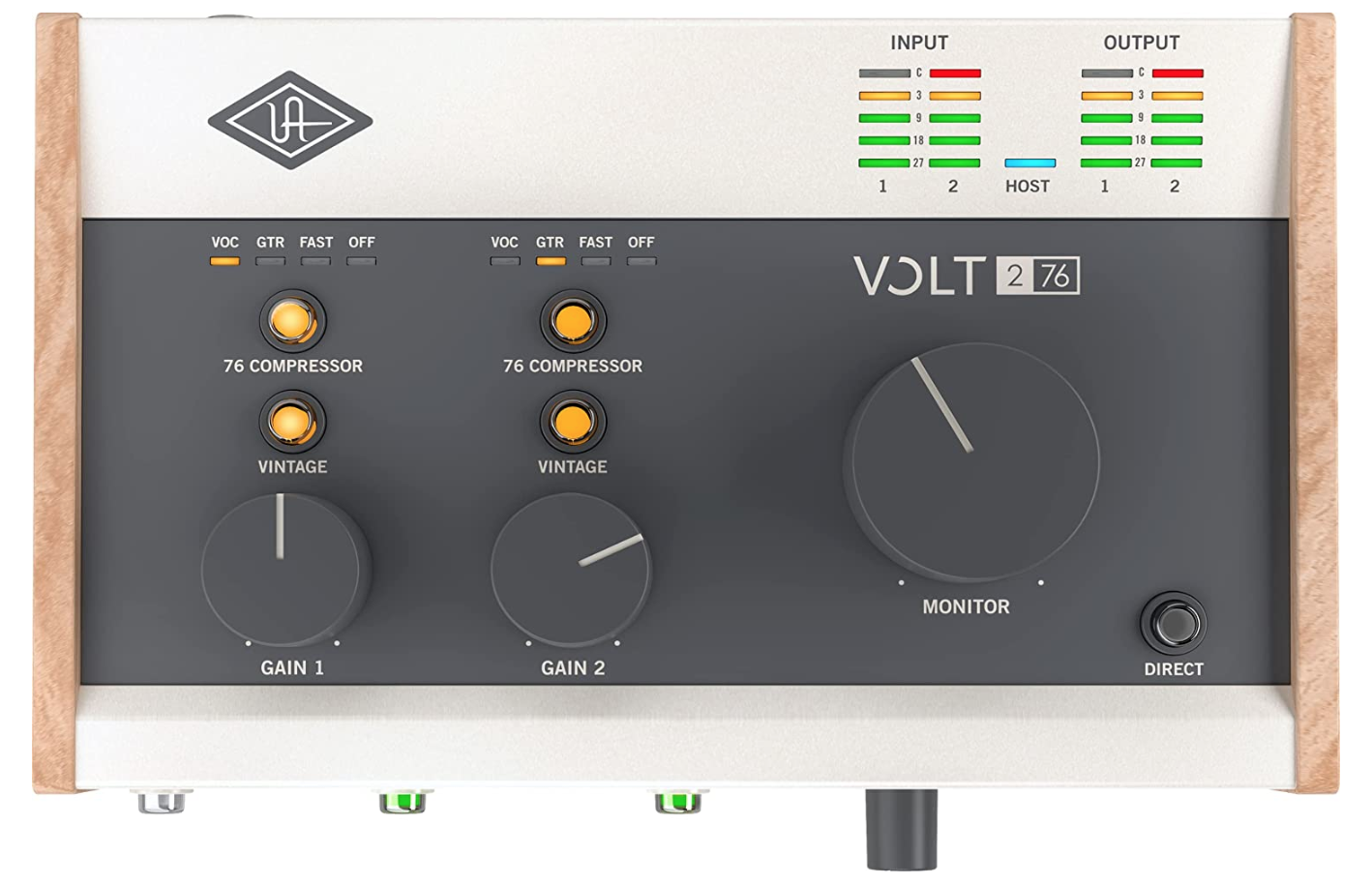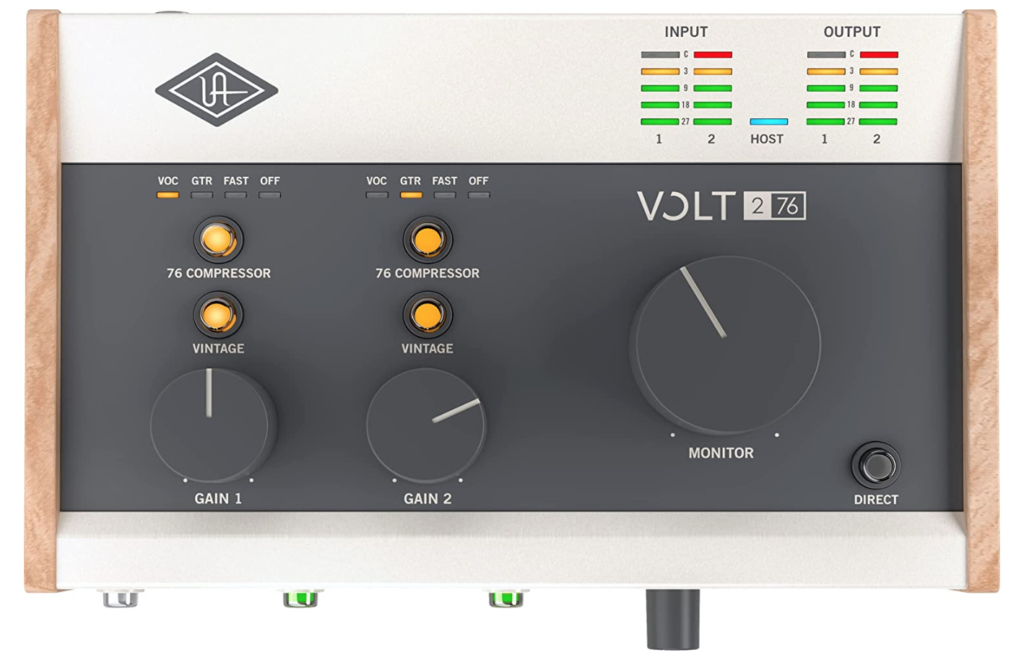 On the top panel, we have a gain knob and Vintage and 76 Compressor Mode buttons for each input.
You also get a large knob to control your output volume and a button to enable direct monitoring.
On the top right, you'll see a set of level meters for the two inputs and the main output.


Lastly, you'll get two ¼-inch balanced outputs, MIDI I/O, a USB-C and 5VDC power connector, and an on/off switch on the back.
Build Quality
Grade: A-
You likely won't find any faults with the build quality of the Volt 276.
It has a quality metal housing with wooden side panels. Under the wooden panels on the side are metal shields to protect against damage.
Also, its knobs feel very study and have a nice smooth rotation. When we wiggle them, we don't feel any movement.
It's always a little riskier traveling with an interface with knobs on its top panel. But you can throw the Volt 276 in your bag without worrying about broken knobs.
Design Quality
Grade: B+
The Volt 276 has an easy-to-navigate design which is impressive since it has so many knobs and buttons.
You'll notice that the input controls are directly above them on the top panel. This layout makes each control easy to find on the fly.
For the price of this interface, it would be nice to see a more detailed level meter, but it is still pretty useful for setting gain.
Recording Quality
Grade: A–
With the Volt 276, you can record at a maximum sample rate of 192kHz and bit-depth of 24-bits.
With a 192kHz sample rate, 276's converters can capture and reproduce frequencies up to 96kHz – which is beyond the 20Hz-20kHz human hearing range.
In theory, you only need to record at a 44.1kHz sample rate to capture the full range, but it's nice to have higher options.
Frequency Response
You can also expect a relatively flat frequency response from its inputs and outputs.
As a result, you'll hear an accurate representation of your recorded audio when you're mixing.
Dynamic Range
In terms of dynamic range, the Volt 276 comes in at around 110 dB.
110 dB is slightly lower than the interface in its price range, but this gives you a perfect amount of headroom while recording.
With additional headroom, you can record louder signals with less clipping and distortion.
Vintage and 76 Compressor Mode
Of course, the Vintage and 76 Compressor modes also play a significant role in the 276's recording quality.
We'll discuss these modes more in the features section.
But in general, we believe they enhance this interface's recording quality by making audio sound brighter and more polished.
Preamps
Grade: A-
The Volt 276's preamps are virtually the same as the preamps in the Volt 2.
They have an equivalent input noise of around -129 dBu, slightly higher than other interfaces in its price range (lower EIN=less preamp noise).
However, the 276's preamp noise is hardly noticeable, even with gain set at 100%.
Features
Grade: A-
As with most interfaces, the Volt 276 comes with direct monitoring, phantom power, and LED meters. But the most asked about features are the Vintage and 76 Compressor modes.
Vintage Mode
The Vintage Mode feature on the Volt 276 is the same as the Volt 2.
This feature slightly boosts treble and distortion to give your audio a more vintage sound.
76 Compressor Mode
Unlike the Volt 2, the Volt 276 comes with a 76 Compressor Mode based on UA's 1176 limiting amplifier.
With the 76 Compressor, you can add compression to your audio as you record. It'll basically minimize louder signals and boost quieter signals to control the dynamic volume changes in your recordings.
After compression, your audio will have a more consistent and higher average volume making it sound more polished.
You won't add latency by adding compression through your interface rather than your DAW.
The 76 Compressor also has three vocals, guitar, and drums preset. Each preset is tailor-made for a specific instrument, but you can also use them interchangeably.
Lastly, you can increase the amount of compression by increasing the input gain and vice versa.
Overall, we enjoy the convenience 76 Compressor feature adds. It can add character to your recordings and produce more professional-sounding audio.
Software Bundle
Grade: B+
You'll get access to Ableton Live 11 Lite when you purchase the Volt 276. It has the same look as the full version, but it's more of a demo to get you started.
Regardless, you can use this DAW to start recording and producing right out of the box.
UA also includes a host of plug-ins and VST to help you start shaping your sound.
You'll get Melodyne Essential, a pitch corrector by Celemony, Ampeg SVT-VR, a classic bass amp bundle by Plugin Alliance, and LX480 Essentials reverb and delay plug-in by Relab Development.
Also included are Virtual Drummer DEEP by UJAM, Virtual Bassist DANDY by UJAM, and a ton of virtual instrument sounds from Labs by Spitfire Audio.
Audio Interface Comparison
We'll compare the UA Volt 276 to similar interfaces to see how it stacks up.
Universal Audio Volt 276 vs. Universal Audio Volt 2
The Volt 276 and Volt 2 are pretty much the same interface. The difference is the 76 Compressor feature in the Volt 276.
We recommend the more affordable Volt 2 if the 76 Compressor doesn't move the needle for you. But overall, we think this feature is worth the extra cost.
[Check out our review of the UA Volt 2 here]
Universal Audio Volt 276 vs. Universal Audio Volt 476
The UA Volt 476 delivers the same performance as the Volt 276, but you'll get double the amount of inputs and outputs.
Universal Audio Volt 276 vs Focusrite Scarlett 2i2
People often ask which is better: the Vintage Mode in Volt interfaces or the Air Mode in the Focusrite Scarlett interfaces.
We believe both features are very beneficial to have. They both add a bit of brightness to your audio to make it sound crisper.
However, Vintage Mode adds a hint of distortion to give your audio a grittier sound.
Also, the Volt 276 has a 76 Compressor mode, which adds compression to your audio as you're recording.
In our opinion, the 76 Compressor Mode makes the 276 an interesting option if you can afford to spend a little extra.
[Check out our review of the Focusrite Scarlett 2i2 here]
Takeaway: Universal Audio Volt 276 Review
Pros
Vintage and 76 Compressor Mode
Excellent recording quality
Cons
Slightly underperforms similarly priced interfaces