Are you wondering what audio interface has the best preamps?
Well, you're in the right place.
Your audio interface's preamp can profoundly affect the sound of your recordings.
A good preamp will maintain clarity and definition in your audio, while a bad one can introduce noise and unwanted frequencies.
In this post, we'll list the four audio interfaces with the best preamps.
We'll also provide tips on what to look for when shopping for an audio interface.
Overview
Audio Interface with the Best Preamps
The audio interface with the best preamps is Antelope Audio's Zen Go Synergy Core.
Its discrete ultra-linear preamps are regarded as one of the best for producing high-fidelity crystal-clear recordings.
Top 4 Audio Interfaces with the Best Preamps
Audio Interfaces with the Best Preamps
1. Motu UltraLite Mk5


Motu's UltraLite Mk5 is known for its high headroom, low noise mic preamps – offering up to 75 dB of gain with a low EIN of around -129 dBu.
They work well with a wide variety of microphones, but especially low output dynamic mics like the Shure SM7B due to their high max gain capacity.
Additionally, the Mk5's built-in converters are extremely accurate, with a dynamic range of 118 dB. This means that you'll be able to capture all the subtle details in your recordings without any clipping or distortion.
I/O
The first thing you'll notice is how compact the UltaLite Mk5 is for a 18 input, 22 output interface.
It has two mic/line/instrument inputs with six line inputs on the back. You'll also get ten balanced outputs, a headphone jack, MIDI I/O, and USB-C connection.
If you need more channels, its comes with an eight channel ADAT optical input and output – and a two channel SPDIF input and output.
DSP Effects
You can access the UltraLite Mk5 advanced features through the included CueMix 5 software.
Through this software you can control the Mk5's built-in reverb, EQ, compression, and gate effects.
Since these effects are DSP-based, using them while recording doesn't add a noticeable amount of latency.
2. Universal Audio Apollo Twin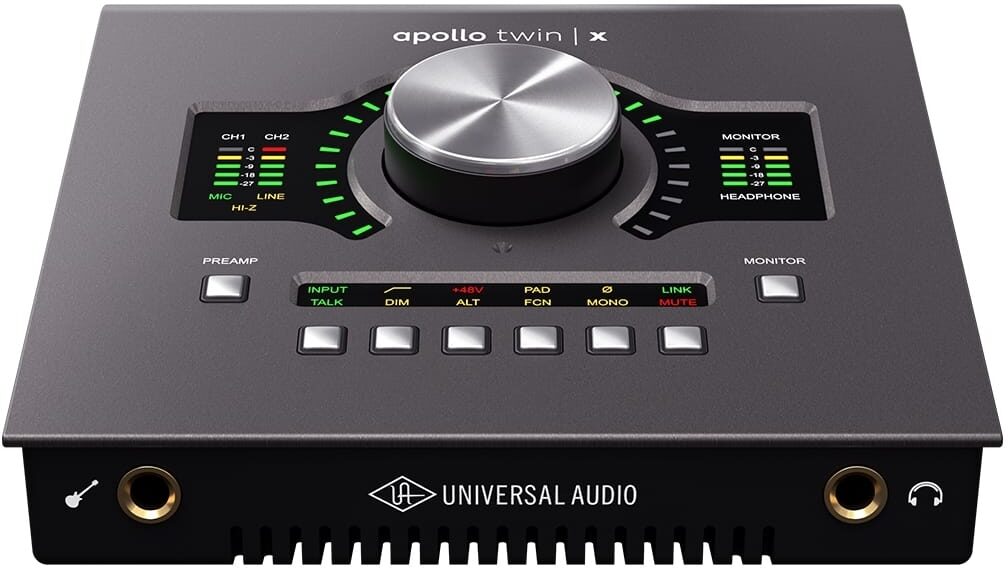 Credit: Universal Audio
Universal Audio's Apollo Twin X could be number one on this list.
It features two world-class unison-enabled mic preamps, 24-bit/192 kHz conversion, and onboard UAD-powered plug-ins for tracking through digital emulations of vintage compressors, EQs, and reverbs.
A notable Apollo Twin feature you won't get with most units is a Talk button you can use to communicate with a vocalist as your tracking.
You'll also get a few buttons that make adding a high pass filter, +20 dB pad, and reversing polarity easy.
Unison Preamps
What makes Twin X's preamps unique is that they're Unison-enabled.
Unison is UA's preamp modeling technology.
Through Unison, you can change the sound of your preamps based on classic preamp emulations from Neve, Helios, API, Manley, and more.
Unlike many other interfaces, you can adjust the input impedance of your preamps to influence the tone of your recordings.
Overall, the Apollo Twin is an excellent choice for anyone looking for a high-quality audio interface with advanced preamp features.
It's especially great for mac users since it connects via Thunderbolt.
3. Solid State SSL 2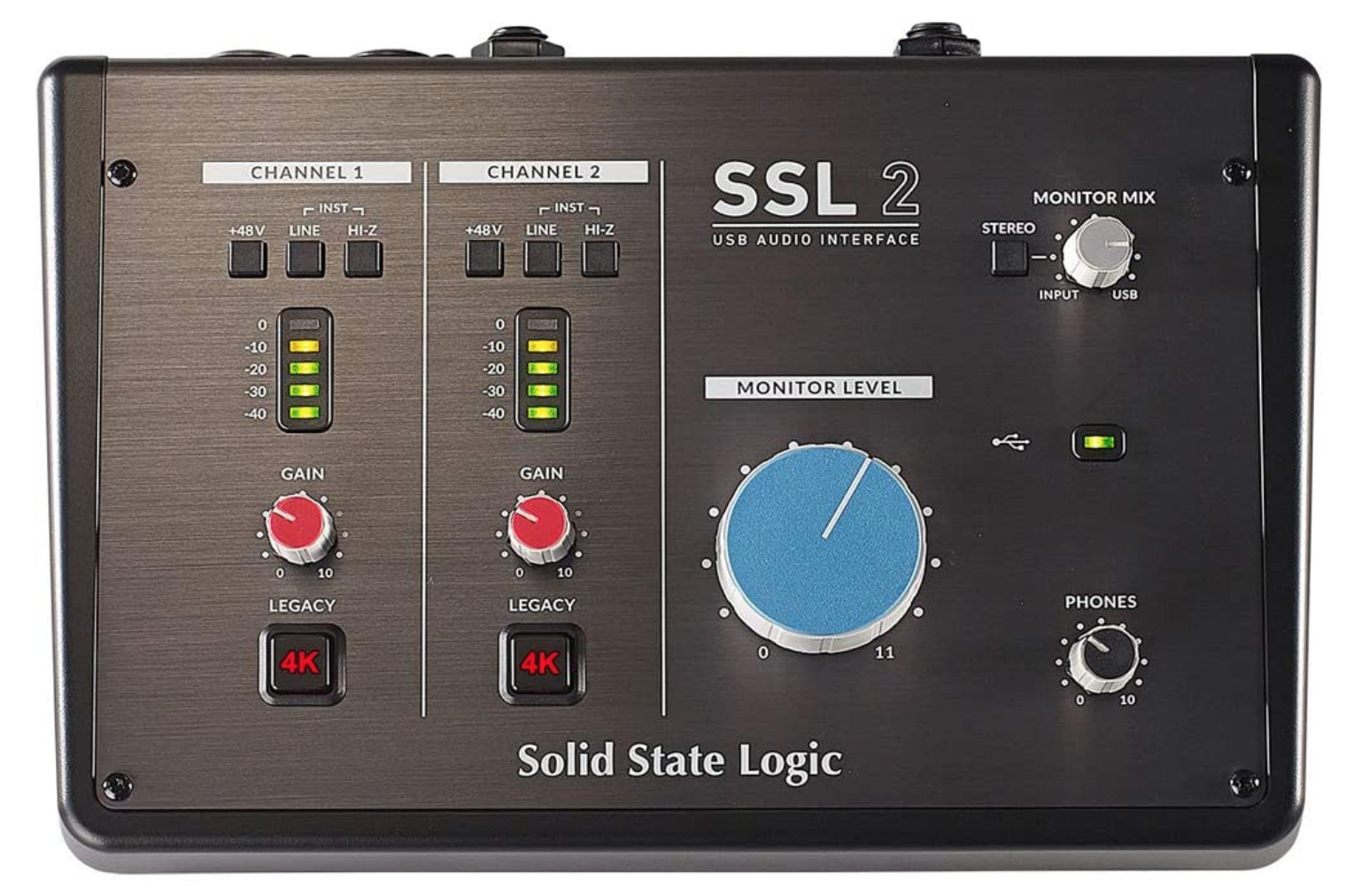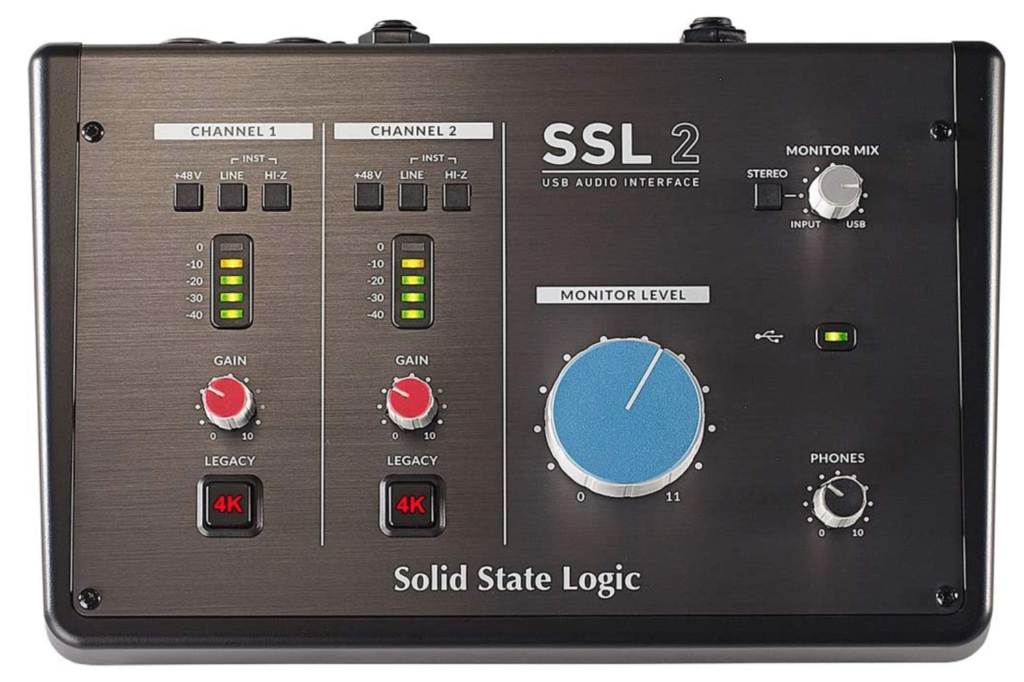 Solid State Logic's SSL 2 offers some of the best preamps among entry-level audio interfaces.
The SSL 2's main strengths are its high gain and low noise performance.
Its preamps have a 60 dB gain range with an incredibly low EIN of -131 dBu – perfect for gain-hungry dynamic mics.
Thanks to its excellent preamps, it can maintain a low signal-to-noise ratio, which means your recordings will be free of unwanted noises.
It also features high-resolution converters, two mic/line/instrument inputs with +48V phantom power, and Hi-Z support for recording guitars and basses.
It also has monitoring and headphone outputs, a monitor mix knob, and 4K Legacy mode.
The only downside of the SSL 2 is its lack of expandability.
With only two inputs and no expansion options, the interface is limited in terms of how many devices you can connect to it.
Related Post: Solid State Logic SSL 2 Complete Review
4. Focusrite Clarett+ 2Pre


Credit: Focusrite
The Focusrite's Clarett 2Pre is an excellent option for those who need many inputs and outputs at an affordable price.
It has two mic/line inputs, four line inputs, eight line outputs, and two headphone outputs.
It also comes with First Focusrite Creative Pack, Ableton Live Lite 9, the Softube Time and Tone Bundle, Focusrite's Red Plug-in Suite, 2GB of Loopmasters samples, and more.
The 2Pre offers two low-noise, high headroom – Air-enabled – mic preamps, USB Type C connectivity, and 24-bit/192kHz converters.
Air Mode
Air Mode adds color to your audio, making it sound brighter and more open.
With Air Mode activated, the 2Pre lowers the input impedance of your mic input, which slightly changes the tone of your audio.
This effect offers some of the benefits you get from using an external tube preamp without having to get an additional unit.
Specs
The Focusrite Clarett 2Pre also has great performing mic preamps.
They have a solid +57 dB gain range and an ultra-low EIN of -129 dB.
+57 dB offers a nice range to accommodate sources with different output levels. And because they have a low noise floor, they'll minimize background noise in your recordings.
Audio Interface Preamp Specs Explained
Gain
Gain is the amount of amplification a preamp can provide to an audio signal.
Its typically represented as a range such as 0-60 dB.
0-60 dB means preamp provides 0 dB of gain at its lowest setting and 60 dB at its highest.
You'll also see gain listed as a single number representing the total gain range you can control.
Equivalent Input Noise (EIN)
Naturally, all preamps introduce some noise during amplification.
But ideally, we want this noise to be as low as possible.
Equivalent input noise tells us how much preamp noise we can expect at max gain levels.
Paying attention to EIN is crucial if you're using a dynamic mic.
Why?
Dynamic mics produce lower-level signals than condenser mics.
As a result, they require more gain to reach the proper level for recording.
Unfortunately, noise can become an issue at higher gain levels – especially if your interface has a high EIN.
Generally, we recommend using an interface with an EIN of -127 dB or less.
Is there a Major Difference Between Audio Interface Preamps?
Preamps in most audio interfaces will help you record professional-sounding audio from home.
There's not much of an audible difference between the preamps in budget and high-end units, from our experience.
They mainly vary based on features.
That said, better-quality preamps tend to have superior circuit designs and higher-quality components.
Therefore, interfaces with top-quality preamps can maintain accuracy and clarity when boosting low-level signals.
How Do Preamps Improve Sound Quality?
Preamps improve sound quality by providing clean, low-noise signal amplification to low output sources – like microphones. This allows your music to retain its original character and nuance while remaining loud and clear.
Also, preamps can provide various tonal shaping options to improve your sound further.
Mic preamps play a significant role in the quality of your recordings.
Low-quality preamps add noise to your recordings and negatively alter frequencies.
Ideally, we want to be able to boost signals without degrading the tonal qualities of our original sound.
Two common types of preamps are transparent preamps and tube preamps.
Transparent vs. Tube Preamps
Transparent preamps aim to reproduce sound accurately.
Conversely, tube preamps alter frequencies to add color or saturation to your recordings.
Most audio interfaces have transparent preamps that preserve sound quality. However, they technically won't "improve" it.
To improve sound quality, consider using a quality tube preamp.
Related Post: How to Connect a Preamp to an Audio Interface.
Tube Preamp Features
Conveniently, some interfaces come with tube preamp features.
For example, the Air Mode effect in the Focusrite Clarett 2Pre is a tube preamp feature.
It boosts upper frequencies in your audio to produce a more airy and open sound.
Another example is Vintage Mode in the Universal Audio Volt 2.
It adds a bit of distortion to give your audio a more classic vintage feel.
How to Find the Best Audio Interface
Some factors to consider when looking for the best audio interface are high-resolution converters (24-bit/192kHz), low latency, robust build quality, low noise preamps, and advanced features to aid your recording process.
Most audio interfaces have audio inputs for microphones, instruments, and line devices, balanced outputs for studio monitors, and one or two headphone outputs.
They'll also usually have direct monitoring for zero-latency tracking and phantom power for condenser mics.
Ultimately, the best way to tell if an interface is a good choice is to read reviews from trusted sources.
Additionally, reviews from other users can help you understand how well an interface performs.
Takeaway
These days, most audio interfaces have mic preamps that can help produce high-quality home studio recordings.
However, there are a few audio interfaces that stick out from the pack:
These interfaces have high gain and low noise preamps that work great with low output dynamic mics. 
They also have advanced preamp features like Unison-enabled preamps with the Apollo Twin and 4K Legacy mode with the SSL 2.
You can use these preamp features to experiment with different tones and find your unique sound.
It's basically like having an audio interface and a tube preamp in one device.