The Arturia's KeyLab 61 and Akai's MPK 261 are two of the most popular MIDI keyboards on the market.
It's not surprising that producers constantly ask how they compare.
Both keyboards offer many features and capabilities, making them ideal for both beginner and experienced musicians.
So, which keyboard is the better option for you?
Let's take a closer look at each one to find out.
Arturia KeyLab 61 MkII vs Akai MPK261: What's the Difference?
The Arturia KeyLab 61 is one of the most sought-after advanced MIDI keyboards.
Its most known for its host of features, customizability, and the included premium Analog Lab plug-in.
The Akai MPK 261 is more affordable but still holds its own against the KeyLab 61.
Most notably, it has 16 velocity-sensitive MPC-style pads – with 4 banks to expand them to 64 – a built-in arpeggiator, and 23 DAW modes allowing you to integrate seamlessly with most major DAWs.
So, which MIDI keyboard is the better option for you?
Arturia KeyLab 61 MkII vs Akai MPK261: Which One Should you Choose?
The Akai MPK 261 is the better choice if you're looking for a MIDI keyboard that's more affordable and has more pads.
However, the Arturia KeyLab 61 is the better option overall since it has more features and a better software bundle.
In this next section, we'll review each in-depth to help you make the best decision.
Arturia KeyLab 61 MkII


There are several features and a few downsides you should know about the KeyLab 61 if you're considering it.
Downsides
To get the downsides out the way, this unit may not be the best option for beginners.
If you've never used a MIDI keyboard, the number of controls you get with this unit may be overwhelming.
Luckily, Arturia offers in-depth guides on how to everything up. But if you're looking for a MIDI keyboard that's easier to use and more affordable, check out the M-Audio Keystation 61.
The Keystation 61 features 61 full-size semi-weighted keys, transport controls, and pitch and modulation wheels.
However, when it comes to advanced MIDI keyboards, at its price, it doesn't get much better than the KeyLab 61.
Highlights
Semi-weighted keys with aftertouch
9 knobs, 9 faders, 9 fader buttons
DAW controls
Seamless integration with every major DAW – DAW modes
Use mode for customizability
Scroll wheel navigation
Built-in arpeggiator
Analog Lab plug-in with Analog mode
Build Quality
The KeyLab 61's aluminum build quality ensures that it will withstand years of studio and live performances.
Also, its knobs, faders, and buttons feel smooth and incredibly well-constructed
Navigation
Arturia's KeyLab MkII 61's best aspects are its navigation (jog) wheel and LCD screen.
These features make navigating through parameters and settings quick and easy, whether in the studio or on stage.
Key Features
Some notable KeyLab 61 features we'll discuss are aftertouch, drum pads, Analog Lab, DAW, User and Analog Lab Mode, and CV connection.
Drum Pads
The KeyLab MkII 61 has 16 backlit velocity-sensitive pads that are perfect for triggering drums and samples.
From our experience, the KeyLab's pads offer a more fluid playing experience than the MPK's.
You'll find that they're a lot more responsive, meaning you won't have to hit them as hard to reach higher velocities.
But how do the keys feel?
Keys
If you're used to playing piano, the Arturia KeyLab 61's keys will take some getting used to.
They're semi-weighted which is a step up from synth-action (not weighted) but not what you'll find on an actual piano.
However, most people prefer semi-weighted keys, especially when playing synth sounds, and for more responsiveness overall.
Compared to other semi-weighted MIDI keyboards, the KeyLab 61's keys don't disappoint.
You can even adjust the velocity curve to manipulate the responsiveness of its keys.
Aftertouch
The Arturia KeyLab MkII 61's keybed is aftertouch-sensitive, meaning that you can add dynamics and expression to your performance by applying additional pressure to its keys after striking them.
This can open up all kinds of new sonic possibilities, and is great for performing more emotive, human-sounding parts.
With the Arturia KeyLab MkII 61, you can use aftertouch to control various parameters in your software.
You can also assign multiple parameters to aftertouch for even more creative possibilities.
DAW Mode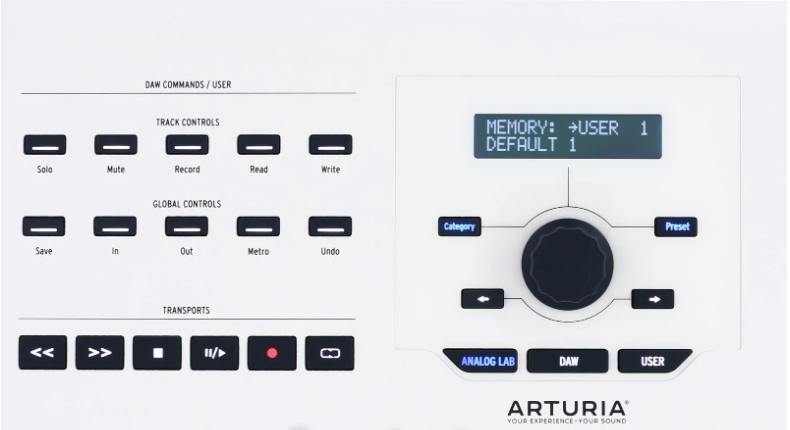 The KeyLab MkII 61 MIDI Keyboard comes with various DAW controls and modes to control parameters in every major DAW.
When you select a preset, Logic Pro, for example, the KeyLab 61 auto maps its controls to parameters in the software you choose.
You'll also get a set of DAW controls -with magnetic overlays for different DAWs- such as arm, track navigation, punch in, punch out, metronome, play, stop, and record buttons (vary depending on your DAW).
Overall, this mode gives you complete control over your software directly from your keyboard.
User Mode
In User mode, you can store three custom setups giving you the freedom to configure this unit to fit your workflow.
This mode is when you want to quickly recall different sounds without having to reconfigure everything each time.
To access the User Mode feature, press the "User" button on the control panel.
Analog Lab Mode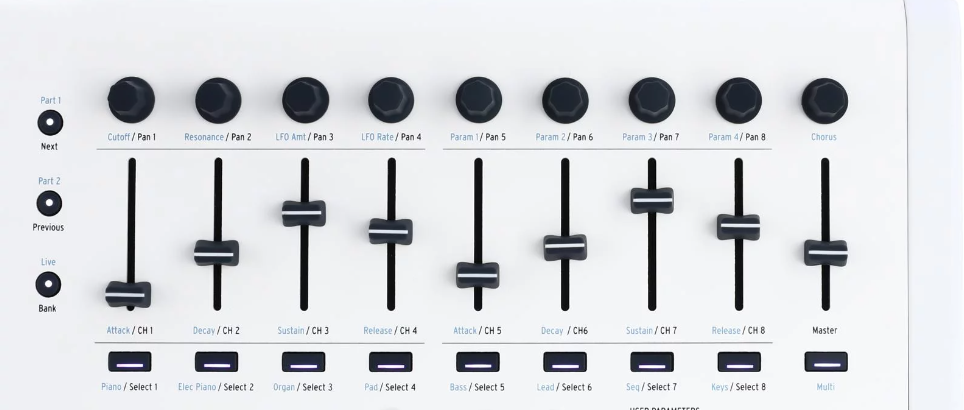 The KeyLab MkII 61 comes with Arturia's widely popular Analog Lab software giving you access to over 5000 sounds.
In Analog lab mode, the KeyLab's knobs and faders give you complete control over Analog Lab parameters.
Also, the three buttons on the left of the faders let you layer these presets to create unique sounds.
Connectivity
USB bus powered
Power adapter
Sustain pedal input
Expression input
3 aux inputs
CV I/O
Gate out
Mod 1 & 2
Overall, the KeyLab MkII 61 is an excellent choice for any musician who wants a versatile MIDI keyboard that they can use in the studio or on stage.
Akai MPK261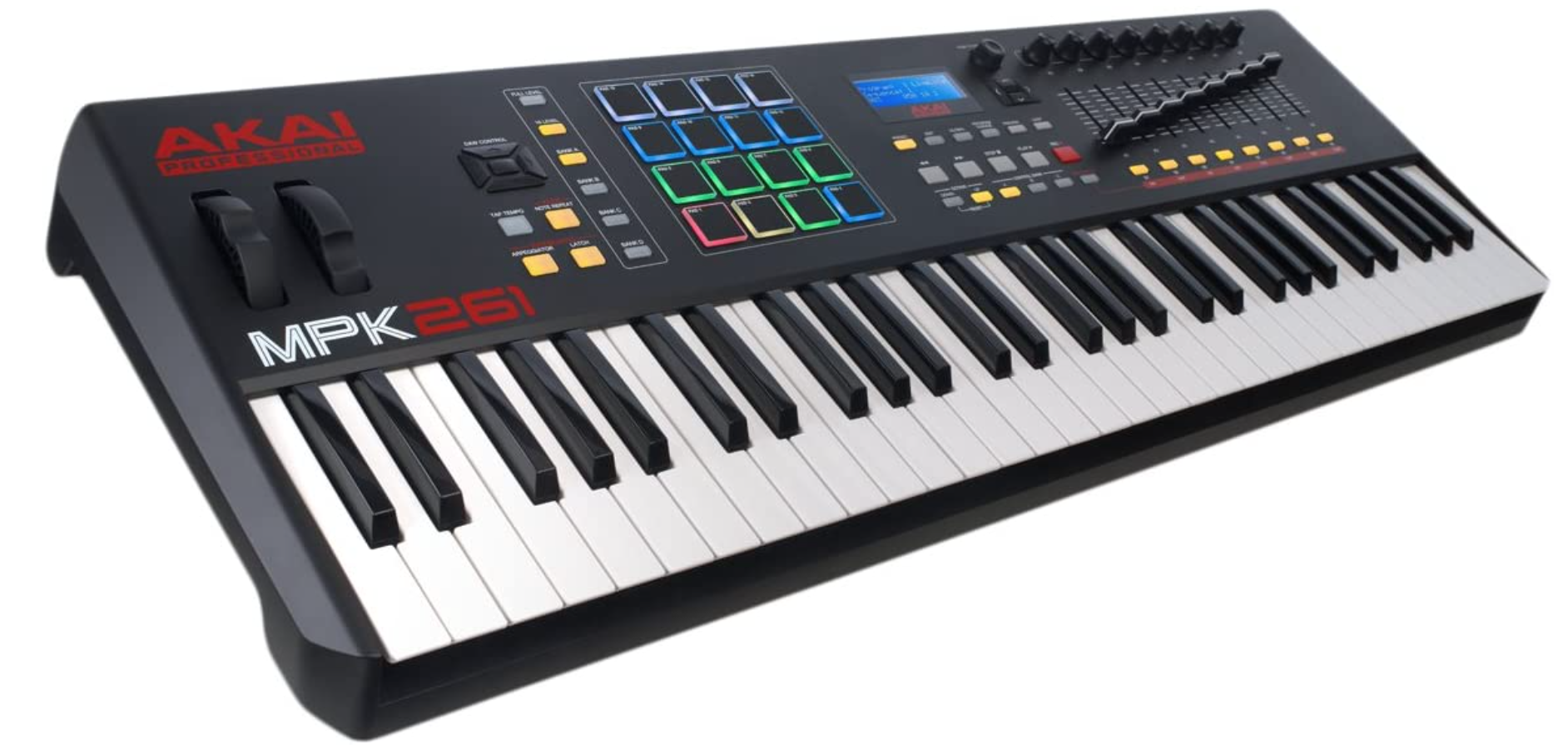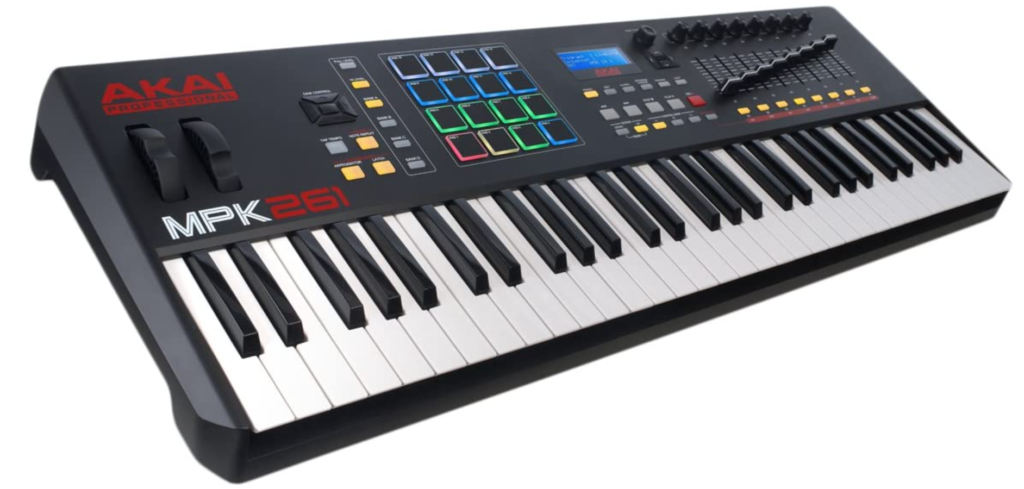 The Akai MPK261 is a great MIDI keyboard controller for those who want a host of live performance features and integration with all major DAWs.
It has 16 pads (each with four banks to give you 64), 24 assignable knobs and faders, a built-in arpeggiator with various modes, 23 DAW presets, and easy automapping and integration.
You can also create custom presets (customize each control) and access them at any point through the control bank.
Highlights
Semi-weighted keys with aftertouch
8 knobs, 8 faders, 8 buttons
Seamless integration with every major DAW – DAW modes
Built-in arpeggiator
Akai Professional VIP3 software
Akai MPK261 vs Arturia KeyLab 61 MkII
The MPK261 and KeyLab 61 have a lot of the same features.
Like the KeyLab 61, the MPK261 has semi-weighted velocity-sensitive keys with aftertouch.
Navigation
What separates them for us are a few subtle differences.
For instance, the KeyLab has a jog wheel you can use to scroll between settings on the LCD screen, while the MPK has four navigation buttons and a joystick.
We believe the jog wheel makes navigating setting a lot more efficient.
Controls
The KeyLab 61 also has a dedicated DAW/User control section with arm, punch in, punch out, metronome, and transport (play, stop, record) buttons, depending on your DAW.
The MPK261 has transport controls but not the other buttons listed above.
Build Quality
The last major difference is the build quality of each unit.
The KeyLab 61 has an aluminum chassis, while the outer structure of the MPK261 is plastic.
So, if you're looking for a durable MIDI keyboard for the road, they weigh about the same, but the KeyLab can take more of a beating.
Key Features
The MPK261 Offers More Pads
Where the MPK 261 does have an edge is with its 16 customizable pads with four banks, each giving you 64 pad variations.
You can also change the color of each pad in the settings to group sounds and make it easier to find what you're looking for.
Built-in Arpeggiator
The Akai MPK261 is a MIDI keyboard with a built-in arpeggiator feature.
Arpeggiation is a technique used in electronic music where a sequence of notes is played in rapid succession.
This sequence can create interesting sound effects and add movement to your music.
The Akai MPK261's arpeggiator has various settings such as Up, Down, and Up/Down.
You can also adjust the resolution (1/4, 1/8, 1/16), range (1-5 octaves), and pattern (Regular, Swing, Random).
DAW and Plug-in Integration
Like the KeyLab 61, the MPK261 also has DAW modes.
When you select Ableton Live mode, the MPK will automatically map its knobs and faders to parameters in Ableton.
The MPK261 also comes with Akai Professional VIP3, a patch browser that seamlessly integrates with your VSTs and effects plugins.
VIP3 allows you to efficiently find sounds from your collection based on instrument type and other factors.
It also gives you complete control over your plugins directly from your MIDI keyboard. You can layer sounds, customize parameter controls, and more.
With Akai Professional VIP3, you can:
Layer multiple sounds together for complex sound design
Create custom sound banks for specific projects or gigs
Control your virtual instruments and effects directly from your keyboard
Browse through your entire sound library quickly and easily
Also included:
Ableton Live Lite
MPC Beats
Hybrid 3
Twist 2.0
Eighty-Eight Ensemble
Summary: Arturia KeyLab MkII vs Akai MPK261
So, which keyboard should you buy?
It really depends on your needs and budget.
If price is a major consideration, go with the Akai MPK261.
If you need more features, go with the Arturia KeyLab MkII.