Are you a beginner to audio and music production looking for the best audio interface?
There are plenty of affordable entry-level audio interfaces but just because an interface is affordable doesn't mean it's easy to use for beginners.
We took a look at some of our favorite entry level interfaces and asked ourselves, "If I never used an audio interface before, which ones would be the easiest to use".
As a beginner, chances are, you don't care to get caught up in all the advanced features some models have to offer. You just want something that's easy to use and delivers reliable sound quality.
If that's the case, here's our Top 5 options.
Best Beginner Audio Interface

Focusrite's Scarlett 2i2 is the most well-known top-selling, entry level audio interface. Many producers rave about its impressive build quality and intuitive design.
Not only that, but it's also well-known for its Air Mode feature.
What's Air Mode?
It's a preamp feature modeled after Focusrite's ISA mic preamp that adds a slight boost to the mid and high frequencies of your audio when enabled.
While that can sound like a mouth full, you can think of it as a tool that can make your audio sound "brighter" and more "open" for a potentially more polished sound.
What makes the Scarlett 2i2 great for beginners is that you'll get this advanced feature plus excellent sound quality in a easy to use interface.
Design
You'll find plenty of entry level interfaces that'll deliver similar audio quality, but where we give the edge to the 2i2 is with how easy it is to navigate.
Unlike many interfaces in its price range, its knobs are spaced out an intuitively placed making it easy to navigate even if you've never used an audio interface.
The 2i2 features two mic/line/instrument inputs with corresponding gain controls offering each input with up to 50dB of gain.
It also comes with a button to switch each ¼ inch input between instrument and line level and separate buttons to activate Air Mode, +48V phantom power, and direct monitoring in both stereo and mono.
Software Bundle
Lastly, it's very easy to start recording right out the box with the 2i2's included software bundle.
When you purchase this interface, you'll get access to Ableton Live Lite, a three-month subscription to Pro Tools and Splice, and a collection of VSTs and plug-ins including Antares Auto-Tune, Focusrite Red 2 & 3 Plug-in Suite, and XLN Audio Addictive Keys.
For more information on Scarlett interfaces, click the link for our in-depth review.
Our Favorite Option

The Motu M2 may be one of the most overlooked entry level interfaces out there. But we believe it's the type of interface you can get as a beginner and never outgrow.
It's very easy to use yet offers an unparalleled amount flexibility at its price.
Let me explain.
Separate Controls for +48V and Direct Monitoring
If you've never used an audio interface before you may not fully understand some of its features like +48V phantom power and direct monitoring.
Once you start recording, you'll soon realize how important these features are to your recording process.
The great thing about the Motu M2 is you can control direct monitoring and phantom power for each input individually.
Why does this feature make a difference?
Let's say you're recording a condenser mic on channel one and a dynamic mic on channel two.
In this case, you'll want to activate phantom power for your condenser mic and not your dynamic mic. Using phantom power on your dynamic mic can actually damage your equipment.
You wouldn't be able to do this with most entry level interfaces since they don't have separate input controls for phantom power.
And the same goes for direct monitoring.
Say you wanted to enable direct monitoring for your mic on channel one and deactivate it for your guitar on channel two.
With the Motu M2, you'll have much more flexibility when recording with two mic than you will with most entry level interfaces.
LCD Level Meters
Perhaps our favorite feature is its detailed LCD level meters for each input and the main output. When it comes to setting and monitoring levels, the Motu M2 has to best level meters among entry level interfaces hands-down.
If you're a beginner looking for an interface that'll help you properly set gain for your mics, the M2 is your best bet.
Our Recommendation
The reason we have this model number two and not one is because the Scarlett 2i2 is a bit more straightforward for those who've never used an audio interface. Also, the 2i2's Air Mode offers a nice bonus feature for beginners.
However, if you're looking for a better all-around interface, the M2 outperforms the 2i2 in preamp performance and dynamic range.
Check out our complete review of the Motu M2 for more details.
Best Budget Beginner Audio Interface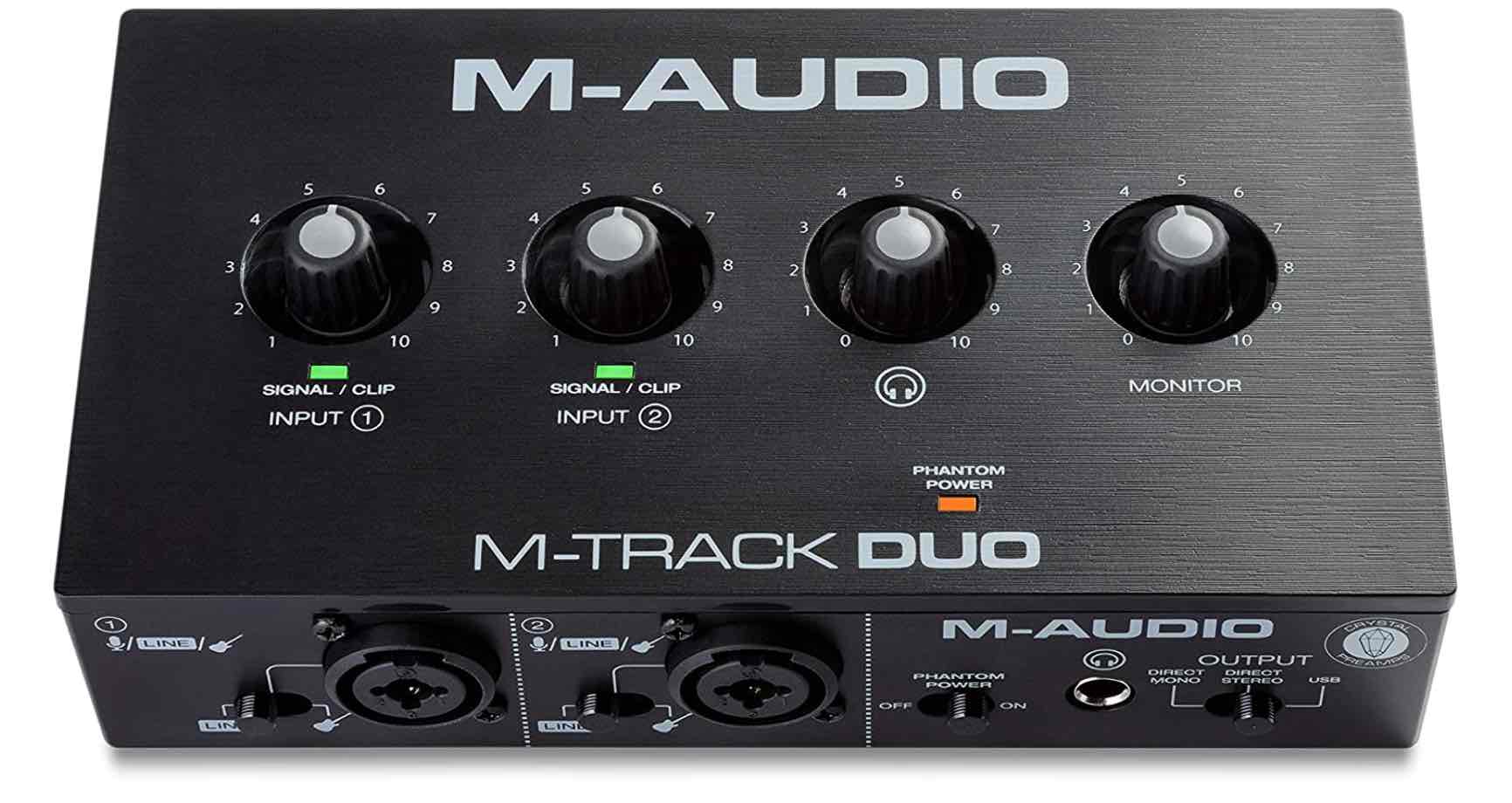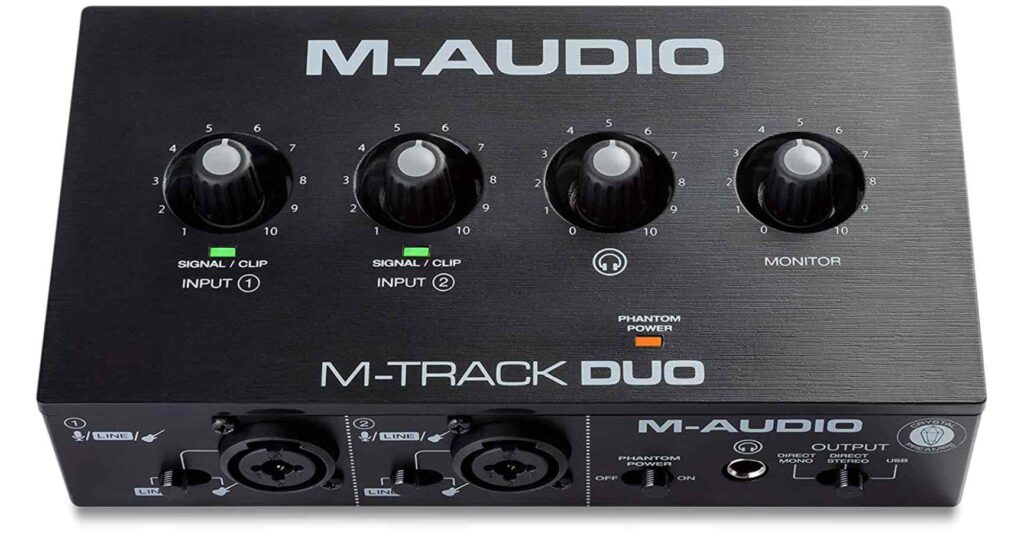 We listed the M-Audio M-Track Solo as our best audio interface under $50. And yes, you CAN find a quality audio interface for under $50. But the M-Audio M-Track Duo is one of our favorite interfaces in terms of price for performance.
It's competitive with the Motu M2 and Focusrite Scarlett 2i2, in terms of preamp performance, for less than half their prices.
Build Quality
Before I go too much into what we like about this interface, you should know the build quality leaves a lot to be desired.
This unit has a complete plastic housing. In comparison, the Scarlett 2i2 and Motu M2 are made of metal.
If you're traveling with this unit, we recommend using a case. Otherwise, it should be fine if you just have it sitting on your desk.
If build quality isn't important to you, we believe the M-Track Duo is the best audio interface for beginners.
It's more affordable than most two channel audio interfaces, has an intuitive design, and excellent preamps for its price.
Design Quality
We like how M-Audio didn't try to cram all its knobs and controls on the front panel.
Everything is clearly labeled and spaced out plus it comes with three large knobs on the top panel that make adjusting levels a breeze.
Microphone Preamps
Our favorite aspect of this unit is its Crystal Mic Preamps offering up to 54 dB of gain and ultra-low preamp noise with an EIN of nearly -130 dB (A).
Layout
As with the prior two interfaces, it features two mic/line/instrument inputs, two ¼ inch outputs, and a headphone output, each with corresponding controls.
There are also buttons for switching between instrument and line level and toggling phantom power and direct monitoring.
Best Beginner Audio Interface for Home Studios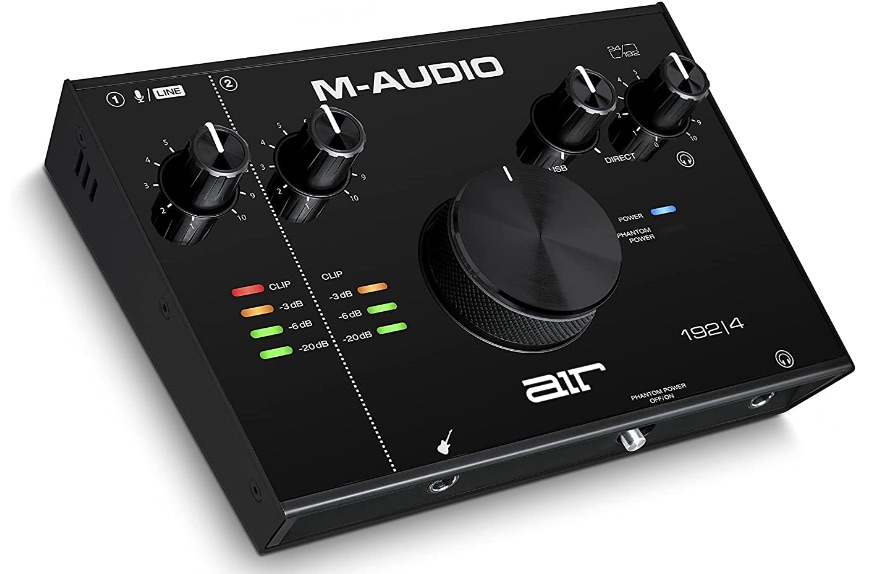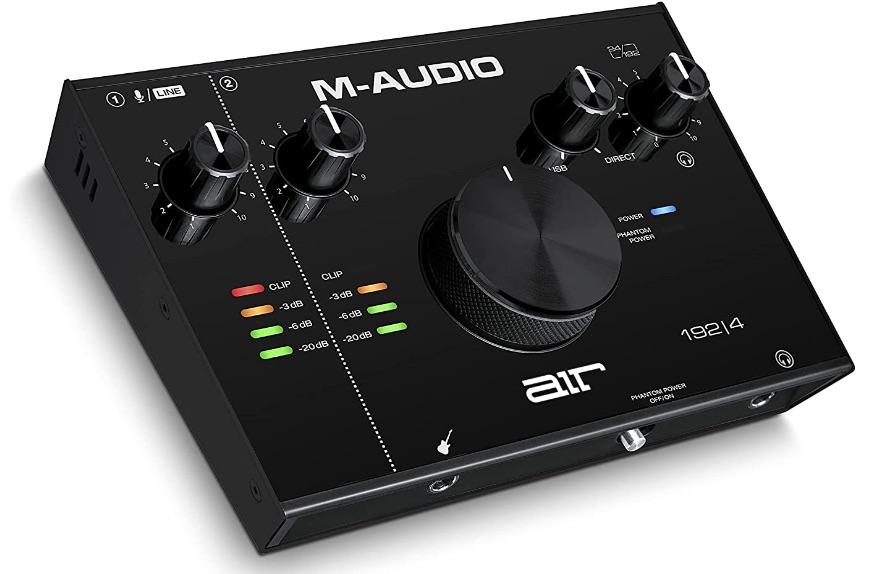 M-Audio also offers a slightly more expensive Air 192|4 audio interface which is an excellent choice for beginners as well.
The only knock against this unit is its large size which isn't ideal if you have limited desk space. However, its size can be an asset.
It has large spaced-out knobs and a set of LED level meters which is hard to find in an interface under $150.
Recording Quality
In terms of recording quality, the Air 192|4 has the same Crystal preamps as the M-Track Duo.
The difference is the 192|4 offers more dynamic range and features higher quality 192kHz/24-bit converters compared to 48kHz/16-bits for the M-Track Duo.
Monitor Mix Knob
Another key difference between these units is the Air 192|4 has a mix knob for direct monitoring, while the Duo has an on/off switch.
With the monitor mix knob, you can blend the direct audio signal from your interface and your computer for greater control over your monitoring experience.
For example, if you're recording with effects, you can blend in audio from your DAW. Otherwise, you can monitor your audio through your direct signal for near-zero latency recording.
Many entry level interfaces with have a simple on/off switch but if you're looking for more flexibility as a beginner, consider an interface with a monitor mix knob.
Our Recommendation
If you're on a budget, we suggest the M-Track Duo. But if you're looking for a more sustainable interface with better sound quality the Air 192|4 is the way to go.
Check out our complete review of the Air 192|4.
Best Beginner Audio Interface for Mobile Recording


The Steinberg UR12 is one of the more straightforward interfaces you'll ever use.
It doesn't have many features or even combo inputs, but it'll get the job done. This interface may not impress advanced musicians but if you've never used an audio interface, it won't take long to figure out how to use this one.
Layout and Design
It has a simple design – separate mic and Hi-Z inputs, corresponding gain knobs for each input, RCA main outputs with a volume control, switches for direct monitoring and phantom power, and a ¼ inch headphone output.
There are also LED indicators for each input and a dual power supply – 5VDC for wall power and USB-B for bus power. But how does the UR12 perform compared to the other units on this list.
Recording Quality
The UR12's audio quality is on par with the Air 192|4 with its 192kHz/24-bit converters, dynamic range of 100 dB, and relatively low-noise preamps with 44 dB of gain.
However, the Air 192|4 has more gain.
It also has a line input while the UR12 doesn't. It's important to have a line input if you want to connect a preamp or other hardware.
Our Recommendation
We also prefer the Motu M2 and Scarlett 2i2 but the UR12 is an excellent choice if you're on a budget.
Click the link for our in-depth review on the Steinberg UR12.
How Do I Choose an Audio Interface?
Choosing the right audio interface depends on a number of factors, such as the number of instruments and microphones you use, the type of music you make, and your budget.
First, consider the types of connections you'll need.
If you only need to connect a microphone and an instrument, then a simple two-channel interface will suffice.
However, if you plan on using multiple microphones or instruments, then you'll want an interface with more channels.
Second, think about the quality of sound you need. If you're just starting out, then you may not need the highest quality audio interface available.
Finally, consider your budget. Audio interfaces can range in price from a few hundred dollars to several thousand dollars. An interface under $300 is sufficient for most need.
Does It Matter What Audio Interface I Use?
Yes, it absolutely matters what kind of audio interface you use. Of course, the quality of your mic, instruments, studio monitors, and the level of acoustic treatment in your room will have an effect as well. But your audio interface is the intersection between all your equipment.
With that said your audio quality is influenced by the quality of your interface's D/A and A/D converters and preamps.
To determine the quality of these components you can look at specifications (specs) such as frequency response, dynamic range, EIN, gain range, and more.
What's the Difference Between High-End and Entry Level Audio Interfaces?
Generally, the main difference between high-end and entry-level interfaces is features.
Many high-end audio interfaces use Digital Signal Processing technology and other advanced features you won't find in more affordable units.
However, if you're just getting started in recording, these features aren't necessary and can be a distraction if you have no need for them.
These days, it's hard to tell the difference between the best entry-level interfaces and higher-end units unless you have a trained ear. And even then, the differences are subtle.
Ultimately, when searching for the best audio interface it's important to consider how many I/O you'll need, how each units compares in terms of specs, and reviews from musician's who've used difference units.
Why is Focusrite So Popular?
The Focusrite Scarlett 2i2 is one of the top-selling audio interfaces. But does that mean it's the best?
There are plenty of interfaces we prefer over the Scarlett 2i2 but for beginners, hobbyist, and anyone looking for an easy to use interface with reliable quality, it's hard to beat.
We believe the 2i2 so popular for the same reason we included it on this list: it has an intuitive layout and useful Air Mode feature.
Many entry-level interfaces don't have the best build/design quality or the most enough features.
However, the Scarlett 2i2 offers the best all-around package at its price.
Does a Cheap Audio Interface Affect Sound Quality?
A cheap audio interface can negatively affect sound quality.
However, just because an audio interface is under $100 doesn't mean it's "cheap" or low-quality.
It's important to consider the specs of an interface compared to other units to get an ideal of its quality.
More expensive audio interfaces tend to have better components such as converters and preamps which can result in higher quality recordings.
Summary: 5 Best Audio Interfaces for Beginners