Thunderbolt audio interfaces are becoming increasingly popular, offering a faster and more reliable connection than USB.
If you're looking for the best thunderbolt audio interface, here's an in-depth look at our top 4 recommendations.
Overview
Top Choice: Universal Apollo Twin X
Best Mic Preamps: Antelope Audio Zen Go Synergy Core
Best for Large Recording Sessions: PreSonus Quantum 2626
Budget Option: Universal Apollo Solo
The Best Thunderbolt Audio Interface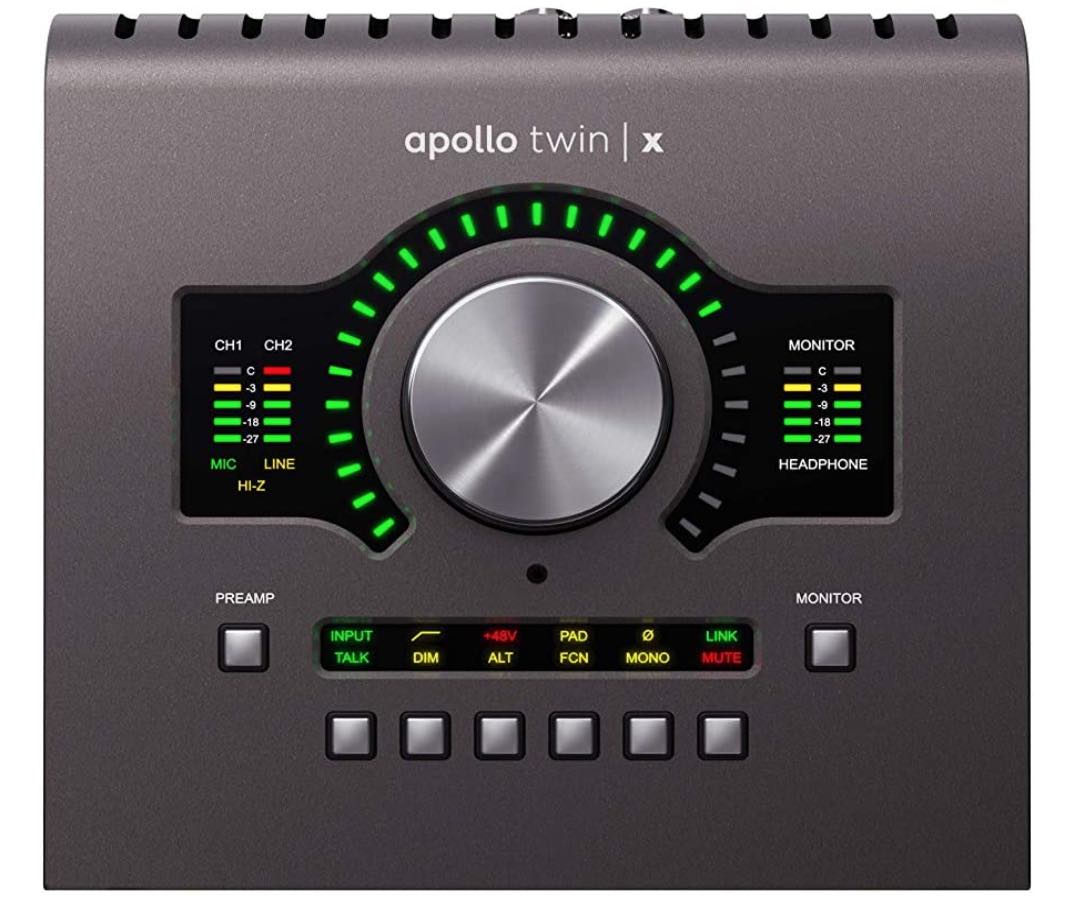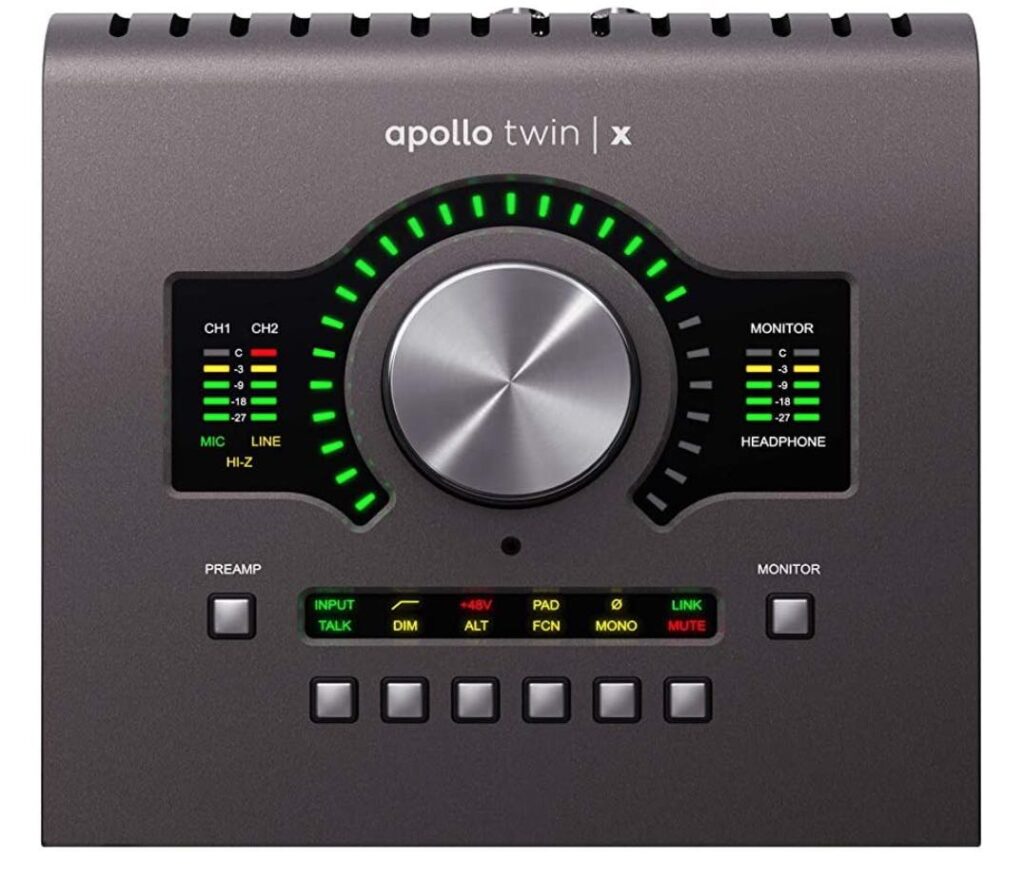 The Apollo Twin X is one of the most well-known high-end audio interfaces.
When you look at its price, you may wonder why anyone pay $1000 for an audio interface – especially when you can get one that delivers professional quality for a fraction of the price.
Well, if you're unfamiliar with the Apollo Twin X, there are a few advanced features you should know about before you write it off.
Unison Mic Preamps
First, the Apollo X features two world-class mic preamps equipped with UA's Unison technology. 
This Unison technology allows you to record – with zero latency – through classic tube preamp emulations from UA, Neve, API, Halios, and more.
You'll also get a set of Unison-enabled plug-ins, letting you further tweak your sound to get the exact tone you're looking for.
DSP Effects
In addition to unison-enabled preamps, the Apollo Twin X also comes with digital signal processing (DSP) effects.
The Apollo's DSP effects are built-in plug-ins modeled after UA's classic analog hardware.
You can use these effects to add depth and dimension to your sound in real-time without adding latency.
UA Apollo Twin X DSP effects include:
EQ: A set of filters that you can use to adjust the frequency response of your audio signal.
Compression: A process you can use to even out the levels of your audio signal or add punch and power to your sound.
Reverb: An effect that simulates the natural echo of a room or space, which you can use to add ambiance to your recordings.
Delay: An effect that creates a repeating echo of your audio signal, which can be used to create a sense of space or depth in your sound.
What We Like
I've been using the Apollo Twin X audio interface for a few months now, and I have to say that I'm really impressed.
The sound quality is fantastic, and the interface is extremely user-friendly.
A few notable features I enjoy are the Talk button which allows for quick communication with a vocalist in another room, and the hi-pass button for adding a quick hi-pass filter.
Thunderbolt Audio Interface with the Best Preamps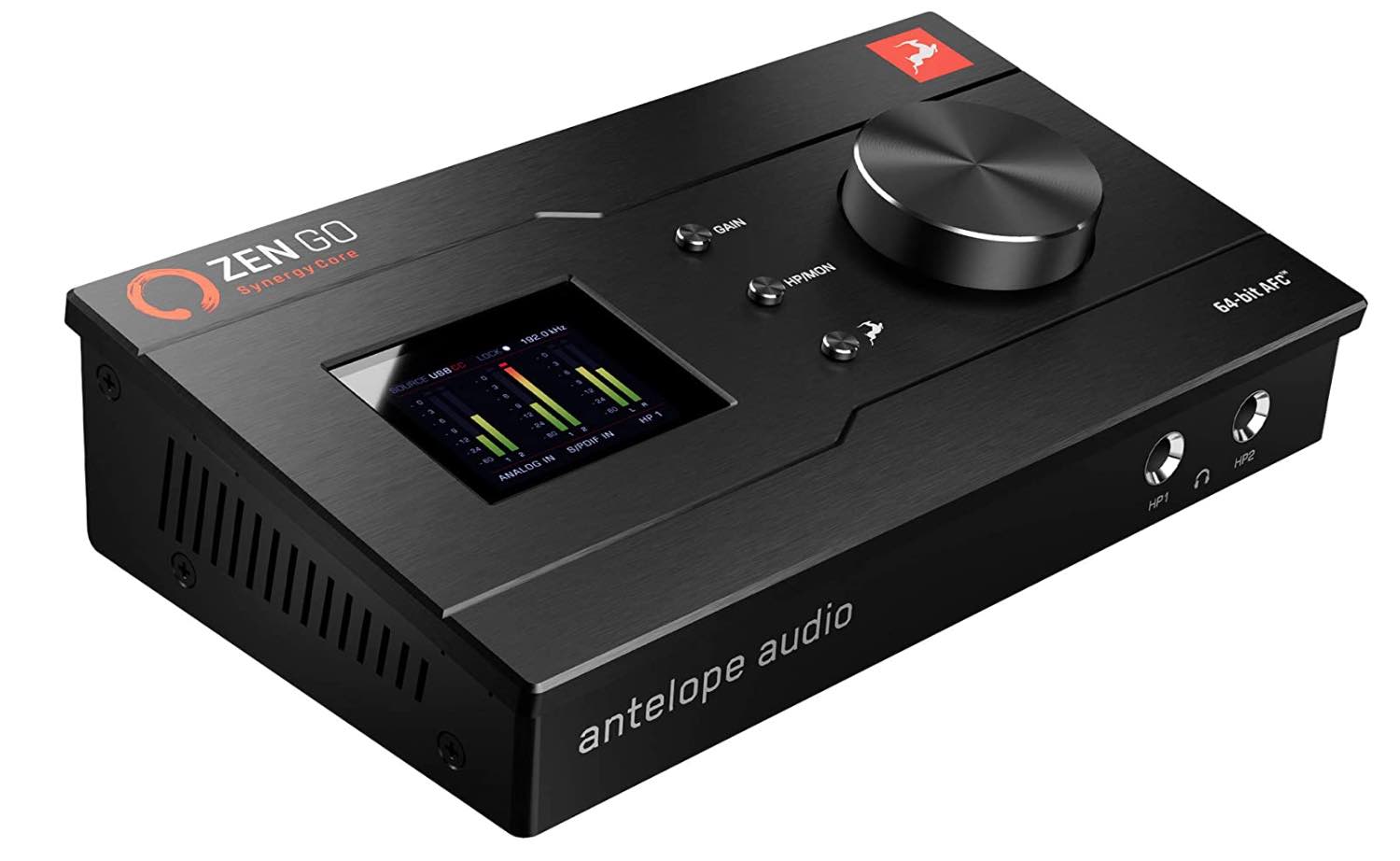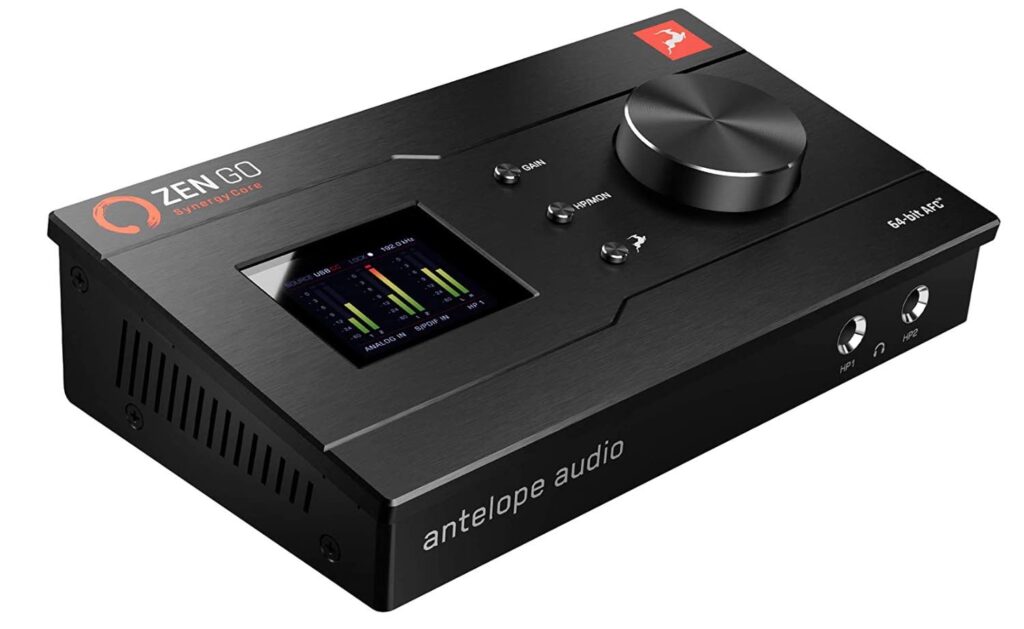 Antelope Audio's Zen Go Synergy Core is worth considering if you're looking for a thunderbolt audio interface with exceptional mic preamps.
Its preamps offer up to 65 dB of gain and an impressively low-noise performance – with an EIN of around -129 dBu. 
Plus, this unit is relatively affordable compared to other high-end interfaces on the market.
One of the first things you'll notice is how compact the Zen Go is.
It's easy to throw in a bag and take with you on the go. But despite its relatively small size, it still has all the features you'd expect to find in a high-end interface.
DSP Effects
The best Zen Go feature is its real-time effects processing.
It features 37 built-in DSP effects – ranging from compressors, EQs, preamps, guitar amps, etc. – that you can add to your audio in real-time without introducing latency.
Design and Controls
In terms of design, it has two mic/line inputs, two headphone outputs, two ¼-inch, and two RCA outputs.
It also comes with a USB-C and Thunderbolt port for easy connection to any computer.
What We Like
I've been using the Antelope Audio Zen Go Synergy Core for a while now, and my recordings consistently come out sounding clear and detailed.
Plus, the unit is very portable, making it easy to move around to different locations without any hassle.
One thing I really like about the Zen Go is that it offers Thunderbolt and USB-C connections, making it easy to use with any setup.
Overall, I've been happy with the performance of the Antelope Audio Zen Go and would highly recommend it to anyone looking for a high-quality, portable recording solution.
Best Thunderbolt Audio Interface for Large Recording Sessions


PreSonus's Quantum 2626 offers up to 26 inputs and 26 outputs thanks to ADAT and S/PDIF connection. This includes two mic/instrument inputs, six mic/line inputs, two main outputs, eight line outputs, two 1/4-inch preamp outs, two-line returns, two headphone outputs, and MIDI I/O.
It's an excellent option for those looking for an easy-to-use, high-quality thunderbolt audio interface for large recording sessions.
You'll get low round-trip latency, 24-bit/192kHz digital converters, and a nice software bundle that includes Studio One Artist, Ableton Live Lite, and the Studio Magic plug-in suite.
It also features PreSonus's award-winning XMAX mic preamps, which deliver clean and transparent sound recordings.
Our Recommendation
We recommend the other options on this list if you don't need this many inputs and outputs.
With the Zen Go and Apollo Solo, you'll get far more features for lower prices.
Overall, the Quantum 2626 is best for engineers who are recording bands, drums, and large recording sessions overall.
Best Budget Thunderbolt Audio Interface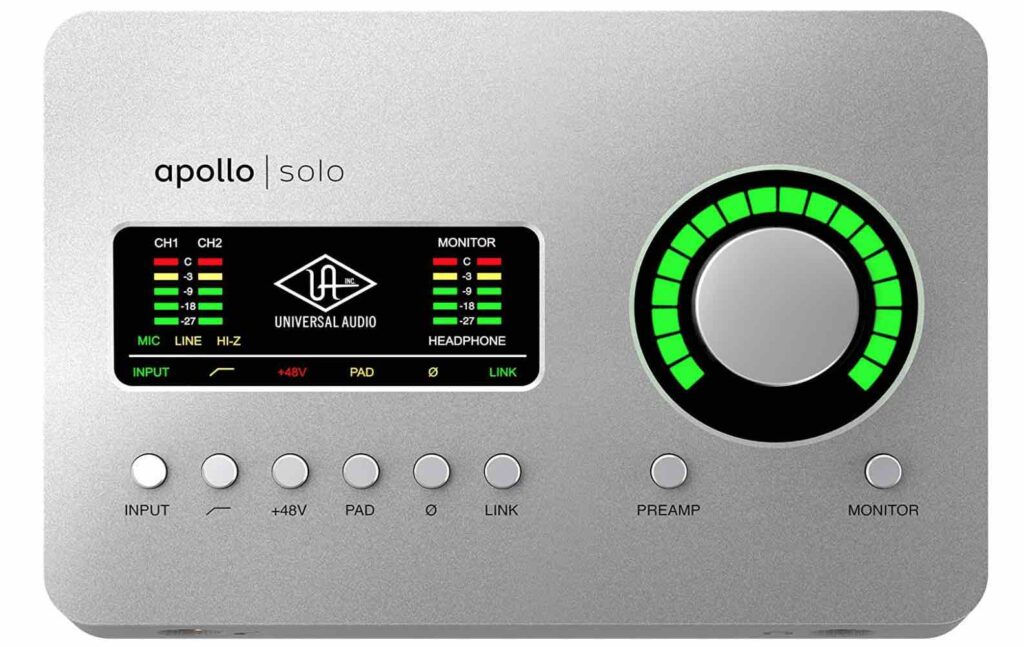 We recommend checking out the Apollo Solo if you're looking for an affordable alternative to the Twin X.
Similarities and Differences Between the UA Solo and Twin X
The main difference between the Solo and the Twin X is the Twin X has more features and DSP effects.
However, you'll get the same sound quality and similar features with the Solo for a fraction of the price.
The Solo and the Twin come with a high pass, +48V, Pad, Reverse Polarity, and Link button. But the Twin X also comes with an advanced set of Monitor buttons (Dim, Mute, etc.).
Also, the Solo doesn't have an ADAT input, so it's not ideal for large recording sessions.
Check out our complete comparison of the Apollo X vs. the Apollo Solo for more details.
Our Recommendation
The Apollo Solo is one of the best options if you only need to record up to two mics simultaneously. 
The Apollo Solo comes with two mic/line inputs, an instrument input, and two main outputs – giving you all the I/O you'll need for a typical home recording session.
Overall, we recommend the Solo over the Twin X if you're on a budget or have a small recording setup.
What is Thunderbolt?
Thunderbolt is a high-speed data transfer protocol developed by Intel and Apple.
In other words, it's a way to connect an audio interface or other Thunderbolt device to a computer.
It offers significantly higher data transfer speeds than USB making it ideal for audio applications where low latency is crucial.
What are the Benefits of Thunderbolt 3?
The latest Thunderbolt 3 offers several key benefits over previous versions of Thunderbolt technology:
1. Increased bandwidth: Thunderbolt 3 doubles the bandwidth of Thunderbolt 2.0 to 40 Gbps, which allows for data transfers up to four times faster than USB 3.1 (10 Gbps).
2. Higher performance: Thunderbolt 3 supports two 4K displays or one 5K display at 60 Hz.
4. Flexible connectivity: Thunderbolt 3 uses a USB Type-C connector, which is smaller and more versatile than the previous Mini DisplayPort connector. This allows Thunderbolt 3 devices to be compatible with a broader range of devices, including those that use USB Type-C.
What are the Potential Disadvantages of Thunderbolt 3?
While Thunderbolt 3 offers many benefits, there are a few potential disadvantages to consider:
1. Cost: Because Thunderbolt 3 is a newer technology, it's typically more expensive than other I/O technologies – like USB.
2. Limited compatibility: Thunderbolt 3 is not as widely compatible as USB. Not all computers or operating systems currently support it.
3. Requires special cables: Thunderbolt 3 uses a different cable than USB. You'll need a Thunderbolt 3 cable to connect Thunderbolt 3 devices to a computer.
Factors to Consider When Choosing the Best Thunderbolt Audio Interface
There are a few factors to consider when choosing the best thunderbolt audio interface for your needs.
One is the number of input and outputs you need. You can save money by choosing a less expensive interface if you only need a few.
Another factor is preamp quality. 
Suppose you plan on recording professional-quality audio, especially with dynamic mics. In that case, you'll want an interface with high gain (above 50 dB) and low preamp noise, aka equivalent input noise (below -126).
Finally, make sure to check the compatibility of your computer and interface. 
Thunderbolt is a new technology, so not all computers are compatible with all interfaces.
Do your research to ensure everything will work together before purchasing.
Also Read: How to Read Audio Interface Specs
Is Thunderbolt Worth it?
Thunderbolt is generally faster than USB, but it also tends to be more expensive.
Ultimately, your best option will depend on your specific needs and budget.
But to answer the question, we don't think it's worth going out of your way to buy a Thunderbolt interface just for a specific connection type.
We believe the interfaces on this list are great options because of their features and sound quality. And if you just so happen to be looking for an interface with Thunderbolt connection, they also check off that box.
However, USB connection is still the most common form and will get the job done in most situations.
Is Thunderbolt the Same as USB-C?
No, Thunderbolt is not the same as USB-C.
Both are used interchangeably since Thunderbolt 3 is compatible with USB-C ports and vice versa.
However, Thunderbolt 3 has some additional features that make it different from USB-C – including the ability to support two 4K displays or one 5K display and faster data transfer speeds (up to 40 Gbps).
Summary: Best Audio Thunderbolt Audio Interface
Top Choice: Universal Apollo Twin X
Best Mic Preamps: Antelope Audio Zen Go Synergy Core
Best for Large Recording Sessions: PreSonus Quantum 2626
Budget Option: Universal Apollo Solo