The Motu UltraLite Mk5 is one of the most overlooked high-end audio interfaces.
At first glance, it may not look like much, but it supports 18 inputs and 22 outputs, features onboard DSP effects, and has top-quality microphone preamps.
At around $600, the UltraLite Mk5 isn't for everyone, But here's a closer look at its features, recording quality, and more to help you decide if it's the right choice.
Overview
The Motu UltraLite Mk5 is an 18-input, 22-output high-end audio interface. It produces top-of-the-line audio quality and features onboard DSP effects for zero-latency monitoring.
Overall Grade: A
Build Quality: A
Design Quality: B+
Recording Quality: A+
Preamps: A+
Features: A
Who is the Motu UltraLite Mk5 Best for?
Engineers 
Mobile recording 
Large recording sessions 
Recording with effects 
Podcasting 
Streaming 
We recommend the Motu UltraLite Mk5 to intermediate/advanced mobile and home studio recorders. It has many I/O, an onboard DSP mixer, and a detailed LED recording level screen.
While it carries a high price tag, this unit produces better audio quality than most audio interfaces.  
Pros 
Real-time reverb, gate, compression, and EQ effects
Onboard DSP mixer
Excellent recording quality 
High gain, low noise mic preamps 
Mobile 
Cons 
Pricey 
Small knobs 
Controls can be difficult to access at times 
LED level meters don't have a clipping indicator 
Motu UltraLite Mk5 Review
Design and Layout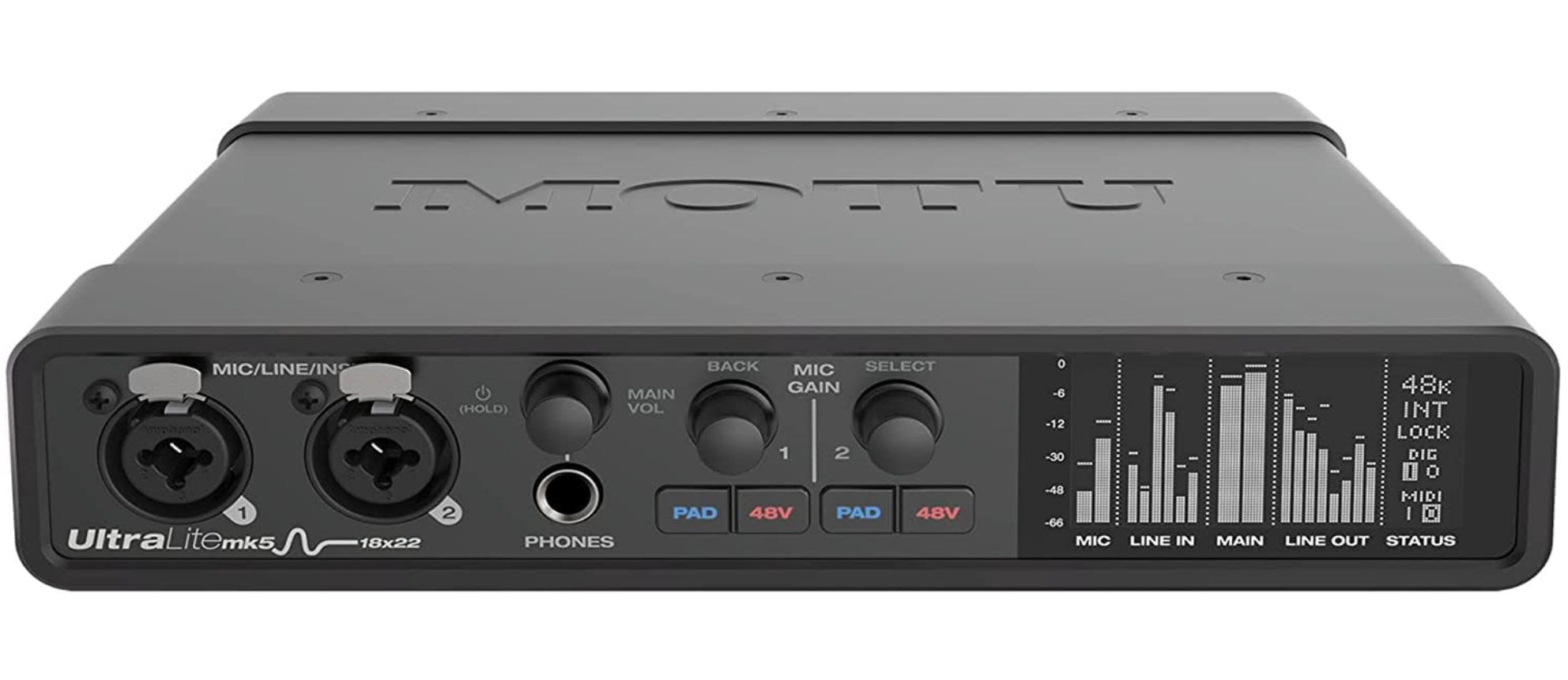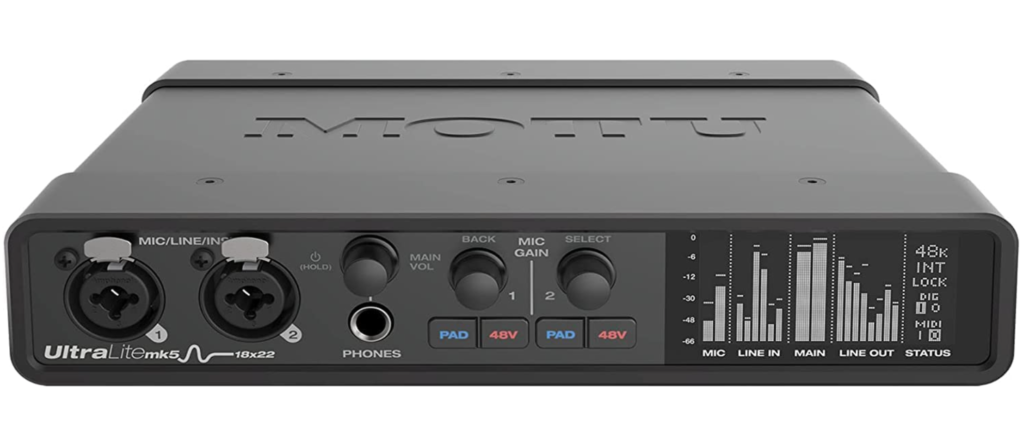 The UltraLite Mk5 has two mic/line/instrument inputs on the front and six line inputs on the back.
Each mic input has corresponding gain knobs on the front. Under both knobs are a Pad button (reduces incoming signals by 20 dB) and a +48V phantom power button for each mic input.
Between the mic inputs and gain knobs are a ¼ headphone output and volume knob. This knob controls your headphone and main output volume.
You can switch between controlling your headphone and main output volume by pressing the knob. Once you do so, the setting that your controlling will appear on the LED screen to the right.
You can also use the LED screen to monitor your recording levels, clock settings, sample rate, and MIDI and digital connection.
The UltraLite Mk5 has ten line outputs, an ADAT input and output (I/O), a SPDIF I/O, and a MIDI I/O on the back. There's also a USB-C port and a 15V DC port for power connection.  
Notable Features
CueMix 5 (DSP mixer)
LED level meter screen 
ADAT and SPDIF connection
-20 dB Pad button 
Build Quality
Grade: A
This unit has a sturdy metal chassis and a robust design that should withstand years of heavy use.
There are additional layers of metal toward the front and back panels to protect this unit in the event of a drop.
All the input and output jacks feel secure, and the controls feel sturdy and well-built. Plus, the knobs have a good amount of resistance.
Overall, the UltraLite Mk5 is a well-constructed interface durable enough for heavy road use.
Design Quality
Grade: B+
It would be nice to see larger knobs on this interface. Some of our favorite interfaces in this price range have large-volume knobs.
They also tend to have wider panels, allowing their controls to be more spaced out – and easier to navigate. However, the design of UltraLite Mk5 makes sense since it's meant to be compact.
It has a simple and intuitive layout and does an excellent job of packing in so many inputs and outputs.
Recording Quality 
Grade: A+
The UltraLite Mk5's recording quality is one of its strong suits.
With a mic input dynamic range of nearly 120 dB, this unit offers an impressive amount of headroom. 
Dynamic range is an important consideration when choosing an audio interface, especially if you plan on recording audio with a lot of variation in volume levels.
Audio interfaces with higher dynamic ranges are better at processing audio with a wide range of dynamics resulting in less clipping and distortion. 
Related Post: How to Read Audio Interface Specs
Preamps
Grade: A+
We recently listed the UltraLite Mk5 as the best audio interface for the Shure SM7B. It has a notoriously low output level if you're unfamiliar with this microphone. Therefore, it works best with high gain, low noise mic preamps, such as the ones in this unit. 
The Mk5's preamps have a max gain of 76 dB and an equivalent input noise measurement of nearly -130 dBu (ultra-low preamp noise).
Features        
Grade: A
The most notable UltraLite Mk5 feature is CueMix 5, a DSP mixer that gives you control over every feature this interface offers. 
Here's an overview of what you can do with CueMix 5:
Create and save custom monitor mixes 
Set gain for each input 
Adjust headphone volume 
Enable near-zero latency DSP effects 
This software lets you control the UltraLite Mk5's onboard DSP effects – a reverb, 4-channel parametric EQ, compression, and gate plug-in – that you can enable in real time with near-zero latency.
The Mk5's DSP effects can be a bit limiting depending on your experience level, but we find them helpful. 
The UltraLite Mk5 also has an LED screen that shows recording and volume levels, sample rate, and other indicators. The only downside is the level meters don't have a clipping indicator.
Other notable features include: 
Pad Button: reduces incoming audio signals by 20 dB
Separate +48V phantom power buttons for each mic input 
MIDI I/O status LED indicator
Digital I/O status LED indicator
Audio Interface Comparisons 
Motu UltraLite Mk5 vs Motu M4
The Motu M4 is an affordable alternative to the UltraLite Mk5. 
It doesn't have as many line inputs and outputs or digital expandability. Plus, it has a more simplified LED-level panel.
However, we prefer the design of the M4 over the Mk5.
The M4 has a more intuitive layout that's a bit easier to navigate.
It also has a large volume knob making it even more user-friendly.
The Mk5 has the M4 beat in sound quality and features. But the M4 is better for beginner and intermediate users.
Motu UltaLike Mk5 vs. Audient iD44
We prefer the design of the Audient iD44 over the Mk5. 
The Mk5 is a bit easier to travel with, but the iD44's large top panel and simple layout makes it easier to use.
The iD44 also has a couple more I/O and an onboard DSP mixer.
It's an excellent alternative if you're looking for something slightly more affordable with similar sound quality and features.
Takeaway: Motu UltraLite Mk5 Review
We highly recommend Motu's UltraLite Mk5.
It's a compact unit with many inputs and outputs, exceptional audio quality, and advanced recording features.
We like how it has a separate pad and +48V phantom power buttons for each mic input. Plus, the LED level panel is easy to read and shows your sample rate and digital and MIDI I/O status.
Overall, the best aspects of the UltraLite Mk5 are its audio quality and top-quality mic preamps.