Are you looking for the best pop filter for your Blue Snowball microphone?
We got you.
Here are our top 4 options and what to look for when buying a pop filter.
Overview
Why Use a Pop Filter with the Blue Snowball?
There are a few reasons why you might want to use a pop filter with the Blue Snowball microphone.
First, it reduces the number of plosives (popping sounds) that your mic picks up. Plosives are caused by the sudden air release from your mouth when you pronounce "p" and "b" sounds.
A pop filter helps produce cleaner, more professional-sounding recordings providing a barrier between your mouth and the microphone -so the air doesn't hit the mic capsule directly.
This barrier also helps extend the life of your Blue Snowball by preventing saliva from contacting your mic capsule – which can lead to corrosion over time.
We highly recommend using a pop filter if you're looking to produce the best possible recordings with your Blue Snowball while also protecting it from damage.
What to Look for When Buying a Pop Filter (for the Blue Snowball)
When it comes to buying a pop filter, there are a few key things you should look for: 
First, make sure that the filter is made of high-quality material.
Nylon pop filters are cheaper than metal pop filters, but metal filters are far more durable.
Secondly, pay attention to the length of the filter's gooseneck.
The gooseneck on a pop filter is the bendable metal rod connecting the filter's head and clamp.
If it's too short, you may have trouble positioning the filter where you want it. Also, the filter will have a hard time staying in place if it isn't sturdy enough.
Finally, you'll want a pop filter with a sturdy clamp.
The clamp is what attaches the filter to your microphone stand. A flimsy one can cause the filter to wobble and eventually fall off.
Here are 4 options we strongly recommend for your Blue Snowball.
The 4 Best Pop Filters for the Blue Snowball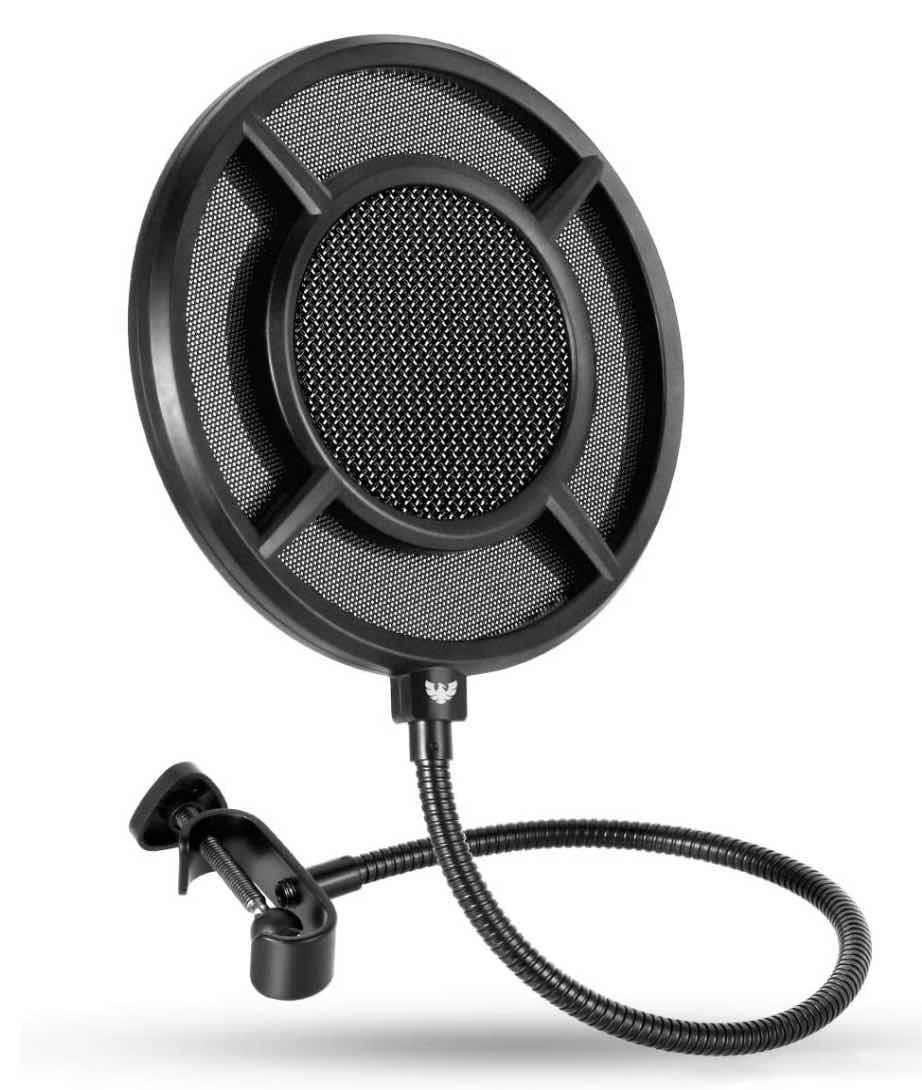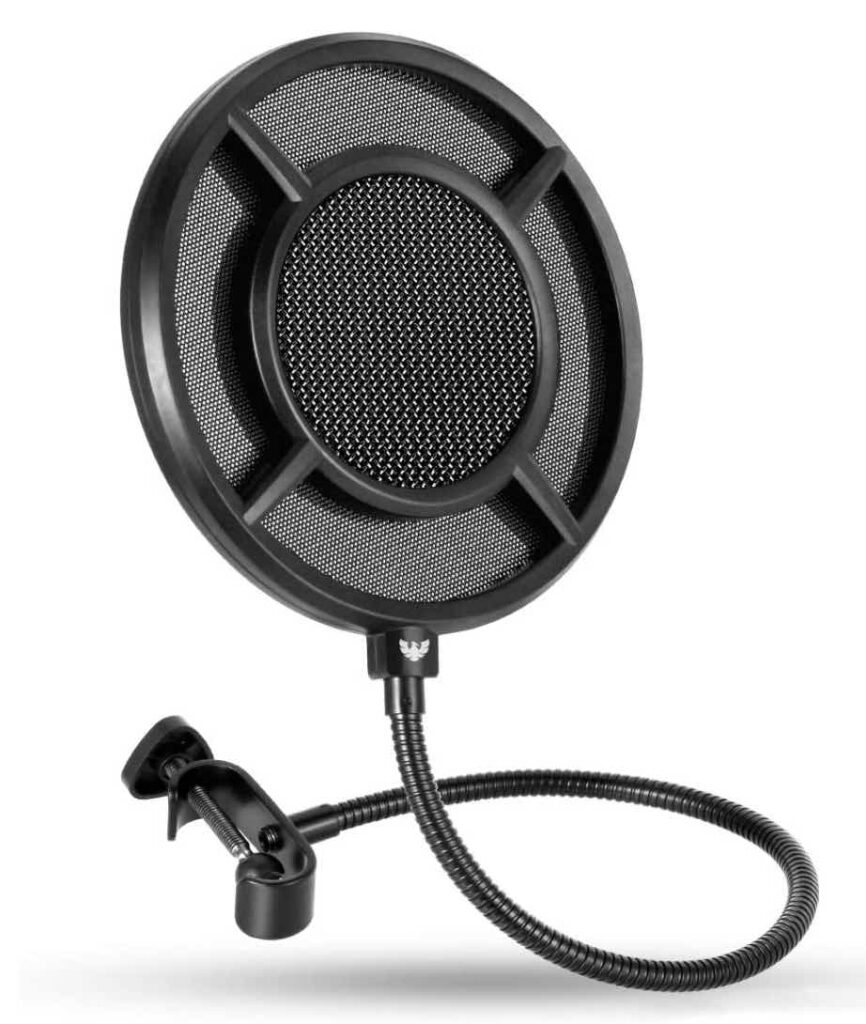 Consider the Arisen Metallic pop filter if you're looking for the most durable option.
Unlike standard nylon pop filters, it uses a dual-layer metal mesh (6-inch diameter) to redirect air away from your mic.
Metal and nylon filters are both effective against plosives, but the metal option is more durable.
It also has a more professional look if you're going for style.
The 15-inch gooseneck on this pop filter is adjustable at 360 degrees and sturdy enough to hold the filter's head place regardless of where you position it.
Unlike some cheaper units, I never have to worry about this filter dropping out of place. Plus, its clamp feels secure and doesn't degrade after a few uses.
The only downside is that this filter is slightly more expensive than nylon pop filters.
The additional cost is due to the materials manufacturers use to make metal filters.
However, many nylon filters are just as good at eliminating plosive sounds.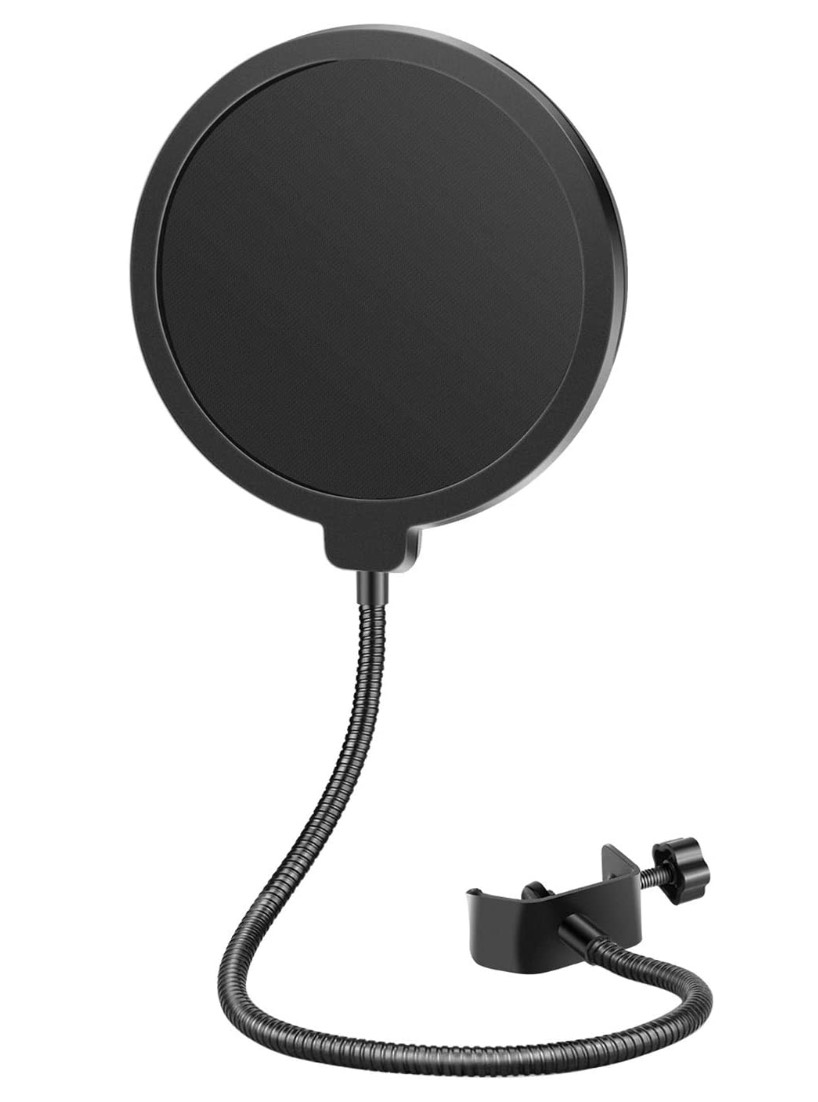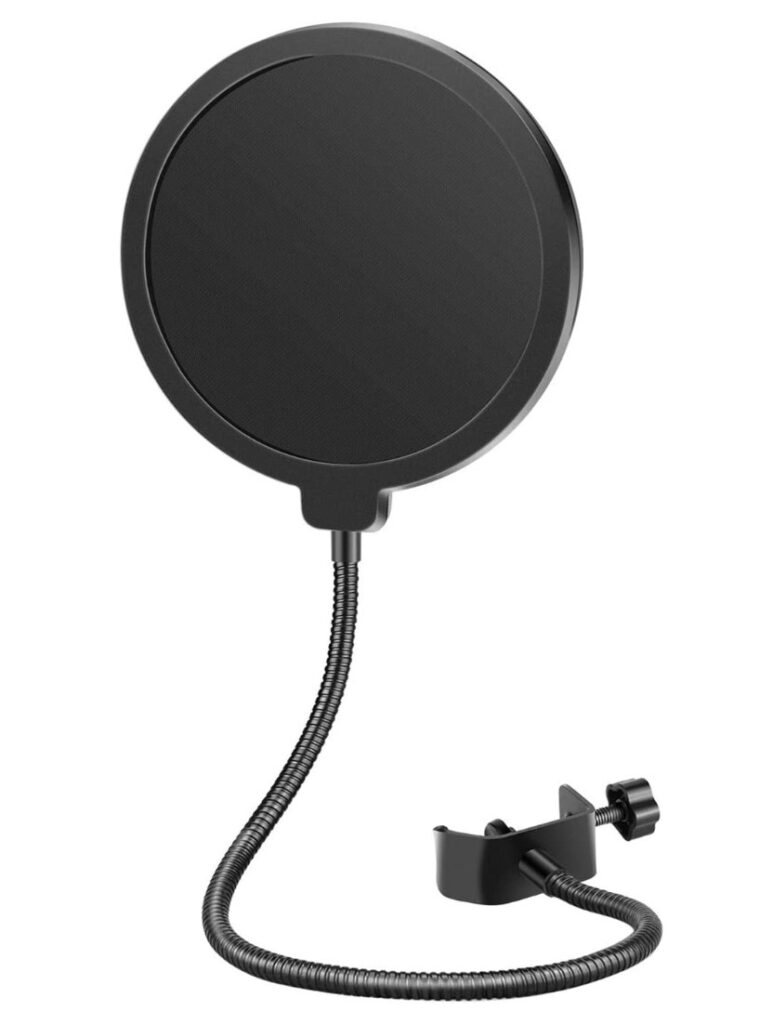 The Neewer Pop Filter is simple but effective.
It uses a double-layer nylon mesh (6.1″ x 6.5″) to disperse air before it reaches your mic.
The first layer slows down air blasts that cause plosives. By the time air passes through the second layer, it's contained and evenly distributed as it enters your mic.
I like this pop filter because it has well-built components. Its clamp feels durable, and its gooseneck is sturdy and flexible.
The only downside is its short gooseneck (about 12 inches).
An extra 3-4 inches would be nice, but a shorter gooseneck is perfect for the Blue Snowball desk stand.
The short gooseneck length may limit you if you set your mic up on a boom arm.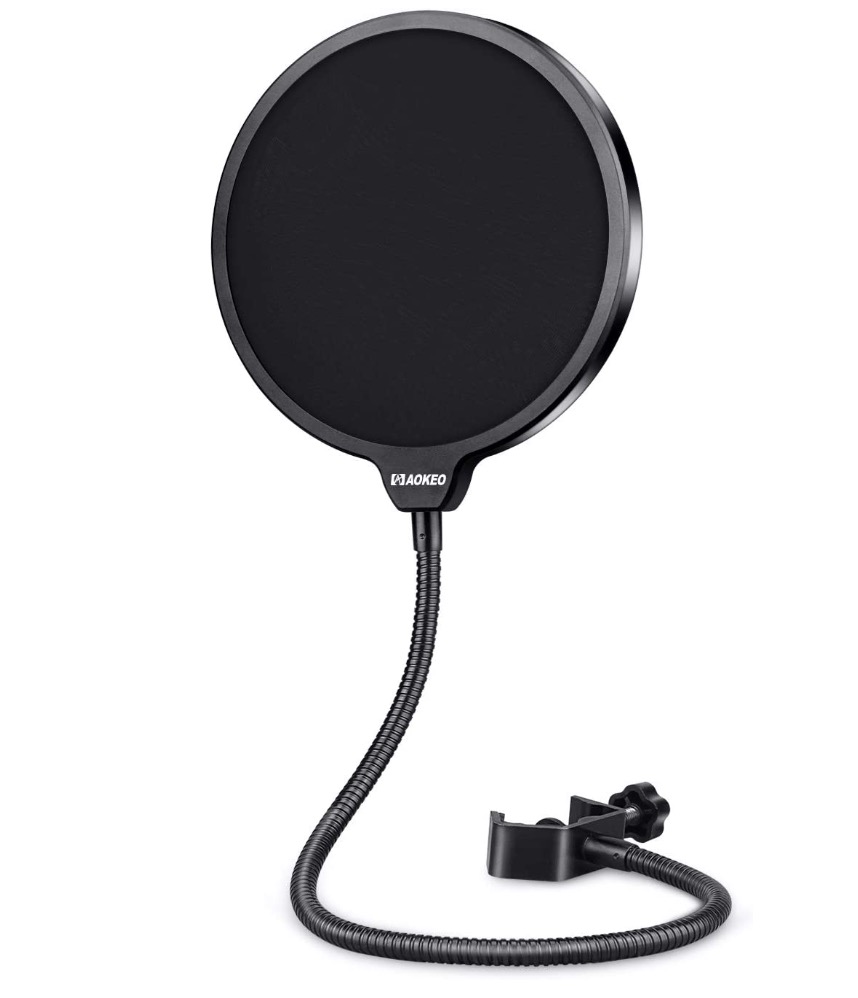 For just under $10, the Aokeo Pop Filter may not be the most durable option, but it'll get the job done.
Its dual-layered netted pop screen (6.1″ x 6.3″) does an excellent job filtering out plosive sounds, while its 360-degree swivel mount allows for easy positioning.
This pop filter has a longer gooseneck (15 inches) than the Neewer pop filter, which makes it easier to position with different mic stands.
However, the clamp on the Neewer pop filter feels sturdier.
In our opinion, if you're using the Blue Snowball desk stand, the Neewer filter is the better option. But the Aokeo filter offers more flexibility with larger mic stands.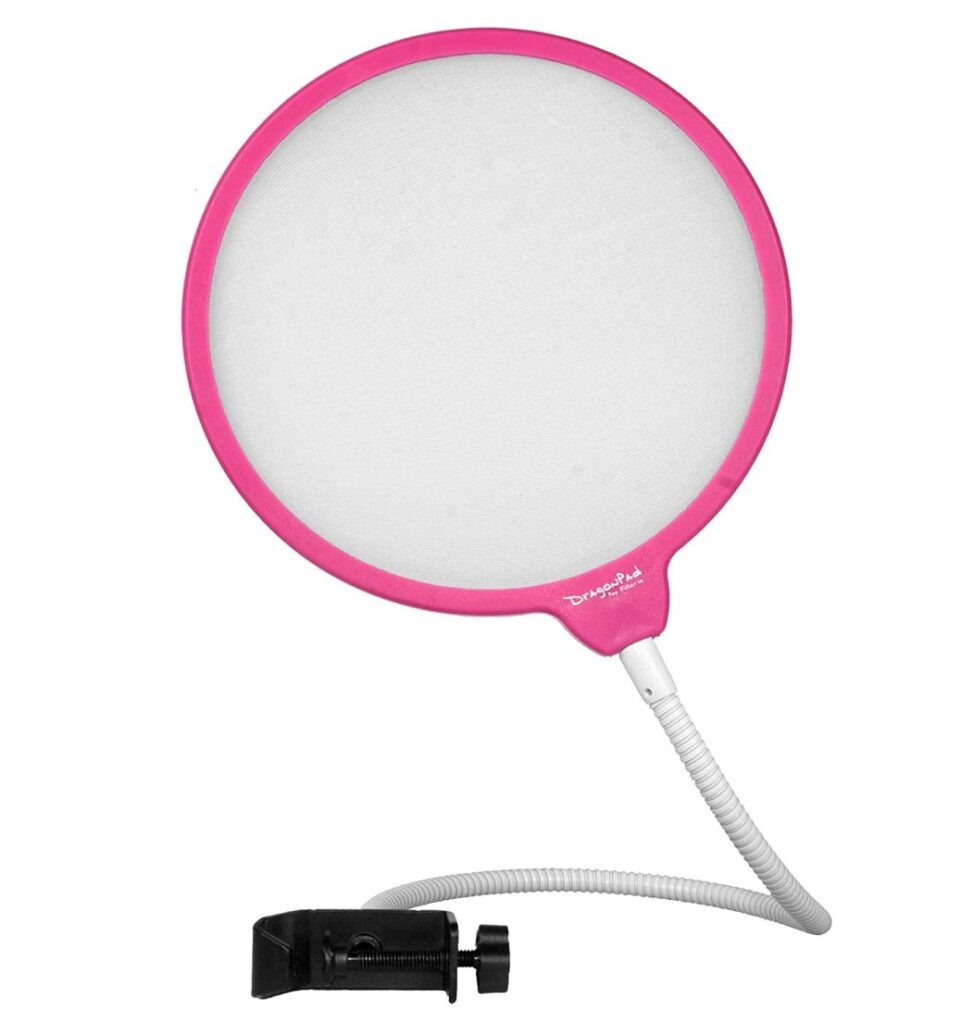 While most pop filters only come in black, the Dragonpad USA pop filter has pink and white versions.
While its color variations might seem trivial to some, it's an interesting option if you're tired of plain old pop filters. It gets the job done and can add some flavor to your recording setup.
Its double-netted nylon mesh makes it effective at filtering out plosive sounds.
Its 13-inch gooseneck and clamp could be sturdier, but for the price, you can't go wrong with this option.