Native Instruments Komplete Audio 1 is one of the most popular entry-level audio interfaces.
It has a sleek design and offers an impressive audio performance for an interface around $100.
Here's a full review of the Komplete Audio 1.
We'll give our take on its recording quality, preamps, additional software, and more.
Read till the end for comparisons to similar prices interfaces.
Overview
The Komplete Audio 1 is great for anyone looking for a user-friendly interface with low noise preamps and a high dynamic range.
It's easy to use for beginners. Plus, you can count on it to deliver professional quality audio in your home studio or for streaming.
Komplete Audio 1 Overall Grade: B+
Build Quality: B-
Design Quality: A
Recording Quality: B+
Preamps: B+
Features: B
Software Bundle: B+
Who is the Native Instruments Komplete Audio 1 Best for?
The Audio 1's high dynamic range gives guitar players and singers plenty of headroom while recording.
Also, its low-noise mic preamps make it an excellent choice for streamers.
The Komplete Audio 1 is best for…
Beginners
Basic and intermediate home studios
Music producers
Self-recording artists
Engineers
Streaming
Notable Features
XLR input for microphones
¼ inch input for instrument and line level devices
RCA outputs for studio monitors
Mixer control knob for blending direct signal and audio from your DAW
Low noise preamps
High dynamic range
LED level meter
Layout and Controls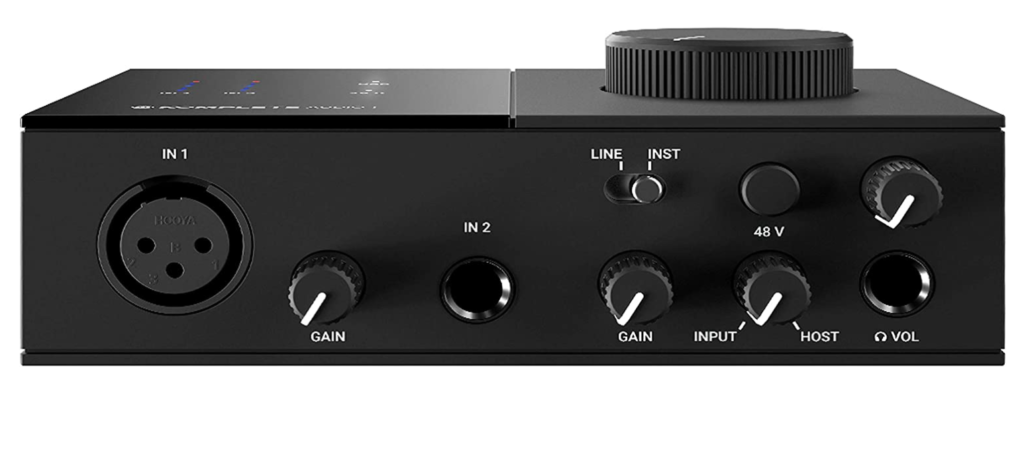 On the front of the Komplete Audio 1 are separate XLR and ¼-inch inputs with gain knobs next to each.
Further to the right is a switch to toggle the ¼-input between a line and instrument-level input.
You'll also find a button for enabling phantom power and a direct monitoring blend knob.
To finish off the front panel, we have a ¼-inch headphone jack with a corresponding volume knob.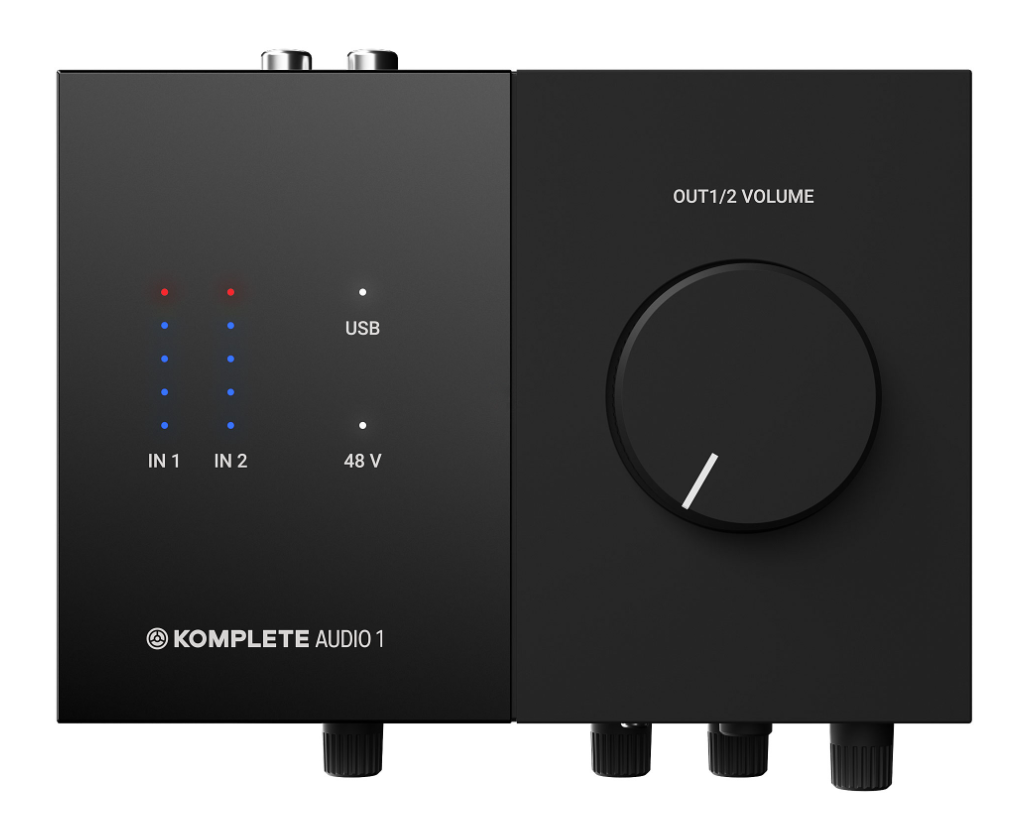 Moving to the top of the interface, you'll see LED level meters for each input.
You'll also get a couple more LED indicators for USB and phantom power.
Lastly, you'll find a large volume knob for the main output to the right.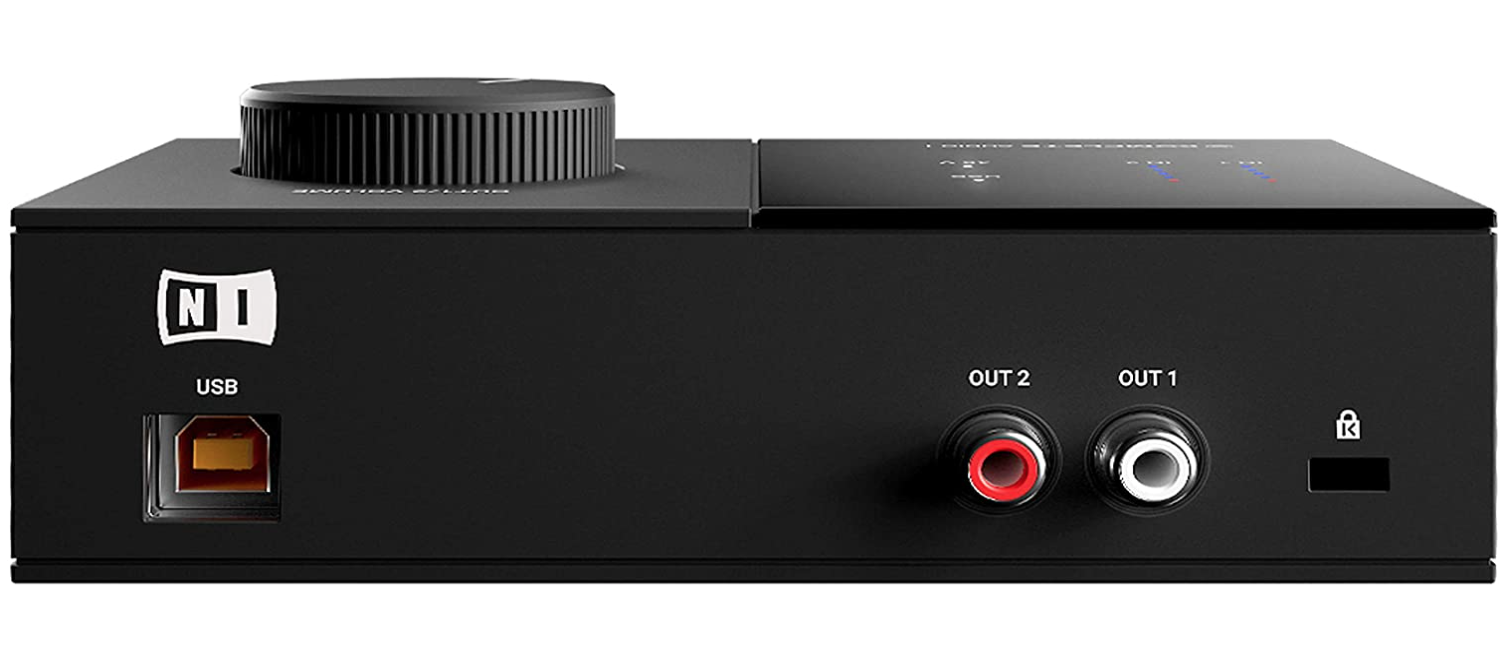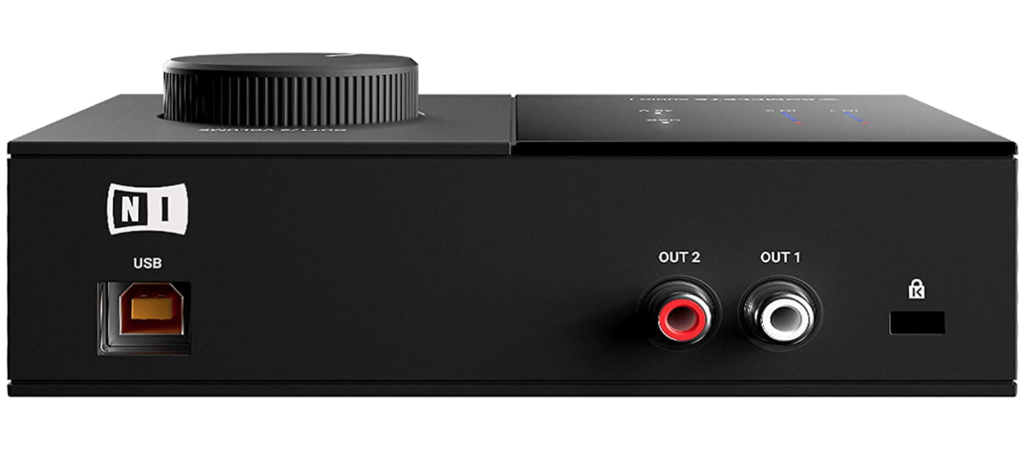 On the back are two RCA outputs, a USB-B connector, and Kensington Security Slot.
Build Quality
Grade: B-
The Komplete Audio 1 has a complete plastic exterior but overall feels well-constructed.
Also, its knobs feel sturdy and turn pretty smoothly.
You'll find more durable audio interfaces in the same price range, but this unit is fine for home recording.
Design Quality
Grade: A
The Audio 1 has a sleek and minimalist design.
We like that each gain knob is directly next to its inputs.
This design makes it easier to navigate without overthinking.
Also, the large volume knob is a bonus.
Because it's the knob, we access the most, the more accessible it is, the better.
Lastly, Audio 1 has a helpful LED level meter on the top for setting gain and monitoring clipping.
In our opinion, all these elements make it one of the best-designed entry-level interfaces.
Its simple layout makes it super easy to adjust levels on the fly.
Recording Quality
Grade: B+
Professional Audio Resolution: 192kHz at 24-bits
The Audio 1 mic inputs have a relatively flat frequency response and an impressive dynamic range of around 110 dB.
As a result, this interface can accurately record a playback at different frequencies.
You'll also have excellent headroom for recording electric guitar and vocals.
Preamps
Grade: B+
The Audio 1 comes with clear transparent preamps.
Its preamps supply a lower amount of gain than we would like.
However, they have an ultra-low equivalent input noise of around -130 dB.
As a result, you'll hear virtually no preamp noise even at high gain levels.
Overall, the Audio 1 offers quality preamps for both condenser and dynamic mics.
[Here's a list of the 3 audio interfaces with the best preamps]
Features
Grade: B
The Audio 1 is fairly limited in terms of features.
However, this isn't surprising for an interface this affordable.
One feature we find useful is the mixer knob.
It lets you blend the direct signal from your inputs and computer playback.
In comparison, an on/off direct monitoring switch is less flexible.
This feature is great for minimizing latency while also recording with effects.
Lastly, we find the LED level meters very helpful for setting gain and monitoring clipping.
Software Bundle
Grade: B+
The Audio 1 comes with a simplified version of Ableton Live 11.
It's limited but has all the tools you need to get started.
Also, Native Instruments throws in the Komplete Start bundle, including a host of synths, plug-ins, etc.
You'll also get a ton of effects and instruments with the Maschine essentials package and the Guitar Rig 6 LE amp simulator.
Lastly, you'll get some decent mixing tools with the REPLIKA delay, PHASIS phaser, and SOLID BUS COMP compressor.
Overall, the Audio 1 comes with a generous software bundle for its price.
Audio Interface Comparison
Native Instruments Komplete Audio 1 vs. Komplete Audio 2
With the Komplete Audio 2, you'll get two combo XLR/TRS inputs. You can use each for mic, instrument, and line-level devices.
It also comes with ¼ outputs instead of RCA.
Overall, the Audio 2 is the better choice if you're looking for more flexibility in your studio.
For example, you can connect two XLR mics at once or connect a preamp and record your guitar.
Conversely, you won't get this flexibility with Audio 1. It has one XLR mic input and 1/4-inch input for instruments and line devices.
However, for basic uses, the Audio 1 is more affordable.
Native Instruments Komplete Audio 1 vs. Focusrite Scarlett 2i2
Like the Audio 2, the Focusrite Scarlett 2i2 is better for connecting multiple devices.
It also features Air Mode, which adds brightness to your audio.
Native Instruments Komplete Audio 1 vs Steinberg UR12
The main difference is that Audio 1 has a mixer knob for direct monitoring while the Steinberg UR12 has an on/off switch.
We prefer the mixer knob, but these interfaces deliver similar audio quality.
Takeaway: Native Instruments Komplete Audio 1 Review
For around $100, it's hard to find a better performing interface than the Komplete Audio 1.
Its high dynamic range, low-noise preamps, and high-audio resolution make it excellent for basic home studios.
Its build quality could be better.
But this interface has worked great for us time and time again.