Here's a full review of the PreSonus AudioBox 96 audio interface.
We'll give you our take on the build and recording quality plus notable features, additional software, and more.
Let's dive right in.
Overview
The PreSonus AudioBox USB 96 is one of the best audio interfaces under $100 for audio and music production. It has a durable and compact design and an impressive audio performance with condenser mics.
The USB 96 is ideal if you're searching for an affordable interface that'll "get the job done."
While many users are unimpressed by its preamp performance with dynamic mics, this unit is popular among bedroom artists and producers.
PreSonus Audio Box 96 Overall Grade: B
Build Quality: A
Design Quality: B-
Sound Quality: B
Preamps: B
Features: B
Software Bundle: B
Who is the PreSonus AudioBox USB 96 Best for?
The AudioBox 96 is an ideal first-time interface for beginners.
It's effortless to navigate and delivers a solid audio performance for a budget-friendly interface.
If you're looking for an affordable home and mobile recording solution, you can't go wrong with his unit.
The AudioBox 96 is best for…
Beginners
Self-recording artists
Basic home studios
Bedroom producers
Guitar players
Engineers and artists recording on the go
Notable Features
2 Combo XLR/TRS Mic and Instrument Inputs
Mixer knob for direct monitoring
Software Bundle
+48V phantom power
Balanced Outputs
LED indicators for clipping
Layout and Controls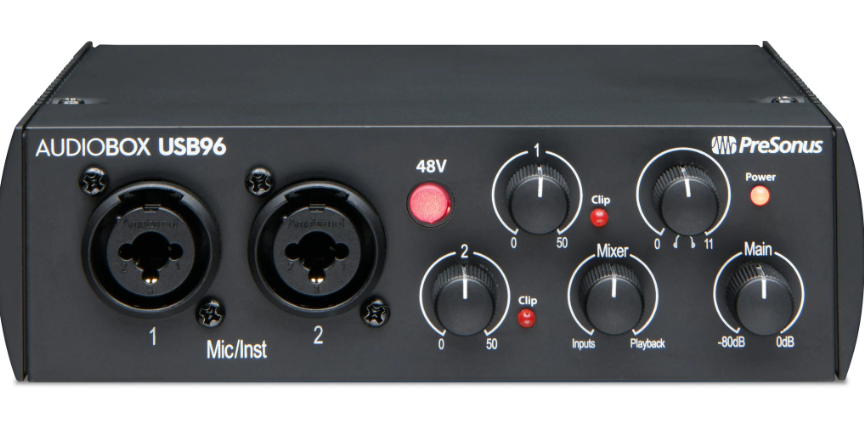 On the front panel, you'll find two XLR/TRS combo inputs for connecting microphones and instruments.
Keep in mind that this unit doesn't have line-level inputs. We recommend using a DI box to connect line-level devices like mixers and preamps.
In the center is a button for enabling phantom power, followed by separate knobs for controlling the gain for each input.
Next to each gain knob are LEDs that flash red to indicate clipping.
Moving to the right, you'll find a mixer knob to control the mix between your direct audio and computer playback.
When this knob is turned all the way to the right, you'll hear audio directly from your inputs for zero-latency recording.
There are also separate knobs for controlling the headphone and main output volume.

Lastly, you'll find a USB-B port, MIDI I/O, balanced main outputs for studio monitors, and a ¼ inch headphone jack on the back panel.
Build Quality
Grade: A
When it comes to build quality, the AudioBox 96 feels very durable.
It has a high-quality metal outer structure.
Also, the knobs and inputs on the front panel feel sturdy and well-constructed.
Overall, build quality is one of the highlights of this unit.
When it comes to recording on the go, for the price, it doesn't get much better than the USB 96.
Design Quality
Grade: B-
The design of the AudioBox 96 has some room for improvement.
While it's simple to use, many users have noted that its knobs could be more spaced out.
We also prefer a more user-friendly design.
For instance, we prefer having the headphone jack on the front instead of the back.
Regardless, these layout issues aren't a deal-breaker for us. They're just factors to consider when comparing interfaces.
Sound Quality
Grade: B
The AudioBox USB 96 lets you record at an audio resolution of 96 kHz at 24-bit.
In terms of audio quality, its frequency response could be flatter.
At 20 Hz and 20 kHz, there's a drop-off in the frequency response by about 2 dB at the max gain level.
However, the response becomes flatter as you lower the gain.
Condenser Mics vs Dynamic Mics
Your microphone will make a difference.
Dynamic mics are typically low-sensitivity and require more gain.
Overall, this unit offers great sound quality at moderate gain levels with a condenser mic.
But you'll find interfaces that perform better at higher gain levels for dynamic mics.
[Read this post to learn how audio interfaces improve sound quality]
Preamps
Grade: B
The AudioBox has an EIN of around -117, which is relatively high compared to other interfaces.
Many users generally agree that preamp noise can be an issue when using dynamic mics.
However, as someone who's used the AudioBox with condenser mics, its preamps are very clear and transparent compared to similar units.
We can say that this unit delivers a solid performance for audio and music production. But for podcasting and steaming, your mic will play a major role in your sound quality.
[Find out which audio interfaces have the best preamps here]
Features
Grade: B
Our favorite feature is the mixer knob. We feel like it provides more flexibility than an on/off switch for direct monitoring.
With a mixer knob, you can blend your direct signal and computer playback for complete control over direct monitoring.
It's great for minimizing latency while recording with effects.
Software Bundle
Grade: B
Included with the AudioBox 96 is access to Studio One Artist.
It's a beginner-friendly digital audio workstation (DAW) compatible with Windows and Mac.
This unit also comes with the Studio Magic Plug-In Suite, including Ableton Live Lite, six virtual instruments, and nine effects plugins.
This bundle is a great all-in-one solution if you're just getting started.
Audio Interface Comparison
In the next section, we'll compare the AudioBox 96 to three similar audio interfaces to help you decide which is best for you.
PreSonus AudioBox 96 vs PreSonus AudioBox iTwo
The AudioBox iTwo has a more modern design than the AudioBox 96.
Its front panel is cleaner and has a large main output volume knob, making it easy to adjust levels.
If you're on a tight budget, we suggest going with the more affordable AudioBox 96.
But the iTwo is great if you're looking for an interface with a more user-friendly design.
[Check out our review of the AudioBox iOne and iTwo here]
PreSonus AudioBox 96 vs PreSonus Studio 24c
While the AudioBox 96 has a max sample rate of 96 kHz, the Studio 24c can record at 192 kHz.
The 24c also features professional-quality XMAX-L preamps that are low-noise and deliver crystal-clear audio.
If you can afford to spend a little extra, we suggest going with the 24c.
[Check out our review of the PreSonus Studio 24c here]
PreSonus AudioBox 96 vs Focusrite Scarlett 2i2
The Focusrite Scarlett 2i2 comes with an Air Mode feature that makes your audio sound brighter and more open when activated.
The 2i2 is the way to go if you're looking for an interface with extra preamp features.
Takeaway: PreSonus AudioBox 96
The PreSonus AudioBox 96 delivers a solid performance for an interface under $100.
We believe the layout has some room for improvement.
Also, not having line inputs isn't ideal.
But overall, we recommend this interface for beginners and anyone looking for a quality, budget-friendly interface.