The best audio interface for podcasting in 2023 varies based on your budget and setup.
An audio interface should provide quality sound capture while being easy to use and compatible with your recording software.
Additionally, some interfaces have onboard effects that bring more versatility to your podcast setup.
Depending on what kind of sound-recording setup you are interested in, many great options are available.
Below we'll highlight some of the best audio interfaces for podcasting – from basic budget options to more advanced units.
We'll also give you some things to look for when shopping around.
Overview
Focusrite Scarlett 2i2 – The Focusrite Scarlett 2i2 is a great choice for podcasting, especially if you are on a budget. It's easy to use and offers high-quality sound with two microphone inputs, two balanced outputs, and Air Mode.
Audient iD14 – Audient's iD44 provides audio loopback for quick and easy podcast recordings, allowing you to record yourself and audio from your computer. It's equipped with high-quality mic preamps and dual headphone outputs, making it ideal for a two-person podcast.
Rode Rodecaster Pro II – The Rode Rodecaster Pro II is one of the most popular podcasting devices on the market. It has four XLR inputs for connecting dynamic microphones, an intuitive touchscreen interface to quickly adjust levels and settings, a customizable nine-channel mixer and eight effects pads, plus built-in sound effects.  
Here's an in-depth look at on our top audio interfaces for podcasting in 2023.
Best Beginner Audio Interface for Podcasting


Focusrite's Scarlett 2i2 is the most popular interface – for good reasons.
It's relatively affordable, easy to use, and delivers excellent sound quality at its price.
This unit has a compact, durable build with two combo mic/line/instrument inputs and two balanced outputs.
You'll get standard features like direct monitoring for zero-latency recording and phantom power. But this interface stands out with its Air Mode feature, which boosts high-end frequencies for a brighter, more open sound.
Additionally, the Scarlett 2i2 has two gain knobs with halo LED clipping indicators, allowing you to adjust and monitor your recording levels.
In terms of sound quality, this unit provides excellent sound reproduction at its price with 24-bit/192kHz resolution and low-noise mic preamps.
It also comes with the Hitmaker Expansion pack, which includes Ableton Live Lite and plug-ins from Softube, Antares, XLN Audio, and more.
For the reasons above, the Focusrite Scarlett 2i2 provides an excellent entry point into home recording for podcasters and streamers.
What Makes the 2i2 Great for Podcasting
The Focusrite Scarlett 2i2 is incredibly easy to set up and use – one of the reasons why it's a go-to option for beginners.
It comes with everything you need in an entry-level podcast interface – two inputs, two outputs, zero-latency monitoring, and a USB cable.
It's also well-built and portable for when you need to take your show on the road.
The Focusrite Scarlett 2i2 features two natural-sounding mic/line preamps.
They provide a nice amount of headroom, with enough clean for gain-hungry dynamic mics like the Shure SM7B.
Best Intermediate Audio Interface for Podcasting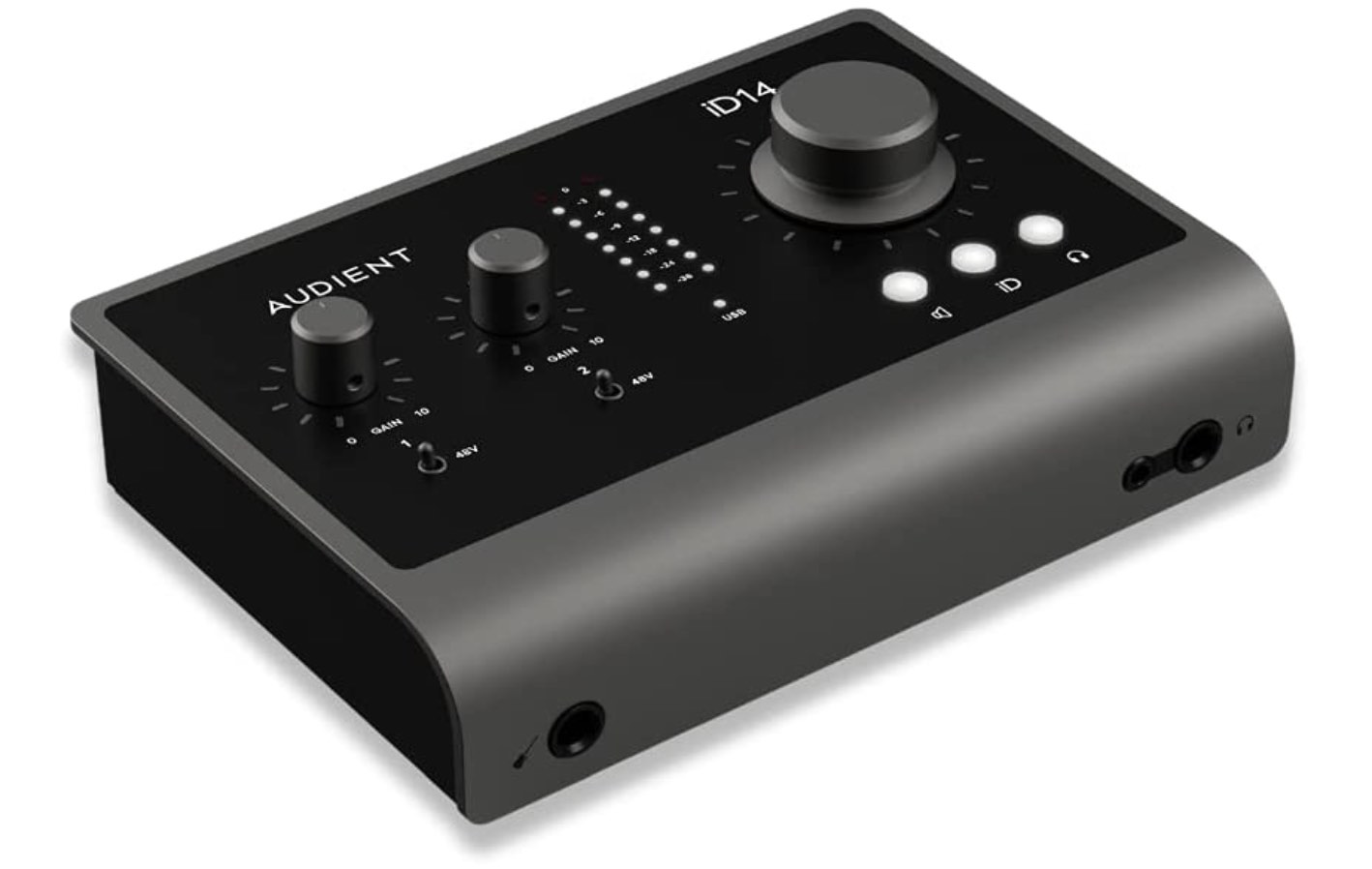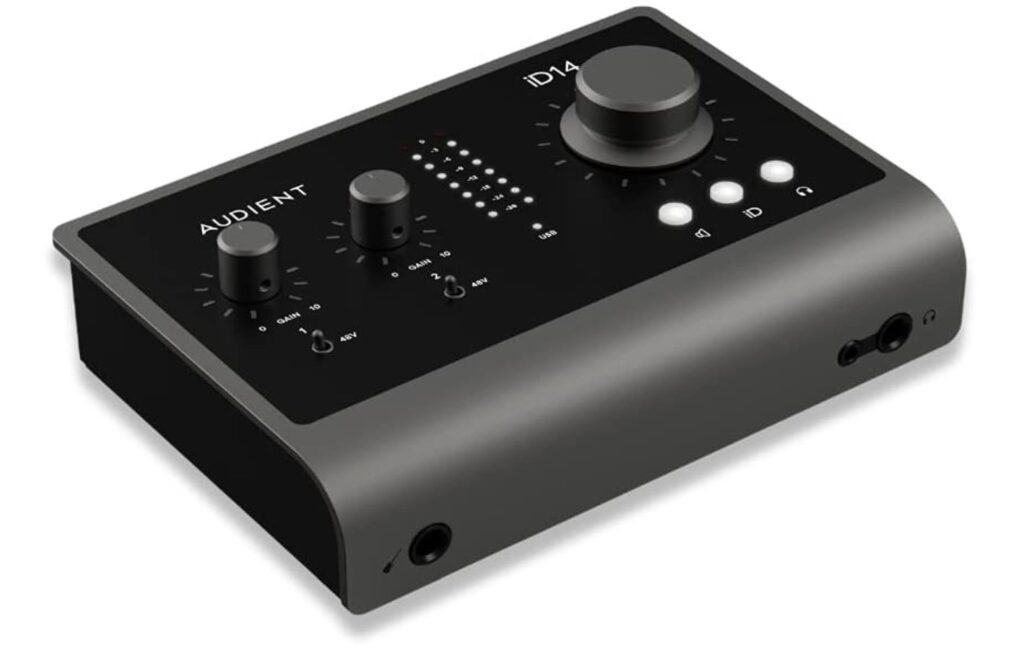 Audient's iD14 is great for podcasting and streaming because it has audio loopback capabilities.
Audio loopback allows you to capture audio from your computer and microphone simultaneously.
Content creators use this feature to record audio from Zoom for podcast interviews or YouTube for reaction videos.
By recording your computer audio in sync with your mic input, you can produce a clean podcast or stream without any audio issues.
Additionally, the audient iD14 includes ScrollControl navigation, allowing you to control volume, panning, and more from the large volume knob.
This feature is beneficial when you need quick access to volume adjustments during a live stream or podcast.
The iD4 has two combo mic/line/instrument inputs, four balanced outputs, dual headphone jacks, and an optical input.
It also offers a pair of high-headroom, low-noise performance mic preamps that are well-suited for dynamic microphones.
What Makes the iD14 Great for Podcasting
Audio Loopback
Whether you need to record a podcast interview or reaction video, audio loopback is a great tool to have.
It allows you to capture audio from your computer and mic at the same time.
You can record each audio stream on separate channels in your DAW for mixing and editing.
The iD14 produces great sound quality, but its audio loopback capabilities and all-around performance make it one of our top picks for podcasting.  
ScrollControl
The iD14's ScrollControl allows you to make volume and parameter adjustments directly from your interface.
This feature is useful in live scenarios. You to make quick adjustments without having to reach for your mouse.
Dual Headphone Outputs
If you're recording a two-person podcast, the iD14's dual headphone output eliminates the need for a headphone amplifier. The less equipment, the better.
Best Advanced Audio Interface for Podcasting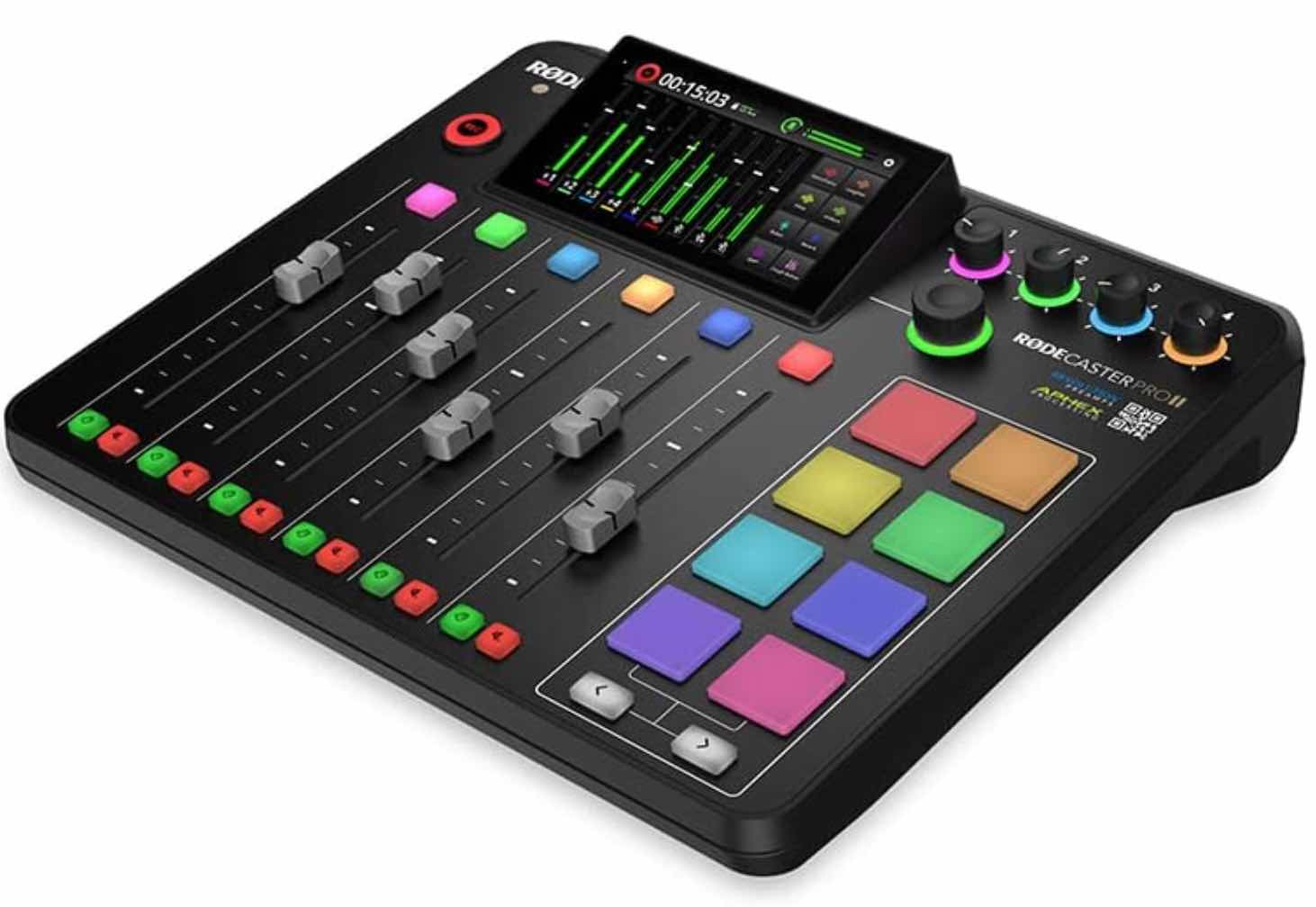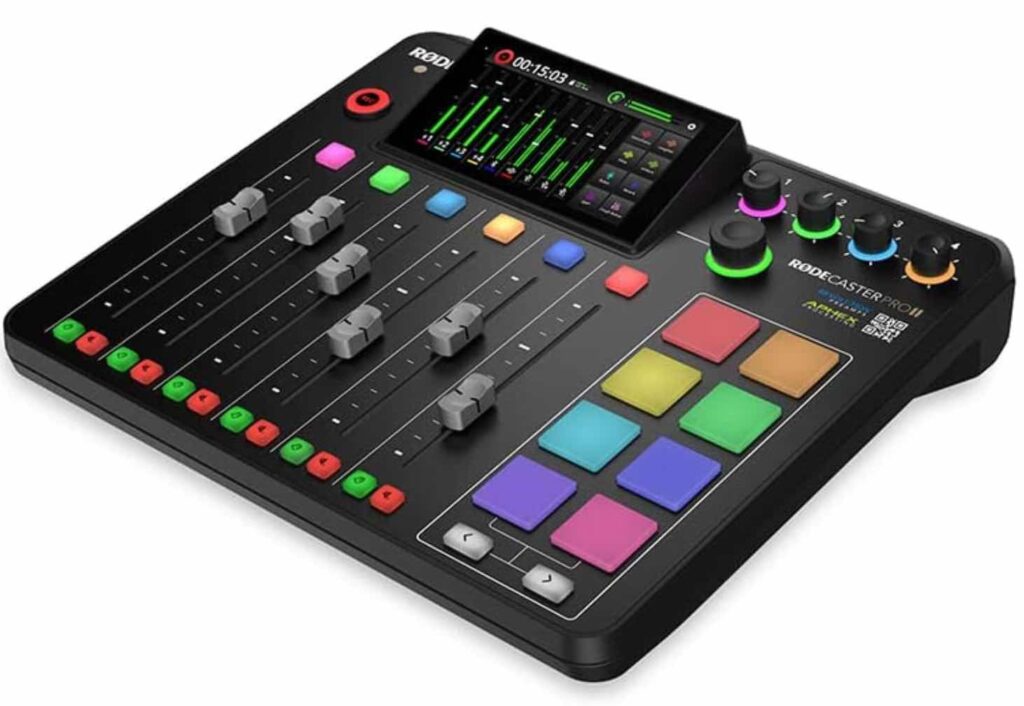 Since its release, Rode's Rodecaster Pro II has been making waves in the broadcasting world.
It's a comprehensive podcast interface/mixer that provides four Class-A mic preamps and 192 kHz / 24-bit recording and playback.
It also features eight programmable sound effects pads, nine customizable mixer channels with six faders, and APHEX low-latency DSP effects.
The Pro II has a five-inch touchscreen display that you'll use to navigate and program settings.
On the back, you'll find four mic/line/instrument inputs, two balanced studio monitor outputs, and four headphone outputs.
There are also two USB-C ports, a thunderbolt port, and an ethernet port.  
Rodecaster vs Rodecaster Pro II
The main changes on the Rodecaster Pro II compared to the original are its faster quad-core audio engine, higher gain mic preamps, and customizability.
The quad-core audio engine allows you to enable built-in reverb, echo, and other effects in real time without latency.
The Pro II's onboard processor also takes the load off your computer's CPU so you can record and mix without worrying about lag and crashes.
Additionally, the Pro II's mic preamps have more available gain (76 dB) than those on the original Rodecaster. 76 decibels gives you plenty of clean gain for low-output dynamic mics like the Shure SM7B.
The Smart Pads and faders are also fully customizable, so you can assign the effects and control them with just a few taps.
Overall, the Rodecaster Pro II is an impressively versatile podcasting solution.
Its enhanced performance makes it an ideal choice for anyone who wants to take their podcasting game to the next level.
What Makes the Rodecaster Pro II Great for Podcasting
All-in-one mixer, audio interface, and MIDI controller
DSP effects
High-gain mic preamps
Customizable nine-channel mixer and effects pads
What To Look for in an Audio Interface for Podcasting
Inputs
One of the most important considerations when choosing an audio interface for podcasting is how many inputs you'll need.
If you have a solo streaming setup, you can get away with using a one-channel interface. 
However, you'll want an interface with at least two mic inputs for a two-person podcast. 
We recommend 4-8 mic inputs if you plan on having guests.
Audio Loopback
If you're streaming a zoom interview or reacting to a video online, audio loopback allows you to capture internal audio from your computer and mic input.
This feature ensures that your audience can hear what you're listening to in sync with your commentary.
Audio loopback makes this possible by rerouting audio from your headphones/speakers back into your interface, allowing you to record and mix it separately. 
Related Post: Best Audio Interfaces with Audio Loopback
High-Gain, Low-Noise Mic Preamps
One of the most popular microphones for podcasting/streaming is the Shure SM7B.
This microphone requires more gain than most.
We recommend using an interface with high-gain, low-noise mic preamps if you plan on using the SM7B or a similar dynamic mic.
Check out our list of the best audio interfaces for the Shure SM7B for interfaces that fit these criteria. 
Digital Signal Processing
An audio interface with DSP or special effects can open up many possibilities for your streams or podcasts.
Onboard DSP allows you to enable real-time effects without adding latency and overworking your CPU. 
With a DSP audio interface, you can apply effects to capture the perfect tone during a live stream.
Working with effects in real-time also saves time in post-production. 
Related Post: Best DSP Audio Interfaces